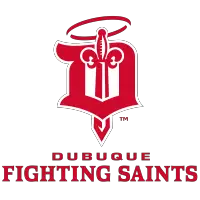 Dubuque Fighting Saints Complete Phase II of 2021 USHL Draft, Select 20 Players
May 27, 2021 - United States Hockey League (USHL) - Dubuque Fighting Saints News Release



DUBUQUE, Iowa - Off of the heels of a blockbuster move to bring in the first overall selection in Phase II of the 2021 USHL Draft, the Dubuque Fighting Saints added 20 players on Thursday. Phase II brought in 13 forwards, four defensemen and three goaltenders.
"We let our list do the work once again," said Fighting Saints GM Kalle Larsson. "We felt that we got some of the key players that we targeted, and we look forward to seeing all of our newly drafted players in the near future."
With the first overall pick, the Fighting Saints picked up Team USA NTDP alum, and NHL Draft prospect, Justin Janicke. Larsson used his international connections to choose seven consecutive Swedes, and eight overall.
The Saints also made history on Thursday, as Andrew King was the first Dubuque native to ever be drafted by the organization. Brooks Bertsch, the first Dubuque native to play for the Fighting Saints, was never drafted by the organization.
The 20 picks are as follows, in order:
Round 1, 1st overall: Justin Janicke - forward, Team USA NTDP U18s
Round 2, 20th overall: Samuel Sjölund - defense, AIK J20
Round 3, 35th overall: William Hallén - forward, Frölunda HC J20
Round 4, 50th overall: Philip Svedebäck - goaltender, Växjö J20
Round 5, 62nd overall: Lucas Ölvestad - defense, Djurgårdens J20
Round 5, 65th overall: Gabriel Lundberg - forward, Frölunda HC J20
Round 6, 80th overall: Axel Kumlin - defense, Frölunda HC J20
Round 6, 81st overall: Christopher Lynch - defense, Färjestad BK J20
Round 7, 97th overall: Peter Kramer - forward, Thayer Academy
Round 8, 116th overall: Cade Lemmer - forward, Wichita Falls Wildcats
Round 9, 127th overall: Michael Morelli - goaltender, Maryland Black Bears
Round 10, 142nd overall: Marcus Brannman - goaltender, Örebro HK J20
Round 10, 149th overall: Nikita Borodayenko - forward, MHK Spartak Moskva
Round 11, 157th overall: Andrew King - forward, Lawrence Academy
Round 12, 172nd overall: Tobias Iantorno - forward, Don Mills Flyers U18 AAA
Round 13, 187th overall: Ryan St. Louis - forward, Team USA NTDP U18s
Round 14, 202nd overall: Shawn O'Donnell - forward, Pittsburgh Penguins Elite 18U
Round 15, 217th overall: William Renfrew - forward, Fairbanks Ice Dogs
Round 16, 232nd overall: Gabe Dombrowski - forward, Danbury Jr. Hat Tricks
Round 17, 247th overall: Connor Bedard - forward, Regina Pats
The Fighting Saints' Main Camp gets underway in late June. More information will be released in the coming weeks.
• Discuss this story on the United States Hockey League message board...


United States Hockey League Stories from May 27, 2021
The opinions expressed in this release are those of the organization issuing it, and do not necessarily reflect the thoughts or opinions of OurSports Central or its staff.