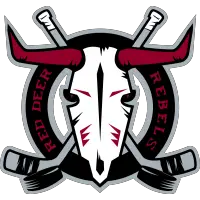 Former Oil King Keeler Brings Plenty of Experience, Leadership, to Rebels
September 10, 2021 - Western Hockey League (WHL) - Red Deer Rebels News Release



If he's in the Red Deer Rebels lineup Saturday night in Edmonton, it will be a unique experience for Liam Keeler.
"It will be different," Keeler said Friday, reflecting on the very good chance that he'll be facing his former team in a WHL preseason contest.
"Obviously I spent a lot of time with the Oil Kings and have nothing but good things to say about their organization and what they did for me."
That being said . . .
"But I'm happy to be a part of the Red Deer Rebels organization and I'm going to do whatever I can to help this team moving forward," he added.
Keeler, 20, was acquired by the Rebels in a May trade that sent fellow forward Jaxsen Wiebe to Edmonton. He played four seasons with the Oil Kings, scoring three goals and collecting 12 points in 19 games during the abbreviated 2020-21 campaign.
The six-foot-two, 185-pound Edmonton native looked sharp in training camp and in Wednesday's Black and White game, scoring once and adding three assists to help the Black squad to a 6-5 overtime win.
Keeler credited his impressive start to the fact he was welcomed to the team with open arms.
"It's been awesome," said the 2015-16 Alberta Major Bantam League MVP, who was selected in the first round of the 2016 WHL draft after putting up 77 points, including 26 goals, in 34 games with the Southside Athletic Club Lions.
"The whole staff and all the players have been really good to me, just welcoming me, making me feel comfortable, making me feel good.
"As the camp has gone along I've found some really good chemistry with some really good players here. I'm really excited to be a part of this team and see what we can do this year."
Speaking of chemistry, it was flowing freely between Keeler and linemates Arshdeep Bains and center Jayden Grubbe in Wednesday's Black and White tilt. The line, in fact, accumulated 14 points in total.
"When you're playing with two guys with that kind of skill it makes it a lot easier," said Keeler. "I know Bainsey and Grubber are so good with the puck and so good at finding guys in open areas, so I was just trying to get open and use my speed and my skillset to help the team and those guys out as well."
On the verge of entering his final season in the WHL, Keeler could be excused for setting some individual goals over the next six to eight months in order to earn a pro contract.
Instead, he's focusing on team goals.
"I'm here to help this team win," he said. "Obviously it wasn't the best year for this group last season but with the new staff (head coach Steve Konowalchuk and assistant Mike Egener are new hires, as is goalie coach Ian Gordon) and bringing some new guys in, I think we can really turn this thing around.
"I'm excited to be a big part of that. I'm looking to help this team win first and foremost and to try to do my job every night. If I do that I think we're going to have a really good team and a really good opportunity to do something special."
Coming from a winning organization - the Oil Kings were arguably the league's best team last season and would have almost certainly advanced well along the playoff trail if there had been a post-season - Keeler said one of the keys to success is self belief.
"Coming in here I knew this team had so much potential, just seeing how they played down the stretch last season," he said. "I understood that with bringing in a few key pieces and a new staff that we could really turn this thing around and that's the biggest thing I want to help out - just having these guys believe in themselves and knowing that they deserve to have success.
"They've gone through some hard times. Early in my career we were in some hard times in Edmonton too. Hard times really bring teams together and I think just helping that belief is going to be huge."
Konowalchuk is appreciative of what Keeler brings to the squad.
"Very good leadership . . . works hard, really good speed, good skill to go with it. I'm very, very excited that he's a part of the team," he said.
"He's coming from a team that's had success. I'm sure they had some pretty good habits there and still do, so he can bring some of that and he's a veteran player who knows how to lead by example. He leads by example every day.
"He's been one of our best leaders as far as working hard in practices and games. Really, that's what leading is all about - just go out and show everybody."
After hosting Calgary Sept. 17 and visiting the Hitmen the following day, Red Deer will conclude exhibition play with a home-and-home set with the Lethbridge Hurricanes - Sept. 24 on the road and Sept. 25 at the Centrium.
Red Deer's regular-season opener is Oct. 1 in Edmonton. The Rebels will host the Oil Kings 24 hours later.
• Discuss this story on the Western Hockey League message board...


Western Hockey League Stories from September 10, 2021
The opinions expressed in this release are those of the organization issuing it, and do not necessarily reflect the thoughts or opinions of OurSports Central or its staff.
Other Recent Red Deer Rebels Stories