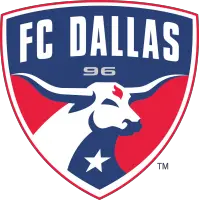 FC Dallas Splits Points with Colorado Rapids in 2021 Home Opener
April 17, 2021 - Major League Soccer (MLS) - FC Dallas News Release



Frisco, TX - FC Dallas (0-0-1, 1 point) plays to a scoreless draw with the Colorado Rapids (0-0-1, 1 point) in the 2021 home opener at Toyota Stadium Saturday night.
Game Summary
First Half:
5' - Freddy Vargas' right-footed shot was pushed past the crossbar by William Yarbrough for the first save of the night.
10' - Jáder Obrian connected with a cross from Johnny Nelson but his header went straight into Yarbrough's hands.
12' - Jimmy Maurer pushed a curling shot from Michael Barrios to deny the former FC Dallas player and make his first save of the night.
31' - Obrian raced down the right wing and found Franco Jara with a low cross but the Argentine's shot was saved.
Second Half
60' - Vargas attempted a long-range shot from a free kick but it ended up too high of Yarbrough's goal.
62' - Andrés Ricaurte found Jara in the box but his headed attempt went wide of the post.
76' - Obrian beat his defender near the end-line but his driven cross was collected by Yarbrough.
79' - Jimmy Maurer made a crucial save from close range to deny Michael Barrios scoring against his former club on his first return to Toyota Stadium.
Lineups:
FC Dallas - Jimmy Maurer; Bressan, Matt Hedges, José Martínez, Ryan Hollingshead, Johnny Nelson, Bryan Acosta, Andrés Ricaurte (Paxton Pomykal - 69'), Jáder Obrian, Freddy Vargas, Franco Jara (Ricardo Pepi - 81')
Substitutes not used - Phelipe, Nkosi Tafari, Eddie Munjoma, Edwin Cerrillo, Tanner Tessmann, Kalil ElMedkhar, Dante Sealy
Colorado Rapids - William Yarbrough, Keegan Rosenberry, Danny Wilson, Auston Trusty, Michael Barrios (Nicolas Benezet - 81'), Jack Price, Younes Namli, Kellyn Acosta, Cole Bassett, Andre Shinyashiki (Jonathan Lewis - 62'), Diego Rubio
Substitutes not used - Clint Irwin, Drew Moor, Nicolas Mezquida, Oliver Larraz, Collen Warner, Steven Beitashour, Darren Yapi
Scoring Summary:
None
Misconduct Summary:
COL: Bassett (caution) - 87'
Weather: Cloudy, 64
Attendance: 8,621
Referee: Nima Saghafi
Assistant Referees: Nick Uranga, Eric Weisbrod
4th Official: Elton Garcia
VAR Official: Daniel Radford
Postgame Quotes
FC Dallas Head Coach Luchi Gonzalez
Thoughts on the game, particularly the attacking side of the ball...
We generated interesting opportunities. I thought we had some crosses with some potential to put away that we didn't put past (Colorado goalkeeper William) Yarbrough. We got to have more volume. We got to keep working on more conviction to kill, to have a killer instinct. We have all the potential there.
I think Freddy (Vargas) and Jader (Obrian), for their first game, showed what their potential is but they're still adapting, still learning what's required of them in the team and the league. I'm confident with continued work in pushing each other in the training and, like I said, them adapting, I believe they can keep being more dangerous so that's what we got to work on.
I thought we had good control of the game. We had good occupation of space, good structure, good possession but we got to reward ourselves in that last third because at the end of the day wins are going to come with goals.
On Jimmy Maurer's Performance...
Fantastic by Jimmy. He's doing what he does best - his consistency. He had a really good preseason. I know he's a veteran player but he continues to grow and develop and be coachable and that's why I'm not surprised by the performance he had. We need that from Jimmy, home and away, to earn points.
FC Dallas goalkeeper Jimmy Maurer
On his overall thought on the game and his own performance...
I felt good individually. At the same time, we're all frustrated to not get a win at home and the three points. We weren't as sharp as we needed to be on both sides of the ball, offensively and defensively. And that's why I had to make a few saves. But the season's young, we'll get back to work on Monday and start figuring out how to make it better.
There were a lot of positives at the same time. We all fought hard and one point to start the season is better than none so we'll take the positives with the negatives and keep moving forward.
On how to keep their defensive momentum after getting a clean sheet...
It's just details at this level. We like to defend from the top and our timing was a little separated in our lines, (and) that led to them being able to play out and break us down. There were some great individual plays from the guys in front of me to help keep that zero, so we'll take that. But in terms of our full team shape and getting better towards next week, it's just the timing and being on the same page to close those gaps. If we're going to go and press, we need to all go together and we can't be going with two or three guys and then having a gap. Just working on those timings and little details will go a long way.
Forward Franco Jara
On his new assignments as a striker...
What each striker always has to have is a scoring opportunity and to be 100% in the box to bring those situations. There are times when the team needs everyone's help. Obviously it becomes more difficult to be able to reach the opponent's goal when you are far behind from where you normally play. But I think it is a good moment, it is the first game of the year, the team will gradually pick up the pace and hopefully God wants us to find that way of playing that we are looking for that is what we work for.
On his missed opportunity...
The truth is that I am very angry, but it's part of soccer. We know that these things can happen. We will work all week to correct these mistakes, personally I will work to be more effective when a goal situation comes across me. As I mentioned before, this is just the beginning and we have to be calm about it.
• Discuss this story on the Major League Soccer message board...


Major League Soccer Stories from April 17, 2021
The opinions expressed in this release are those of the organization issuing it, and do not necessarily reflect the thoughts or opinions of OurSports Central or its staff.