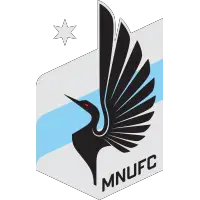 MNUFC Lose 4-0 to Seattle in Season Opener
April 17, 2021 - Major League Soccer (MLS) - Minnesota United FC News Release



SEATTLE, Wash. - Minnesota United came into the season opener against Seattle Sounders FC brimming with hope not just for their first win over the Sounders in their eighth try, but for a hot start to a season in which they have real title aspirations. In the first half, the Loons looked the part, smothering the home side and popping up all over the field with a surplus of energy. In the second half, though, Seattle showed why they've been to four of the last five MLS Cup Finals as they settled down and picked the visitors apart to the tune of four second-half goals and a resounding 4-0 win.
Minnesota began the game putting the screws to Seattle on defense in the kind of comprehensive way that showed at times last year down the stretch of the season. Within the first 20 seconds, that pressure earned the visitors their first corner kick and that set the tone for the first half. The press kept the home side from building up any kind of coherent attack, but for their part, MNUFC struggled to create clear-cut chances.
In the sixth minute, Seattle sprang the counterattack after Minnesota failed to make good on a midfield clearance and midfielder Cristian Roldan got at least half a look at goal but ended up sending it over the endline for a Minnesota goal kick.
Much as last season, the visitors' attack revolved around getting the ball to Emanuel Reynoso and letting him pick out runners. Players like Romain Metanire got in on the playmaking action as well, but his progressive pass to Ethan Finlay on the edge of the box in the eighth minute was whistled offside. Both Finlay and Metanire showed no rust in their work ethic as the midfielder defended hard from the front and the fullback attacked from the back with his trademark long and early crosses.
In the 27th minute, midfielder Wil Trapp was called for a handball near the right edge of the box as he attempted to contain Cristian Roldan. With Nico Lodeiro out, Raul Ruidiaz stepped to the spot to take the penalty but when he went left, so did Dayne St. Clair and the keeper blocked the ball and made him a perfect 3-for-3 in penalty saves for his career.
While the Loons had opportunities on goal from Finlay and Robin Lod, both went awry and the teams headed into the locker room knotted at 0-0. MNUFC had dominated the possession and energy but had not been able to take advantage.
The Sounders came out of the halftime break with renewed energy and focus and got right to business breaking the Loons' press and wearing away their will. In the 49th minute, a short headed clearance from Trapp dropped at the feet of midfielder Joao Paulo. Paulo tapped the ball up off his foot and ripped a volley from well outside the box that beat St. Clair and opened the scoring.
It looked for a moment like the visitors were going to get the goal right back as shortly off the reset, Reynoso sent a curling ball into the box that found defender Brent Kallman's head. The ball had beaten Frei but Cristian Roldan came flying in and cleared the ball off the goal line.
Following that frustration, the chemistry and drive the Loons had displayed in the first half slowly began to seep away and the Sounders began to get more and more opportunities as the night wore on. In the 65th minute, Head Coach Adrian Heath brought in recent signing Ramon Abila to change the look, but in the 70th minute, forward Will Bruin took advantage of Kallman by turning him on the edge of the box and pushing towards goal. It opened up a lane for Raul Ruidiaz and the Peruvian finished smoothly to double the lead at 2-0. Moments later, another defensive breakdown would lead to another wide open look for Ruidiaz to make it 3-0.
Seattle weren't quite done though. In the 85th minute, Metanire went down after having pushed deep down the right wing just before Seattle broke out on the other side of the pitch. The opening allowed Fredy Montero - Seattle's all-time leading scorer who returned to the team this season - to drift into space and smash a clinical ball into the net to make the final score 4-0.
The Loons will now regroup and head back to Minnesota to prepare for the home opener against Real Salt Lake next week.
BELL BANK MAN OF THE MATCH: Goalkeeper Dayne St. Clair
GOAL BREAKDOWN
49' | After a short clearance from Trapp, Joao Paulo taps the ball up and rips a shot that beats St. Clair. 1-0
70' | Will Bruin turns Brent Kallman and drops him, opening up a wide lane to the goal. He finds Ruidiaz in the middle and the Peruvian finishes it smoothly. 2-0
74' | Defensive breakdown leads to another wide open shot for Ruidiaz.
85' | Romain Metanire went down deep in Seattle's half on the right side, opening up the back for Freddy Montero to float centrally and drive a volley into the back of the net.
LINEUPS:
Minnesota United: GK Dayne St. Clair; D Chase Gasper, Brent Kallman, Michael Boxall, Romain Metanire; M Jan Gregus, Wil Trapp, Hassani Dotson, Emanuel Reynoso, Ethan Finlay, Robin Lod
Seattle Sounders: GK Stefan Frei; D Brad Smith, Nouhou, Xavier Arreaga, Shane O'Neill, Alex Roldan; M Cristian Roldan, Joshua Atencio, Joao Paulo; F Raul Ruidez, Will Bruin
UP NEXT
MINNESOTA UNITED FC vs. REAL SALT LAKE
Allianz Field | Saint Paul, Minnesota
04.24.2021 | MLS Week No. 2 | MLS Game No. 2
7:00 p.m. CT (Bally Sports North, The CW Twin Cities, MNUFC Radio on SKOR North)
MINNESOTA UNITED QUOTE SHEET
MINNESOTA UNITED HEAD COACH ADRIAN HEATH
On a few back and forth moments throughout the game and how Minnesota United couldn't get that first one on the board ...
"Yeah. You know, football is a cruel game sometimes. As the coaches have just said, it's not a 4-nil game. The game was very tight throughout. I thought first half we were probably the better team. Robin [Lod] has a really good chance. I've said it a million times, goals change games. And, I think the one thing today, every time we got a little bit of momentum in the game, they managed to get a break away and got some goals. Obviously, I'll have to see the video again. I'm a bit concerned with how easily the goals went in in terms of in front of the goal, side foot finishes. But, there was some pleasing aspects. But, obviously, overriding feeling is the disappointment of losing four."
On the last goals at the end triggering emotion coming back at a place the team was wanting to win so badly ...
"No. I think the nature of players is when you're behind you want to go forward. As I said to the staff, when it goes to two and you change position, you leave yourself open. The one thing about them, they've got really intelligent front men. Raul Ruidiaz, Fredy Montero. You leave yourself exposed and then that's the danger. You can concede two or three goals. I'm sure that if anybody sees the score line, they would think it must have been a one-sided game. But, it was far from that. BK [Brent Kallman] has a great opportunity to make it 1-1 and we have another chance from Robin [Lod]. Brent [Kallman] tries to pinch one and he eggs the box and the guy turns him and then all of a sudden, it's all fell fast because you're changing the game. So, obviously I have to watch the game back, but as I say, I thought for long stretches of the game, we actually controlled the tempo of the game. But, the game did get away from us and that score line changed."
On Seattle outscoring MNUFC 12-2 in the last 29 minutes in games in this series in the MLS and why it has been this way so consistently ...
"Well, I think you look at the games. The games have been really right. The first one we were 2-nil up. They've thrown men forward, and they've got quality. I said before the game, I'm not just saying this now, they'll be thereabouts again. They've got good players. They're well coached. They're well organized. And they have people who can score if you give them opportunities. [Raul] Ruidiaz has done it all of his career. Fredy Montero has got a goal in him. When we were chasing the game like we were, trying to get back in it, because at 2-nil you're still in the game. But then obviously, you leave yourself exposed a little bit and it goes to three and four. You know, they had another chance right on. But when I look over the 90 minutes I don't think there's been a lot between the two teams. I really don't."
On why the high press stopped ...
"No. It's the way the game is. I'm sure that all these players that play this weekend will be better for the game. It's the first game of the season. It's always difficult to come in away from home to a place like this. And, you know, I haven't seen the goal, the replay, but, it looks like some strike from Joao Paulo. And then, as I said, we have the next two best chances, and goals change games. When you start to chase it, you leave big holes. You leave spaces. Certainly no difference in the team's shape for what we were trying to do."
On what he saw on Dayne St. Clair's PK save against Raul Ruidiaz ...
"Penalty? Well, he's a big kid. Fills the goal. Doesn't go too early. Makes people beat him. And, you know, obviously Stewart Kerr has probably showed him every penalty [Raul] Ruidiaz has taken. But, you know, that's why we pick him and we know we've got a good goalkeeper. I felt for him a little bit because, as I say, I can't really remember the first one other than it being a great strike. I'll have to see where it's gone in the net. But, the others, he's been a bit left exposed and nothing he could have done on the other goals."
On the context behind the jersey patch and the black armbands tonight...
"I think the one thing is we're so dissapointed that, here we go again. We thought after the last year that maybe, I think as I've said on a few occasions, I just thought it might be different this time, but maybe it's not. We still have an awful long way to go. I know that the players and their players talked about it, so, it was a gesture from them. A little bit of solidarity for what people are trying to achieve. anything that we can do, however little, at this moment in time, it seems to be that this is a problem. We've got to keep it in the mainstream. We've got to keep it highlighted and not let this persist. Because, as I say, it's incredibly disappointing what's going on."
On Ramon Abila's first appearance and his first interactions on the field with Emanuel Reynoso as a Loon ...
"Obviously they've played together well and they know each other. He probably had a bit more time with the first one when he hit it first time. He probably had a bit more time than he thought. But, he's had a couple of good efforts tonight. The keeper has had to make a good save from him. And he'll be better from the minutes. He's been a long time from 90 minutes competitive football. So, he'll be better for the game and we'll work hard with him again this week and we'll see where we are regarding his fitness for the game next week."
On Ike Opara's status and where the team goes forward with him ...
"I'll wait and see when we get back. See how he is. And, you know, at the moment, he's still on our roster, so, hopefully, we can get him fit and we can get him on the field which would be nice for everybody."
MINNESOTA UNITED MIDFIELDER WIL TRAPP
On how he felt the game got away from them...
"Well look, I think the first half we played fairly well. Obviously Dayne [St. Clair] makes a big save on the penalty, but overall I thought we created some chances. The second half...the early goal...I mean it was a good goal, but we, in my opinion, gave up on a couple plays and they capitalized. Look if they're scoring from inside the penalty spot on kind-of tap-in types of goals, there's probably something of a deficit in the back and I think we need to look at that. That's where I think the little capitalization
was something that really hurt us."
On the sequence of goals and how it changes the game...
"Yeah Jerry, I think if Brent [Kallman] scores that goal, that puts us right back in the game and obviously the momentum swings. Good play by Cristian Roldan on that one. I think Robin [Lod] also had a chance there right after where we nicked one on top of the box. It's a game of goals changing games, and that was a moment for sure, or a couple moments rather, that didn't go our way for sure and it changed the game.
On how things were working in the first half...
"Yeah, I think the aggression was good, the mentality was strong. Playing on the break at times we had Ethan [Finlay], we had Hassani [Dotson], we had Romain [Metanire] getting forward and creating some space for guys like Rey [Emanuel Reynoso] and Robin, and all of that is what we want. All of that is trying to win the ball high and trying to be aggressive when we do win the ball, going quickly. And I think as the second half wore on, obviously goals - like I said - change the game...but we got a little bit stretched and I think that's something that we have to address as well."
On his first game with Minnesota and how he felt in the midfield...
"I mean obviously when you lose four to zero, you don't feel so great about it, right? But you take positives from the first half, from little moments throughout the game and, like I said, I think I'll cling to, as my first game, that first half of the game in terms of the connection, the ball - winning the second ball, I thought we won a lot of second balls and that was helping us create attacks. And that's going to take a little bit of time for myself just to kind of get into, but at the same time it's bitter for sure."
On wearing the black armbands...
"We as players, we try to, as many people say, leverage your platform for awareness on many things. And obviously the news coming out of Minneapolis this past week was very saddening, very difficult to process and I think anything we can do to bring attention to that is important, while also doing our jobs. I think our loudest voices come when we are playing our sport and when we are doing our job and I think this was a way to do that."
On playing with Reynoso for the first time...
"I mean you know his quality. He's the difference-maker for us and I thought they did a fairly good job of trying to keep some shackles on him throughout the game but we need to continue to feed him and get him in spots where he can continue to be dangerous. I thought his chemistry with [Ramon] Wanchope Abila, when he came in, was good to see as well. Definitely someone that feeds off Rey's energy and his quality, so the more - like I said - we can get Rey in spots where he can be dangerous the more fruitful we can be."
Didn't take them too long to find each other did it?
"No not at all."
On his gut reaction to the game and what they learned...
"I think it's not over committing with the high press at times. We got a little aggressive, I think, and stretched with numbers and balls coming through the middle of the field and they made good, late runs. I mean, think about how many times Cristian Roldan ran out of midfield and overloaded our center backs and when they had an extra number in the midfield. It makes it difficult and they were smart about their tactics in that regard, but ultimately I think if we're a little more compact, immediately lose the ball and getting into a good shape, we can counteract a lot of it."
• Discuss this story on the Major League Soccer message board...


Major League Soccer Stories from April 17, 2021
The opinions expressed in this release are those of the organization issuing it, and do not necessarily reflect the thoughts or opinions of OurSports Central or its staff.