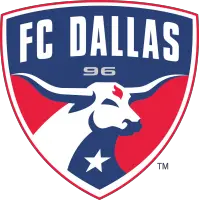 FC Dallas Defeats Los Angeles Galaxy 2-0
March 9, 2019 - Major League Soccer (MLS) - FC Dallas News Release



Luchi Gonzalez earns his first victory as FC Dallas' head coach after goals by Reto Ziegler and Bryan Acosta.
Reto Ziegler scored first goal of the match in 53rd minute.
Bryan Acosta scored his first goal of the season in the 61st minute.
Edwin Cerrillo made his MLS debut in the 79th minute.
FC Dallas will play its first away game of the 2019 MLS season against Columbus Crew SC on Saturday, March 16 at 1:00 PM.
Click HERE to download postgame soundbites.
Frisco, Texas - FC Dallas earns its first shutout of the season in the 2-0 win against LA Galaxy on Saturday, March 9.
Game Summary
First Half:
3' - Paxton Pomykal has an early sight of goal but his left-footed shot goes a few feet wide of the post.
17' - Sebastian Lletget attempts to catch Jesse Gonzalez out of his goal with a curling chip shot but it sails just high and wide.
23' - Lletget finds space in FC Dallas' box and connects with a low cross but his shot goes over the goal.
28' -Uriel Antuna sees his lofted cross hit the far post but Ryan Hollingshead is on hand to put the ball out of play from the rebound.
30' -Dom Badji forces a good save from David Bingham and Michael Barrios nearly arrives in time to stab home the rebound but the danger is cleared away.
36' - Dom Badji is inches away from opening the scoring after rounding the keeper but his shot from a narrow angle hit the side netting.
45' - Rolf Feltscher hits the crossbar with a first-time shot after Antuna's cross from the left wing slipped past four FC Dallas defenders.
Second Half:
53' - Reto Ziegler slots the ball into the bottom right corner of the net from the penalty spot after Diego Polenta fouled Matt Hedges in the box.
61' - Bryan Acosta scores his first goal for FC Dallas with an outstanding first-time volley from outside the box after Paxton Pomykal crossed it back from the end-line.
79' - Diego Polenta attempts a deep cross looking for Efrain Alvarez but Jesse Gonzalez collects it comfortably.
81' - Daniel Steres nearly gets a goal back for the Galaxy with a flicked header but it ends up just wide of the post.
82' - Bryan Acosta manages to get a shot off after some slick passing in the box by FC Dallas but his effort lacks power and Bingham saves easily.
90' - Jesse Gonzalez makes an incredible fingertip save to stop Efrain Alvarez from halving the deficit late in the game.
Lineups:
FC Dallas - Jesse Gonzalez; Ryan Hollingshead, Reto Ziegler, Matt Hedges, Reggie Cannon (Marquinhos Pedroso - 46'); Paxton Pomykal, Carlos Gruezo, Bryan Acosta; Santiago Mosquera (Edwin Cerrillo -79'), Dominique Badji, Michael Barrios (Pablo Aranguiz - 89').
Substitutes not used - Jimmy Maurer, Brandon Servania, Jesus Ferreira, Matheus Bressan.
Los Angeles Galaxy - David Bingham; Jørgen Skjelvik, Diego Polenta, Daniel Steres, Rolf Feltscher; Uriel Antuna, Joe Corona, Jonathan dos Santos, Emmanuel Boateng (Ethan Zubak -75'); Sebastian Lletget (Efrain Alvarez -59'), Chris Pontius.
Substitutes not used - David Romney, Servando Carrasco, Emil Cuello, Matt Lampson, Julian Araujo.
Scoring Summary:
FCD:Reto Ziegler (PK) -53'
FCD:Bryan Acosta (Paxton Pomykal) -61'
Misconduct Summary:
LA: Rolf Feltscher (caution) - 21'
LA: Sebastian Lletget (caution) - 35'
FCD: Matt Hedges (caution) - 63'
LA: Daniel Steres (caution) - 71'
LA: Diego Polenta (caution) - 75'
FCD: Michael Barrios (caution) - 80'
LA: Jonathan dos Santos (caution) - 90'
Weather:Sunny, 76F
Attendance: 17,220
Referee:Armando Villarreal
Assistant Referee: Ian B. Anderson
Assistant Referee: TJ Zablocki
4th Official: Joseph Dickerson
VAR Official: Jose Carlos Rivero
AVAR Official: Adam Garner
FC Dallas head coach Luchi Gonzalez
Overall thoughts on today's win...
I have to be happy as a coach, as one of their coaches, because they grew from the last game in terms of what we worked on during the week to improve with the ball, what we do with it, our shape and our transitions, and it led to us getting a win today. So I have to be really proud of the boys with their openness to be critical and then to take steps on how we want to play and what the idea is going into this game against LA, which we respect a lot. I know we were fortunate in terms of injury. They were missing two key guys, [Romain] Alessandrini and Zlatan [Ibrahimovi?], which is not easy, but we can't control that, we have to move forward and prepare the best we can no matter who we confront. Absolutely happy with the boys and for me this is a step and we are going to be ready to compete next week, to form a roster, travel to Columbus and take the next step.
On Reggie Cannon's injury...
I don't know too much details. It's good that he's moving, he's not in the hospital so that's a positive. The boot is there to keep the swelling down. It seems like some type of an ankle sprain. I'm really proud of him for trying to push through it at the half, and he tried to activate, and it was already swollen and sore, so credit to his bravery and credit to Marquinhos [Pedroso] to come at halftime and show the ability to integrate into the game quickly and help us get a result today.
Thoughts on Zlatan Ibrahimovi? not being on LA Galaxy's roster in today's match...
Honestly, we approached the game the same exact way as if he was on or off the field. Obviously, there is some serious marking you have to do on service especially on the weak side because Zlatan [Ibrahimovi?] is a player that is very crafty in his movement in the box, he's a physical presence, and he's smart and confident. We prepared no matter what, and we were expecting him potentially playing up until we got the final roster that's how much we needed to be ready. But the approaches for me were the same except for the moment that we put a lineup and said 'look this is different, but that doesn't mean we have to play any different.' We have to respect every player that LA Galaxy has because they are quality.
Thoughts on Paxton Pomykal's performance...
Very good. Confident. Very clear transitional player that if we lose it, he's helping us trying to get it back. Versatile. He can play deep in the midfield, high in the midfield, wide around the goal, so I'm very proud of him for him taking his steps.
FC Dallas midfielder Bryan Acosta
Feeling more comfortable within the squad...
To be honest, since the first day I got here my teammates have helped me adapt and connect with the team. The group is awesome, there is a great coaching staff and training staff as well. It helps the player adapt better with team and I thank God for that.
On hoping to score more goals throughout the season...
We're going to go game by game to try and score more goals. I appreciate the hard work of my teammates and we go back to work again next the week.
On keeping possession and maintaining a good passing completion percentage...
Like I said earlier, we work during the week to improve on that. It is something our coach [Luchi Gonzalez] wants and what the rest of us want as well. We want to have and keep the ball because we know the qualities of them, so we try and prepare to be ready for any situation.
The importance of the midfield having the ball more...
I think the midfielders are the ones who move the ball a lot. Everyone on the field are important, but the three midfielders are the most vital ones for the team. We move the ball and make passes to distribute the ball to everyone else.
FC Dallas midfielder Paxton Pomykal
Thoughts on own performance and first start...
Feels great to be able to start and contribute to the team and ultimately the importance of getting three points at home today. Four points in two games isn't terrible at the end of the day and I'm looking forward to the next one against Columbus.
Thoughts on assist to [Bryan] Acosta's goal...
All credit to Acosta for having the technique and power to pull that off, what a goal.
What does this first win of the season mean for the club, being Luchi [Gonzalez]'s first one as well...
It's huge. Our first win as a team this season as well as Luchi [Gonzalez]'s as a professional head coach, so it's a big confidence boost and showed that we have belief in our new concepts and style of play today.
Thoughts on Edwin Cerrillo's debut...
Both Reggie and Jessie played, as well as Edwin made his debut. I'm proud of him as he's been working his butt off during preseason and proven what a great player he is.
FC Dallas midfielder Edwin Cerrillo
Thoughts on first debut as a professional...
It may sound cheesy but it truly is a dream come true. It's a moment I've been waiting for ever since I was a little kid to play professional soccer. The first step was obviously to sign my first professional contract and the next one was to make my debut. Thankful that the coach believed in me today and made that happen.
Stepping on the pitch for the very first time...
Surreal to be honest. Nervous for the first two minutes but after that it started to feel more like at training and I started to get the confidence. Really happy with the minutes I got today.''
FC Dallas defender Reto Ziegler
Thoughts on own performance and the teams...
I'm really proud of my first goal of the season and wearing the captain armband, but the most important thing is the team effort and I'm really proud that we won today. We kept our composure with the ball and dominated LA, so it's a deserved win.
On getting the shutout...
As a defender I'm also very pleased with the clean sheet and we're going to try and do this more often this season while still keeping our boots on the ground and knowing that it will take hard work to continue to earn wins.
Thoughts on locker room atmosphere and being Luchi [Gonzalez]'s first win as a head coach...
We're happy that we were able to provide him that as a team, as he really deserves it and have worked really hard to achieve it. Hopefully it will not be the last and we're happy with the job he does and enjoys the tactics he wants us to play.
FC Dallas defender Matt Hedges
On the penalty kick decision...
I was jumping up to head it and he basically kicked me right in the arm. That was probably the hardest I've ever been kicked.
On the team's possession through the match...
[Possession] is something that Luchi [Gonzalez]'s really stressed throughout the preseason process. In the first game, it was okay, but there were still sometimes where we could have done better. But I thought in this game, we really took control. A lot of the time we had the ball, we found good spaces and made them run a lot, especially in the second half. There were a lot of times where we had very long possessions and we could show how they were tiring out.
On getting the shutout...
For the defensive line, the most important line is the zero. That's what we focus on as our back four is we want to get the shutout. The goals will come, but we're happy that we got the zero today.
On getting a win...
It's always positive with the win and start off the season strong with a couple points. Luchi [Gonzalez] brought a whole new attitude to the family.
LA Galaxy head coach Guillermo Barros Schelotto
On the game...
"I think we had some opportunities during the first half, we couldn't get a goal and the game was tied. They weren't able to build a play to score on us, but we gave them their opportunities, the penalty and in the second goal we missed the ball in the box. In the first half when [Dominique] Badji had a one on one with David Bingham we gave the ball away as well so I think we made some mistakes that made it very easy for the other team."
On how to clean up the defensive mistakes...
"We need to work, we need to be more consistent when we have the ball and try to score because it's very important. We weren't lucky today, we had two shots hit the post, I think the penalty was soft but I prefer to talk about the first half where I think our team played well. We tried to pressure every time and press them, and we did good but in the second half we lost our advantage."
On the positives from the first half despite the missing players...
"Yeah of course, we missed them. The quality for Romain [Alessandrini] and Zlatan [Ibrahimovi?] is very high but there's no excuse. I think in the first half we played really well, we had opportunities but in the second half we made mistakes."
[Translated from Spanish]
On the first loss of the season...
"I think we gave Dallas the possibility to beat us. We weren't able to score in the first half, but we were very close and all of Dallas' possibilities were our mistakes. We gave away a penalty, even though the kick was soft it was there, then on the second goal we had the ball and we gave it away to the Dallas player who crossed it and then they scored. In the first half we gave them the pass that left [Dominique] Badji one on one against [David] Bingham. We need to be better, more focused because we can't make those mistakes because we lose the game."
On whether Zlatan's absence was felt...
"Yes of course, the absence of Ibrahimovi? and Alessandrini is clear and unfortunately I hope we won't have to use this as an excuse."
LA Galaxy midfielder Chris Pontius
On the loss against FC Dallas...
I felt we were a half-step late and let them take the game pretty well. I think we got tired of chasing at some points and they were able to grow from there. That first goal wasn't something necessarily earned ... that kind of put us on the back foot after that.
Thoughts on the first match...
In the first half, the positive was that we didn't give up any real chances to them. Except I think they had one luck off our mistake.
LA Galaxy forward Ethan Zubak
On his first game with LA Galaxy...
It's been a crazy 24 hours. I've known for a little bit that I'd get my contract. Next thing I know, they tell me I'm going on a trip to Dallas, so it's been an emotional 24 hours but in a good way.
On a missed opportunity...
I thought that I maybe could have taken the shot. I gave it a little pass to Efrain too, though I think it was unlucky that he missed it. That's a chance that maybe I could learn of in the future - maybe I could have taken the shot, maybe it was the right play. It's been a long, long journey. I don't think it's still quite hit me yet.
• Discuss this story on the Major League Soccer message board...


Major League Soccer Stories from March 9, 2019
The opinions expressed in this release are those of the organization issuing it, and do not necessarily reflect the thoughts or opinions of OurSports Central or its staff.