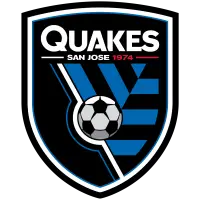 Chris Wondolowski scores four goals to break all-time MLS record
May 18, 2019 - Major League Soccer (MLS) - San Jose Earthquakes News Release



SAN JOSE, Calif. - The San Jose Earthquakes defeated the Chicago Fire 4-1 on Saturday afternoon at Avaya Stadium. Quakes forward and captain Chris Wondolowski scored all four goals in the Quakes' win, giving him 148 for his career and eclipsing Landon Donovan's MLS goal-scoring record of 145.
San Jose earned its fourth consecutive home victory, in which they've outscored opponents 12-2 and allowed just one goal from the run of play. The Quakes' are 4-2-2 in their last eight matches, their best eight-match span since the first eight games of the 2016 season.
The victory came against a Chicago side that entered Saturday on a three-match unbeaten streak and hadn't allowed a single goal during that span.
The Earthquakes now hit the road to take on Toronto FC on Sunday, May 26 (4:30 p.m. PT; NBCSCA/KNBR 1050/1370 KZSF).
MLS Regular Season
San Jose Earthquakes 4 - 1 Chicago Fire
May 18, 2019 - Avaya Stadium in San Jose, Calif.
Attendance: 15,232
Scoring Summary: SJ ---Chris Wondolowski (Shea Salinas) 21; SJ ---Chris Wondolowski (unassisted) 48; SJ - Chris Wondolowski (Cristian Espinoza) 74; SJ - Chris Wondolowski (Jackson Yueill) 76; CHI - Aleksander Katai (Dax McCarty) 83.
Misconduct Summary: CHI - Johan Kappelhof (caution) 41; SJ - Cristian Espinoza (caution) 54; CHI - Jorge Corrales (caution) 63; CHI - Francisco Calvo (caution) 86; CHI - Aleksander Katai (caution) 90+4.
SAN JOSE EARTHQUAKES: Daniel Vega; Nick Lima, Florian Jungwirth, Harold Cummings, Tommy Thompson; Jackson Yueill; Chris Wondolowski (Siad Haji 90+1), Magnus Eriksson, Anibal Godoy, Shea Salinas (Judson 88); Cristian Espinoza (Vako 79).
SHOTS: 21; SHOTS ON TARGET: 7; SAVES: 2; FOULS: 9 CORNERS: 10; OFFSIDES: 4
CHICAGO FIRE: David Ousted; Jorge Corrales (Diego Campos 72), Francisco Calvo, Johan Kappelhof, Marcelo; Brandt Bronico (Mohammed Adams 55), Dax McCarty; Przemyslaw Frankowski, Aleksandar Katai, C.J. Sapong; Nemanja Nikolic (Djordje Mihailovic 55).
SHOTS: 16; SHOTS ON TARGET: 3; SAVES: 3; FOULS: 16; CORNERS: 7; OFFSIDES: 0
MATCH NOTES:
Chris Wondolowski scored four goals, 145-148 of his MLS career, to eclipse Landon Donovan's all-time MLS scoring record of 145.
Wondolowski tallied his first game-winning goal of the season and 41st of his MLS career. He moved into a tie with Landon Donovan for most game-winning goals in MLS history.
Wondolowski scored multiple goals in a single match for the first time since June 30, 2018. He tallied 3+ goals for the first time since Oct. 6, 2012. He tallied 4+ goals for the first time in his career.
Wondolowski has now scored three or more goals in a match for the fifth time as a member of the Earthquakes. All other players in club history have combined for three hat tricks.
The San Jose Earthquakes have now won four consecutive home matches for just the second time since 2013 (June 24 - Aug. 5, 2017).
San Jose holds a 4-2-2 record since the start of April, their best eight-match span since the first eight matches of the 2016 season (4-2-2).
Midfielder Shea Salinas tallied his second assist of the season, 48th of his MLS career and 45th as a member of the Earthquakes. He surpassed Richard Mulrooney for second most in club history (Ronald Cerritos - 47).
Salinas has assisted on 14 goals by Chris Wondolowski. Only 10 teammates in MLS history have ever connected for more goals.
Midfielder Jackson Yueill tallied his second assist of the season and sixth of his MLS career.
The Earthquakes now hold a 11-16-11 all-time record against the Chicago Fire.
The Earthquakes now hold an 9-6-5 all-time record against the Chicago Fire at home.
The Earthquakes now hold a 2-1-0 all-time record against the Chicago Fire at Avaya Stadium.
SAN JOSE EARTHQUAKES HEAD COACH MATIAS ALMEYDA
On being a part of Chris Wondolowski's record-breaking moment:
"I felt privileged to be able to coach a player that was close to setting an important record, and to have accomplished it in the way he did. I think he deserves it; he's a great professional, and a great team member. The merit is his and we are all happy to enjoy the record he just set."
On how the match was played out:
"We knew [the Chicago Fire] are a great team, that are in good form. The strategy they used was often when we lost the ball, they would come out and counter attack. They would group together in the back very well, so we weren't desperate in quickly trying to get to the opponent's goal. We just needed to continue controlling the match and creating space. The spaces opened on the sides. We were able to score the first goal, then the match evened out, but we had more ball possession and we wanted the three points, and by chance we got them."
On winning four-straight home matches:
"We found a path that we need to stay on. We are very close to finding our system of play that will allow us to have a clear idea of how we need to approach every match. The team that played today, aside from [Daniel] Vega and Cristian Espinoza, is the same team that played in the previous season. We are seeing major improvements, individually and collectively and we have to keep going. I think little by little they are convincing themselves that they can do it, and when I chose this place [San Jose], it's because I was convinced that they can do it. The idea was for them to be convinced, and as of now they are convincing themselves."
SAN JOSE EARTHQUAKES FORWARD CHRIS WONDOLOWSKI
On how the record-breaking goal happened:
"I love visualization, I love going through different things. I always pictured hitting a 30-yard blast going upper 90, didn't really picture the goalkeeper dropping it and tapping it in, but I'll take it. Honestly, I'm just having fun right now. It's kind of rejuvenated, reignited this passion and I'm really having fun right now."
On the feeling after the scoring the record-breaking goal.
"To be honest, I've probably crashed in on every shot like that probably 1,000 times and 999 times he catches it and holds it and I have to run back. This time I saw it come to the ground and I was able to get a toe on it. I was able to celebrate it with the team, the subs right there. Being a part of them the last few games, we all know how important the goal is and everyone is celebrating the goal the exact same. The coaching staff, you see how much joy they have on the sideline. Again, just to be right there. It's been so long and so many games where I've promised a handshake or a hug to each person, my daughters, Andy Dunbar, the equipment manager I wanted to give him a hug too, not enough to go around, but it was pretty special."
On the team's win and what the goal means to him:
"I've had to talk about it quite a bit, having to elaborate on it. I've tried to push it to the side because I love playing. To get it on a win, to play like we played today, I thought we played very well. We moved the ball and kept possession. I felt that we connected a lot of passes and created a lot of opportunities and I was able to find myself at the end of those and it's amazing. It is a relief now, I'm not going to lie. It's nice to have it done but it's still so surreal that I get a message from Landon Donovan, that he even knows my name is crazy and boggles my mind. To see that I got some messages after the game on the video board and those guys know my name and talking to me and congratulating me, it's amazing. It's still surreal. It still hasn't sunk in and I'm not sure when it will or if it will until I'm even more gray and a lot older. But it's pretty cool."
On having to wait to score the record-breaking goal:
"It's looming just cause it's there, but to be honest this year has been so much fun. I think that this coaching staff and this locker room have reignited that passion and a love for the game and I'm just enjoying it out there. I'm going out there not to score goals, I'm going out there because it's fun."
On Hoesen's injury and getting to start:
"It was very unfortunate for Danny to suffer a bit of an injury yesterday, it happened in practice and he wasn't sure if he was able to go. I think Danny has been playing unbelievable. It's reignited a passion and I do enjoy it whether I'm coming off the bench or starting. It's always fun to get the start and I didn't necessarily know until he had a pregame test and wasn't able to necessarily go today. I'm always ready, always ready to go. I know my role. I know my job in that sense. It was fun. I didn't necessarily think that four goals were coming but driving in I had a special feeling. I really thought that today could have been the day."
SAN JOSE EARTHQUAKES MIDFIELDER SHEA SALINAS
On witnessing Chris Wondolowski set a new record:
"It's a culmination of a lot of hard work from Wondo. We've been teammates [for] the longest. He's been my teammate longer than anybody on this team and it's just an honor to be a part of what he's done. He's an incredible person, an incredible teammate, and an incredible goal-scorer so it's cool to be a part of it."
On if the team had a feeling Chris Wondolowski would break the record ahead of the match:
"I don't think we thought about it too much. It was unfortunate for Danny [Hoesen] to get injured at the last minute, but Wondo is just such a true professional. He's been working so hard in practice, clearly ready for his moment and it's awesome that it came tonight."
Images from this story
• Discuss this story on the Major League Soccer message board...


Major League Soccer Stories from May 18, 2019
The opinions expressed in this release are those of the organization issuing it, and do not necessarily reflect the thoughts or opinions of OurSports Central or its staff.
Other Recent San Jose Earthquakes Stories