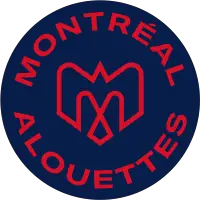 Alouettes 2019 Most Outstanding Players: Muamba, Stanback and Matte Honoured
October 30, 2019 - Canadian Football League (CFL) - Montreal Alouettes News Release



Montreal - The Canadian Football League unveiled the 2019 Most Outstanding Players for each team on Wednesday. Quarterback Vernon Adams Jr. was unanimously voted the Alouettes' Most Outstanding Player. Canadian linebacker Henoc Muamba received a double nomination from voters as the Alouettes Most Outstanding Canadian Player and Defensive Player. Veteran Kristian Matte was voted the team's Most Outstanding Offensive Lineman, while Boris Bede and Jake Wieneke were respectively chosen Most Outstanding Special Teams Player and Most Outstanding Rookie.
Quarterback Vernon Adams Jr. had a lot of success in his first season as a starter. He helped orchestrate five fourth quarter comebacks, which is one short of the CFL record. The 26-year-old is currently second in the CFL with 22 touchdown passes and sits in first place with 13 touchdowns (12 rushing and one receiving), one short of the CFL record for quarterbacks in a season. The Pasadena, CA native completed 270 of his 415 passes for 3,816 yards in only 15 games. The American pivot leads the CFL with 44 completions of 20 yards or more and 1,401 yards. He represents a double threat for opposing defences as he rushed for 392 yards, maintaining an average of 4.8 yards per carry. On September 21, he helped his team come back from a 24-point deficit against the Winnipeg Blue Bombers, scoring 20 points in the fourth quarter in a 38-37 win. It marked the greatest comeback in team history and his 488 passing yards that day represent the highest total in the CFL by a quarterback this season. He has a passer rating of 99.2 on the season. He also caught a 21-yard touchdown pass on a trick play on July 31 against the Edmonton Eskimos.
Henoc Muamba continued his great work with the Alouettes in 2019. The 32-year-old is among the league leaders with 84 defensive tackles, including four for losses. His 84 tackles currently rank him ninth all-time in Alouettes history for defensive tackles in a season. The linebacker also registered a sack, forced two fumbles, recovered one, while defending three passes. Muamba had received the triple unanimous nomination of Most Outstanding Canadian, Most Outstanding Defensive Player and Most Outstanding Player with the Alouettes in 2018.
Veteran Kristian Matte received a fourth consecutive nomination for the Alouettes after starting all 17 games at centre. On top of limiting opposing teams to 38 quarterback sacks, Matte helped create the openings that allowed the team to reach second place in the CFL with 2,108 rushing yards, including William Stanback's 1,003 rushing yards. Matte is in constant communication with quarterback Vernon Adams Jr. on every play and has been an important factor in the latter's successes this season.
Boris Bede is arguably having his best season with the Alouettes, which explains his first nomination. The 29-year-old Toulon, FR native has made 30 of his 34 field goal attempts this season and his 88.2% success rate puts him third in the CFL and first place among East Division kickers. On kickoffs, the former Université Laval Rouge et Or forced opposing offences to start a league leading 11 series from inside their own 10-yard line. He has maintained an average of 44.6 yards by punt this season. He leads the CFL with a 68.8-yard average on kickoffs, which is the third highest total in CFL history.
Jake Wieneke took the CFL by storm in 2019 as he has been an important target for quarterback Vernon Adams Jr., especially in the red zone, where the American receiver has made seven touchdown receptions, which is good for fifth place in the CFL. The Maple Grove, MN native caught 39 passes for 555 yards, which places him fourth among Alouettes receivers. The 25-year-old had his best outing on September 21 in the Alouettes historic comeback against the Blue Bombers when he caught eight passes for 134 yards and a touchdown.
The award recipients were selected by voting members of the Football Reporters of Canada (FRC) and CFL head coaches.
• Discuss this story on the Canadian Football League message board...


Canadian Football League Stories from October 30, 2019
The opinions expressed in this release are those of the organization issuing it, and do not necessarily reflect the thoughts or opinions of OurSports Central or its staff.