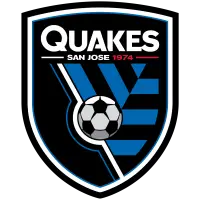 Wondolowski scores twice; Quakes extend winning streak to three
May 8, 2021 - Major League Soccer (MLS) - San Jose Earthquakes News Release



Chris Wondolowski of the San Jose Earthquakes celebrates the first of his two goals on Friday
(San Jose Earthquakes)
SANDY, Utah - The San Jose Earthquakes defeated Real Salt Lake 2-1 at Rio Tinto Stadium on Friday evening, extending their winning streak to three and jumping to the top of the Western Conference and Supporters' Shield standings. San Jose handed Real Salt Lake their first defeat of the season after a perfect 2-0-0 start.
Real Salt Lake would go up 1-0 moments before halftime through Rubio Rubin. A long throw in was headed towards Rubin and he proceeded to control and bicycle kick the ball goalward, beating goalkeeper JT Marcinkowski at the near post.
San Jose equalized in the 83rd minute. Forward Chris Wondolowski, a second-half substitute, scored on a point-blank shot after goalkeeper David Ochoa made a diving save to his right on a shot by Carlos Fierro.
The Quakes then dramatically took the lead four minutes later. Fierro sent a long cross into the box from the right flank and Wondolowski headed the ball past Ochoa.
The Earthquakes will now return to San Jose for three straight home matches, beginning Wednesday, May 12 vs. Seattle Sounders FC, presented by Fastmetrics. The match kicks off at 7:30 p.m. and will be broadcast live on NBC Sports Bay Area, KNBR 1050 and 1370 KZSF.
GAME NOTES
The Earthquakes now hold a 3-1-0 record (9 pts.) during the 2021 MLS regular season and currently sit in first place in the Western Conference. The Quakes are also atop the Supporters' Shield standings for best regular season record in all of MLS.
Among all teams in MLS, the Quakes rank first in points (9), wins (3), and goals (10), and third in goal differential (+5).
San Jose became the first team to defeat Real Salt Lake this season. RSL was the last team in MLS with a perfect record (2-0-0) prior to tonight's result.
The Quakes earned their first three-game winning streak since 2019 (four matches from 7/6/19 to 7/27/19).
The Quakes defeated RSL at Rio Tinto Stadium for the first time since Sept. 21, 2013, snapping a six-match winless streak (0-3-3).
Chris Wondolowski scored his first and second goals of the season and 167th and 168th of his MLS career, extending his own record. Wondolowski has now scored five goals in his last six appearances, with four of those goals coming vs. Real Salt Lake. It marked his 25th career multi-goal game, second most in MLS history (Landon Donovan - 32). His second goal was the game-winner, the 46th of his career, extending his own league record. Wondolowski has now scored 12 career goals vs. Real Salt Lake, most in MLS history.
Carlos Fierro tallied the assist on Wondolowski's second goal. It marked his second assist of the season and fifth of his MLS career. It also marked the first game-winning assist of his MLS career.
Defender Marcos Lopez returned to action after missing the last two matches to injury, starting and playing 66 minutes.
MLS Regular Season
Real Salt Lake 1 - 2 San Jose Earthquakes
May 7, 2021 - Rio Tinto Stadium in Sandy, Utah
Michelob Ultra Man of the Match: Chris Wondolowski
Scoring Summary: RSL - Rubio Rubin (Damir Kreilach) 43; SJ - Chris Wondolowski (unassisted) 83; SJ - Chris Wondolowski (Carlos Fierro) 87.
Misconduct Summary: RSL - Damir Kreilach (caution) 1; SJ - Eric Remedi (caution) 21; RSL - Albert Rusnak (caution) 49; RSL - Justin Meram (caution) 50; RSL - Nick Besler (caution) 86.
REAL SALT LAKE: David Ochoa; Andrew Brody, Donny Toia, Justen Glad, Erik Holt; Pablo Ruiz, Damir Kreilach, Justin Meram (Maikel Chang 79), Albert Rusnak, Nick Besler; Rubio Rubin (Douglas Martinez 80).
Substitutes not used: Milan Iloski, Zac MacMath, Ashtone Morgan, Andrew Putna, Justin Portillo, Jeizon Ramirez, Tate Schmitt.
SHOTS: 15; SHOTS ON GOAL: 4; FOULS: 11; CORNER KICKS: 4.
SAN JOSE EARTHQUAKES: JT Marcinkowski; Marcos Lopez (Shea Salinas 66), Tanner Beason (Chris Wondolowski 72), Florian Jungwirth, Tommy Thompson (Luciano Abecasis 66); Carlos Fierro, Eric Remedi, Jackson Yueill, Cristian Espinoza (Judson 87), Chofis (Andy Rios 66); Cade Cowell.
Substitutes not used: Benji Kikanovic, Paul Marie, Jack Skahan, Daniel Vega.
SHOTS: 15, SHOTS ON GOAL: 6; FOULS: 9; CORNER KICKS: 7.
SAN JOSE EARTHQUAKES HEAD COACH MATIAS ALMEYDA
On the team's comeback victory:
"We knew this was a difficult opponent. They won their first two matches. This match was even until they scored a great goal with one minute left in the first half on that throw in. In the second half, I thought we kept order and took the risks we had to take. I thank the players that I coach every day for their willingness, devotion and desire, and their conviction. Above all, I am grateful for the humility that they have. The team has been growing. They believed they could win the match and we got our reward."
On Chris Wondolowski's brace:
"I just thanked him as I did with the whole group. They are really covering a part in my life where they are bringing me happiness. My family celebrates every goal as if I were playing, and they are filling a difficult moment that I am experiencing with that devotion and willingness. Everyone contributes their grain of sand and I am always grateful and proud of them. Chris [Wondolowski] gets ready every day with the belief that he can keep scoring. He supports whoever is playing and gives everything when he is called up. He deserves to score these goals because he is our legend that continues to score."
On facing Seattle Sounders FC next:
"Firstly, we must return to our city, San Jose. We will rest and enjoy the day. Beginning on Sunday, we will begin to work regarding Wednesday's match. It's important that they all rest and recover, and then we'll look ahead, and we know that every opponent we face will be difficult. We will try to be competitive with Seattle."
SAN JOSE EARTHQUAKES FORWARD CHRIS WONDOLOWSKI
On having a strong performance after missing last match to suspension:
"It was monumental for me. The first two weeks, I probably had the two worst plays of my career back-to-back. I can't be thankful enough for the teammates that I have that picked me up and also the coaching staff. I say Matias, and a lot of it is Matias, but it's his coaching staff as well with Omar [Zarif] and Guido [Bonini]. Those guys really help propel me and I wanted to repay them. They've been the wind behind my back, and I needed them these last couple weeks but I'm proud of this group, proud to be a part of it."
On the team being a family and lifting up Matias after the passing of his father:
"Absolutely. It's cliché to say but we believe down to our core that we are a family. I believe it's family over biology sometimes. You don't need blood to be a family. We have it. Just like how our whole team and staff picked me up, we try to pick Matias up as well. We know that you can't bring your 100% every day and that's why a family will always have each other's back. We're brothers. We always battle on the field, fight. When we get to the locker room, we're going to hug each other, have each other's back, and we're going to fight tooth and nail for every inch."
SAN JOSE EARTHQUAKES MIDFIELDER CARLOS FIERRO
On the team's offense in comparison to previous years:
"We are happy for this win. The team never gave up and fought until the end. Our offense is really good, but I also think our defense did a great job. We are happy for them. As time passes, we are learning more about each other and that has helped the team develop, and we have seen that in every match."
On how changes in tactics impact a game:
"We were trailing and our coach made some changes. When those changes were made, we knew we had to go for it. We have a coach that like to go all in and win. Nobody likes to lose, and that was the message, and it was very clear. Eric [Remedi] dropped to center back, I moved into the middle, and there were changes on the sides and up top. We became a totally different, offensive team. Thankfully, the changes we made turned out perfect and we won the match."
On his recent performances:
"I am happy with my performances. As I always say, I try to give 100 percent as a substitute or as a starter. I always try to give my best and I'm happy for this moment I am experiencing. I'd obviously like to score, but that will come with patience. As long as the team keeps winning, everyone is happy. This is a team effort, and we move forward as a unit."
Images from this story
• Discuss this story on the Major League Soccer message board...


Major League Soccer Stories from May 8, 2021
The opinions expressed in this release are those of the organization issuing it, and do not necessarily reflect the thoughts or opinions of OurSports Central or its staff.