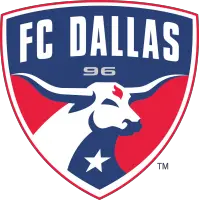 FC Dallas and Houston Dynamo FC Split Points in First 2021 Texas Derby Meeting at Toyota Stadium
May 8, 2021 - Major League Soccer (MLS) - FC Dallas News Release



FRISCO, TX - FC Dallas (1-1-2, 5 points) plays to 1-1 draw with Houston Dynamo FC (1-1-2, 5 points) after Jáder Obrian scores the equalizer in the 42nd minute Saturday afternoon at Toyota Stadium.
Game Summary
First Half:
18' - Ryan Hollingshead cross was met by Franco Jara inside the box, but his volley went wide to the right of Houston's goal.
28' - Tanner Tessmann floated a cross on the right-side Andrés Ricaurte's header was saved by Marko Maric.
34' - Fafa Picault converted the penalty kick to give Houston Dynamo 1-0 lead after Bressan was adjudged to have handled the ball in the box.
42' - Jáder Obrian scored his first Texas Derby goal after pouncing on a loose ball and putting it into the back of the net.
45'+2' - Phelipe Megiolaro made a diving save to deny Maxi Urruti right before the end of the first half.
Second Half
50' - Megiolaro made his second save of the match after denying Memo Rodríguez fired a volley from outside of the box.
61' - Megiolaro once again denied Rodriguez and pushed his shot wide after his freekick went below FC Dallas' wall.
90 + 2' - Dante Sealy found Ricaurte in the middle of the field but his left-footed shot from outside the box was blocked.
Lineups:
FC Dallas - Phelipe; Eddie Munjoma, Bressan, José Martínez, Ryan Hollingshead; Bryan Acosta, Tanner Tessmann (Szabolcs Schön - 66'), Andrés Ricaurte; Jáder Obrian (Dante Sealy - 84'), Freddy Vargas (Paxton Pomykal - 57'), Franco Jara (Ricardo Pepi - 66').
Substitutes not used - Jimmy Maurer, Matt Hedges, John Nelson, Edwin Cerillo, Ema Twumasi.
Houston Dynamo FC - Marko Maric; Adam Lundkvist, Zarek Valentin, Tim Parker, Maynor Figueroa; Memo Rodriguez (Darwin Quintero - 84') , Joe, Corona, Derrick Jones (Darwin Ceren - 72'); Matías Vera (Oscar Boniek - 90'+2'), Fafa Picault (Ariel Lassiter - 84'), Maxi Urruti.
Substitutes not used - Michael Nelson, Alejandro Fuenmayor, Mateo Bajamich, Christian Ramirez, Jose Bizama.
Scoring Summary:
HOU (0-1): Fafa Picault (PK) - 34'
DAL (1-1): Jáder Obrian (Bryan Acosta) - 42'
Stats Summary: FC Dallas/Houston Dynamo
Shots: 13/15
Shots on Goal: 3/4
Saves: 3/2
Corner Kicks: 6/1
Fouls: 21/13
Offside: 1/2
Misconduct Summary:
DAL: Bressan (caution) - 33'
HOU: Memo Rodriguez (caution) - 44'
HOU: Matías Vera (caution) - 44'
HOU: Joe Corona (caution) - 46'
DAL: Jáder Obrian (caution) - 54'
DAL: Bryan Acosta (caution) - 82'
HOU: Matías Vera (caution) - 90'+2'
Weather: Partly Cloudy, 86
Attendance: 8,749 (limited capacity sellout)
Referee: Alex Chilowicz
Assistant Referees: Corey Parker, Kyle Atkins
Fourth official: Nima Saghafi
VAR: Ismail Elfath
FC Dallas Postgame Quotes
FC Dallas Head Coach Luchi Gonzalez
On the overall impressions of flow of game...
I saw us do positive things first half. I know we conceded first unlucky there in the box with the hand ball but we pushed and we responded and it was an earned goal for me. I thought we did well to control the game with possession. We got more crosses, we got more shots but we didn't sustain it second half. You know, I have to say I saw us put a physical effort and mental effort but we lacked this quality that we showed better in the first half then in the second in terms of, you know, we would beat the midfield. We would be fine in the build but then we wouldn't secure the ball maybe to find in isolation wide. We didn't secure the ball in terms of turning the opposition and being aggressive to then counter press. We didn't get a volume of crosses and then we would lose that ball and then they would counter us. They are good in open play and are a team that counters well.
They're organized in that way to be organized defensively and then counter. Then now we are recovered making a lot of effort in recovery runs, a lot of efforts in recovery runs, a lot of effort in recovery runs and that cycle, I think, wore us down and neutralized us to be more dangerous and to push for the game and to go for the game. I'm not disappointed with our physical and our mental effort today. It was just more that quality of hurting their last line and getting crosses, getting balls in behind and getting two versus one wide, one versus one wide. We didn't create enough of those situations to earn more than just one point today.
On rivalry game...
Well, look to their credit, I mean like I said, when we would lose balls and we got numbers committed, they were quick to turn us and recover so it became this open game that they created danger in that way. I'm proud of our guys to make plays in recovery and make blocks and not allow the counters to hurt us or punish us so that's a positive. But, it didn't allow us, we didn't control the game as well as we did the first half and we didn't generate offensively as much as we did the first half. So in that regard and in that detail, in that quality, that's where we are disappointed with this. So if we can put that together, I know we are going to keep improving. But, yeahj, we are disappointed not to push more and create more and generate more for ourselves and our especially in our derby.
Midfielder Andrés Ricaurte
Overall thoughts on the game...
I feel that today was hard for both teams. The temperature didn't help much so I believe that this played a big role in our velocity on the field for both sides. We did our best to do a spectacle for all the fans.
On chemistry with the players from last season and the new players from this season...
This is a process that can be improved during our training, chances to stay together, and with our relationship when we shared movements. We are always getting closer and friendship begins to flow.
Forward Jáder Obrian
Thoughts on the match...
We were at home and for sure we wanted to score and make extra points. Unfortunately, the result was not what we expect but we need to focus now what we are going to do for the next match.
About making a goal in this league, if it makes him more confident...
I feel really good right now about scoring my goal on this match. I would like to thank all my teammates for giving me this opportunity and making me be part of this moment. Also, I would like to thank FC Dallas for bringing me here. I have been learning a lot here and also learning a lot with my partners day by day. We are going home sad with the result. The most important now is to rest and think about the next match.
Midfielder Paxton Pomykal
Thoughts on his role today...
For me, I think most people know my role can be either on the wing or in the middle for this team. Before I came in Luchi basically told me I was going to go in on the wing and then whenever they made other subs, I was probably going to end in the middle. So I knew going in that that's what I was going to do.
Regarding the game obviously, that's not how we want to play at home, not the result we want but at the end of the day we're still undefeated at home. Yeah, we can look at the positives of the game, there were a lot of negatives. We can build on the performance and need to go get three points in Minnesota.
Did it feel like a Derby match?
For me, it always feels like a rivalry playing them. Obviously, this is our Derby. Momentum-wise, it was a little slow on the field and I think a lot of tired legs as it's the first time we've really played in Texas heat this season. I think we've had a pretty mild spring, to be fair, not a lot of training in hot weather. Today, a 2:30 kickoff, was probably the hottest weather we've either trained or played in, to date. So I think a lot of tired legs might have been the case for that. I think it wasn't just us, both sides looked a little gassed at the end but that's no excuse to bring energy and compete. I thought the guys that came on did a good job but at the end of the day, we didn't get the result, so that's the most important thing.
• Discuss this story on the Major League Soccer message board...


Major League Soccer Stories from May 8, 2021
The opinions expressed in this release are those of the organization issuing it, and do not necessarily reflect the thoughts or opinions of OurSports Central or its staff.