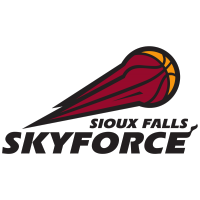 Through the Fire with Renaldo Major: a Three-Part Series
December 1, 2021 - NBA G League (G League) - Sioux Falls Skyforce News Release



Renaldo Major is the all-time leading scorer in G League history (5,058 points). He owns G League records in four other categories: minutes played (11,555), field goals (1,702), free throws (1,486) and steals (502). Major is fifth all-time in rebounds (1,628) and has played in 400 G League games (good for second all-time). He is a G League champion (2006-07), G League Defensive Player of the Year (2007-08), All NBA G League First Team and All-Star (2007-08) and G League Sportsmanship Award recipient (2014-15). After a 15-year professional career, Major has turned his attention to coaching, as he is in his first year as an Assistant Coach for the Sioux Falls Skyforce. The following three-part series takes an in-depth look at growing up in Chicago, falling in love with basketball, the highs, and lows of the professional game, coaching and what the future holds. We continue in 2008, where Renaldo was recovering from heart surgery.
Recovering from the loose aortic valve in his heart would deem to be the least of Renaldo Major's worries.
As he continued to play post-surgery, he remembered the day like it was yesterday.
The 2008 NFL Draft was on, and Major was at Buffalo Wild Wings with teammates and friends. He's been a Chicago Bears fan ever since he can remember. The same for his dad, Ron.
"Just as I am feeling better and back in good shape, I get a call. I will never forget that day," Major recalled. "My dad and I always would talk about the Chicago Bears draft picks. I remember picking up the phone at Buffalo Wild Wings to talk to him. My uncle answered the phone and told me my dad had a stroke.
I remember thinking how strong my dad was. He was a body builder. He played sports, even up until the end. How could this happen to him?"
Major rushed back to Chicago, but while he was on the way Ron had another stroke.
"I finally get to Chicago. It felt like it took forever to get there. Once I get to the hospital, I talked to the doctor," he said. "They had been keeping him alive, essentially. We didn't want him to suffer any longer. It was a tough decision; we knew he wouldn't want that. Rest in peace to him, there's not a day that passes that I don't think about him."
The passing of his father would change his perspective, and what it meant to be a man. That would eventually open the door for him to become more of a mentor on the hardwood.
"I lost my best friend," Major expressed. "I thought about how I could keep making him proud after he's gone. It was time to start giving back and being the best version of myself."
Major played for the Dakota Wizards in Bismarck, North Dakota until 2010-11. With a reformed playing type due to his surgery, and a wiser mind, he needed a new challenge.
For the 2011-12 season, Major suited up for the Bakersfield Jam in Bakersfield, California. He posted 15.2 points on 53.3% shooting, 4.65 rebounds and 2.3 assists. He would play for the Jam from 2014-16, as well, in between stints in Mexico, Finland, and Puerto Rico.
In 2014-15, Major was given the NBA G League Sportsmanship Award for his work in the community.
"I loved being in the community," he said. "I come to wherever I am at with a huge smile on my face. I love people. I did whatever they wanted me to do. We had practice and workouts for only half the day, I had enough time to go out and help. I wanted to make an everlasting impact. I still get Facebook messages about events we would go to. That's what it is all about."
Bakersfield would mean much more to him than the game of basketball. It is where he would start his own family and have two sons, Ramari and Travis.
"I had a good stint there," Major noted. "I met the mother of my children and that was the greatest thing to ever happen to me. It's the best thing in the world. They are my world, and already love basketball. Pretty cool that Ramari is a dreamer baby, born on Martin Luther King Day."
Major would finish his G League career for the Reno Bighorns in 2016-17. It was after that season he, again, was back in Chicago contemplating his next move.
Renaldo Major has become the first player in @nbadleague​ history to exceed 5,000 career D-League points. #RenoComeTogether pic.twitter.com/9QHLgNbvW2
- Stockton Kings (@StocktonKings) January 29, 2017
This one felt different. It was different. He was older and had kids to worry about.
"What am I going to do? Like, I don't know what to do," Major noted. "How do I keep finding myself in this spot?
I needed something new. I wasn't ready to give up the game. I had heard of The Basketball League and there was mutual interest with the Yakima SunKings. It was a fresh start and a place where I could really make an impact as a leader."
Major had a renaissance season in 2017-18, powering the SunKings to a TBL championship and earning TBL Finals MVP. His time in the TBL would prove to be a pivotal point to where he is today as a coach.
Everything was shaping up for a repeat in 2018-19. Major had the SunKings back in the TBL Finals and they took a commanding 1-0 lead in the series.
It was too good to be true, however.
"I had 30 points and thought I was due for back-to-back Finals MVP," he recalled. "Our coach got fired after the game. That was crazy. I thought I had seen it all. They asked me to coach. I could have played, too, but they needed a full-time coach. It was a sacrifice I made for the team. We probably win if I play, but we ended up losing. And that was it for me. I gave the game everything I had. Literally everything."
It was time for Renaldo to have a 'normal' life. For his entire life, he dedicated it all on the court. It was time for him to focus on family. At that point, he was sick of all the extra things that came with the game of basketball.
"People always asked me, 'Why aren't you doing anything with basketball? You could be a great coach. You could probably still play the game,'" Major said. "I was over it at that point. I needed some time away. I was so ready to just be a normal person. I needed to be with my family. I cherish that time we had together."
His first job that wasn't basketball related was at Dollar Tree. He started as a full-time employee and was on his way to becoming an assistant manager up until accepting a job with the Skyforce.
"Life after basketball hit me like a truck," Major said. "I had no job, no apartment, really nothing except my family when I moved back to California. I just trusted the Lord and knew he would get me through the tough times. It was a real struggle, no doubt about it. There were some great people at Dollar Tree. I always went there with a smile. But it was a struggle all the way until I came here."
A Facebook message from Skyforce Video Coordinator/Assistant Coach Nate Wilson sparked some interest in returning to the game, this time on the basketball operations side as an intern.
However, Major had serious doubts about leaving his family. Ultimately, his loved ones unanimously supported the move.
"It was up until this September when I decided I should go back to the game," Major expressed. "The mother of my children said I should do it; my mom even said it. When those people are telling me to do it, I figured I should. It was time. I called Kasib (Powell) and accepted the job."
Powell knew what Major would bring from their time on the court and felt he was a missing piece to his staff.
"I felt like we could do some special things this year," he said. "I wanted Renaldo to be a part of it. He was a missing piece, as far as the staff goes, with playing, knowing, and understanding the league. Having him on the staff helped instantly with the guys buying in to what we are preaching."
Upon arriving to Sioux Falls for training camp, he was offered a spot as an Assistant Coach on Powell's staff. But for Major, the job titles are irrelevant. His focus is on his players.
"It doesn't matter to me at the end of the day if I am an intern or Assistant Coach. The first day of practice felt like I was in heaven," Major said with a grin. "I made my impact on the players by talking, being spirited, and teaching the game. I wanted to let them know they are here for a reason, and they are able to accomplish whatever their personal goals and our team goals are."
Ultimately, the players found out who Renaldo Major is. That was from talking amongst themselves, though. To Major, the accolades of the past don't hold the same amount of weight as a coach.
"None of that really matters now. My playing days are over," he said. "I am just here to help us win games. I know it's gotten around the team about my career. They joke around and call me logo, I think Ja'Vonte Smart started that. Brandon Knight has had some fun with it, too. If people know, they know. I am not the type of person to bring that stuff up."
"We joke around a little bit and call him logo. The G League logo," Powell said of Major. "With how authentic he is, he doesn't have to really talk about the stats and what he did as a player. The guys on the team feel the love and passion he has for the game. They respect him for that. Once they find out more of how he was and what type of player he was, it makes that love go up even more."
There is an approach Major is taking from his playing days to the grind of being a G League coach, and that is learning anything and everything he can.
"I am trying to be a sponge. I am a rookie all over again, although it's a lot different than my time in Gary," he joked. "I thank Kasib every day for the opportunity. He's just the best person to learn from and work with. I want to learn from everyone. Our whole staff brings things to the table that we can learn from. I've been on a court my whole entire life. I need to learn some of the other responsibilities that come with coaching."
Major has been a spark for Powell, as the Skyforce, with eight rookies on their roster, are 1-5 and going through early growing pains.
The team has held a lead at halftime in each game this season and owned a lead of 10-or-more points in each game, as well.
There are highlights of success that go past the record and show the growing pains won't last forever. For example, the call-up of Ja'Vonte Smart as a two-way player to the Milwaukee Bucks and having six-players averaging in double-figures scoring, with the emergence of Martin Krampelj and Mike Smith off the bench.
"Going through adversity early on here, he's probably been the main guy who's uplifted me and the team," Powell expressed. "There are times where things aren't as good as we want it to be. He's always been that voice to kind of uplift us and make sure that we all realize it's a longer process. He's been great with that. I've been leaning in on him just emotionally just going through the beginning of the season. But it's been it's been great having him here."
Powell sees great potential for Major in the coaching ranks and noted that his work ethic is what will elevate him as he continues to learn.
"Obviously, he hasn't been on the coaching side of things that long yet," he said. "But you know him, just being a sponge and picking up on every little thing from practice, film and managing of players, I think he has the passion and the knowledge to be a head coach at this level. Just getting that experience is going to help him a ton. I think he has a bright future in coaching. The sky is the limit for Renaldo."
Major is just worried about how he can help now and help make the players better on and off the court.
"I truly feel at home here," he explained. "This is a place where I could live for a long time and grow as a coach and person. You go around the city and people wave back at you. They smile at you for no reason and it's an indescribable feeling being back.
It's just weird how destiny works; I thought this would be my home when I played here first. Then, I got called up to the NBA when I was in Sioux Falls in 2007 at the Showcase. Now, I'm back as a coach. My dreams are coming true a second time in this city. How special is that? Now, being affiliated with the Miami HEAT and the Skyforce speaks for itself. I've been all over the country in this league and nothing."
• Discuss this story on the NBA G League message board...


NBA G League Stories from December 1, 2021
The opinions expressed in this release are those of the organization issuing it, and do not necessarily reflect the thoughts or opinions of OurSports Central or its staff.