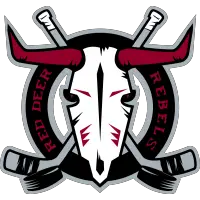 Sutter Expects Shortened Season to Feature Playoff-Like Intensity
February 25, 2021 - Western Hockey League (WHL) - Red Deer Rebels News Release



The Red Deer Rebels are about to kick off a season like no other, a unique 24-game campaign necessitated by the ongoing COVID-19 pandemic.
To Rebels GM/head coach Brent Sutter, however, it will be basically status quo, excepting the many conditions concerning the health protocols.
When the puck drops for Friday's opener versus the Medicine Hat Tigers at 6 p.m. at the Centrium, Sutter will expect his players to display the same level of desire and intensity as in a normal WHL season, perhaps even more.
"The bottom line is you're playing a 24-game schedule and you have to treat is like it's a 68-game schedule," the Rebels boss said Thursday.
"The team that finishes first in the 24-game season will be the (Central) division winner if there are no playoffs. So the competitiveness will kick in come game time, for sure."
Sutter certainly isn't concerned about a lack of motivation among his players once the shortened season is officially underway, especially considering the Rebels haven't played since March of last year.
"The kids have been really good in practice," he said. "Yesterday might have been the most intense practice I've seen around here in years, just in the sense you can tell the kids are edgy because it's been so long since they've had an opportunity to play and they know it's right around the corner. They're getting their emotional and intensity levels up to where they need to be.
"I know the kids are all jacked about getting back to playing."
Included among the limit of 200 people allowed in the Centrium on game days will be NHL scouts. Media members and off-ice officials will also attend games, but fans will not be allowed to enter the facility.
"It's huge for these kids from the point of being watched (by pro scouts)," said Sutter. "There is going to be an NHL draft at some point, and there will be players signed in professional hockey here in North America and over in Europe at some time.
"You have one opportunity here through 24 games to show what you can do. It will determine to some degree, and probably a pretty high percentage degree, where you're going to fit into the draft."
While the 2021 season will be short, it will be memorable . . . perhaps a once-in-a-lifetime experience for the players and coaches. At least there will be a season.
"The alternative wasn't great - there wasn't going to be any hockey," said Sutter. "So to throw everything out there for 24 games is not too much to ask from anybody . . . to go out there and play like every game means something to you and the organization.
"To be quite honest, I think the games are going to be pretty intense once the kids start getting their game legs under them. It's going to be somewhat similar to playoff hockey."
Sutter is appreciative of the time and effort put forth by certain individuals and groups to ensure that a season will be possible.
"There's been a lot of people put a lot of work into this, to get us back to playing. Everyone should be very grateful that we're having this opportunity," he said.
"There's been a lot of work between people within our league and league office, health authorities, the governments, the buildings . . . you can look at so many different avenues that have had an impact for us to be at this stage.
"lt's been a roller coaster ride for close to a year now and there's been a lot of time and a lot of effort put into it . . . be grateful and be thankful that we have this opportunity to play some games that are going to mean something."
Obviously, the season will be important in regard to individual player development, which most often is linked to how a team performs.
"You can say it's a development year but it's still a year that means a lot to everyone," said Sutter, referring to younger and older players alike.
"Coaches are going to be coaching to win the hockey game and trying to play guys in certain situations. Personally, as a coach I'm preparing like I would for any other season. That's how I'm preparing and how I want my coaching staff to prepare. That is the fairest thing to do for our players.
"This is what our season is."
Notable: The Rebels will take on the Tigers Saturday in Medicine Hat and the following Friday and Saturday will play a home-and-home set with the Calgary Hitmen . . . Red Deer's leadership group will consist of six assistant captains this season, three per game. One threesome will include Josh Tarzwell, Arshdeep Bains and Jayden Grubbe, with the other trio featuring Chris Douglas, Zak Smith and Ben King . . . The Rebels' original 25-player roster was recently bumped to 26 with the addition of forward Kalan Lind, the team's first-round selection - sixth overall - in last year's WHL bantam draft. Lind, while with the Saskatoon Contacts, was the leading scorer in the Saskatchewan Midget AAA League with seven goals and 14 points in six games before league play was postponed.
• Discuss this story on the Western Hockey League message board...


Western Hockey League Stories from February 25, 2021
The opinions expressed in this release are those of the organization issuing it, and do not necessarily reflect the thoughts or opinions of OurSports Central or its staff.