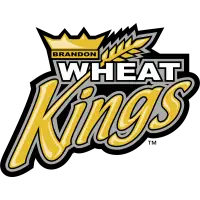 McCartney Looking Forward to His 4th WHL Season
February 25, 2021 - Western Hockey League (WHL) - Brandon Wheat Kings News Release



With the announcement of the Western Hockey League's East Division beginning on March 12th, Ben McCartney can't wait to hear the whistle for the opening faceoff of the 2020-21 Regular Season.
The 6', 183 lbs left-winger is entering his fourth season with the Brandon Wheat Kings and opening night will be McCartney's first game since being drafted 204th overall by the Arizona Coyotes in the 7th Round of the 2020 Draft.
The Wheat Kings had the most players of any WHL club selected in the draft after McCartney and teammates Braden Schneider (New York Rangers, Round 1, 19th overall) Ridly Greig (Ottawa Senators, Round 1, 28th overall) and Cole Reinhardt (Ottawa Senators, Round 6, 181st overall) were all picked. All four players became Wheat Kings via the WHL bantam draft and have developed into key players during their time in Brandon.
Unlike Schneider, Greig and Reinhardt who were on loan to their American Hockey League teams until the WHL starts on March 12th, McCartney hasn't played a competitive hockey game with points on the line since March 7th of last year when the league was forced to cancel the remainder of the season due to COVID-19. Regardless, McCartney says he's managed to make good use of the down time and stay ready for training camp.
"(The off season) has been good. Of course with Manitoba being in lockdown, it was hard to not skate on rinks and use gyms for a while but I did my best to use outdoor rinks and the exercise equipment I have at home as much as possible".
McCartney's spent a lot of his off season on the family farm in his hometown of Macdonald, Manitoba. With the changing regulations that restricted his usual offseason regime, he quickly learned the advantages of belonging to an NHL club.
"Arizona's let me use all the different resources they have to help with training, nutrition and skill work. Which has been extremely helpful through this crazy year."
Prior to the shutdown of public gyms in Manitoba last summer, McCartney had been incorporating boxing into his workouts to stay in shape. This might not come as a surprise to Wheat Kings fans because after three seasons in the WHL, McCartney has developed into a shining example of the gritty type of player the WHL is known for producing.
"I've always played physical, it's always been a part of how I play. I think it's because I'm so competitive and have an edge to my game. I've always played relentless and I like to play physical to create energy for the team".
Photo Credit: Justin OertelMcCartney earned the second-most penalty minutes (105) of any player in the WHL last season, second only to the Seattle Thunderbirds' Cade McNelly. No stranger to corners and the front of the net, McCartney plays a bigger game than his height and weight might suggest on paper.
That mindset also means he's never far from the play. In the COVID-shortened 2020-21 season, he was a point-a-game player scoring the Wheat Kings' second-most points (25G-36A) in 61 games. With 41 points the previous season, his 20-point increase in 2019-20 was the second-largest uptick in point production behind only Ridly Greig.
"I feel like every year you get more comfortable and confident. I felt good coming out of the (2019) summer which let me come into the season with confidence. Also, I had the chance to play with some great hockey players throughout the year".
Last season's forwards were a veteran-laden group for the most part. McCartney played the majority of his minutes on the team's top two lines with some familiar faces, guys he'd already played alongside for one, two, or even three seasons in Brandon. The familiarity of the team began to show after Christmas when the Wheat Kings tore off a 10-game win streak.
"Last season I played most of the year with Burz (Luka Burzan) and Macker (Lynden McCallum). I found that we had really good chemistry, especially in the second half of the season".
Another familiar face McCartney can expect to see when the team meets for training camp on March 4th is Don MacGillivray, who was named the Head Coach of the Wheat Kings on November 4. After four seasons spent as an assistant coach with the club, MacGillivray's been a consistent voice for McCartney during his time in Brandon.
"Donny and I have always had a really good relationship. He's always been easy to talk to and really helped me get to where I'm at today."
In McCartney's rookie and sophomore seasons in Brandon, MacGillivray was an assistant to David Anning before Dave Lowry took over as head coach in the summer of 2019. With Lowry departing for the NHL's Winnipeg Jets this past November, MacGillivray will now be leading a group of players he's been familiar with since each player first came to Brandon.
"I'm really excited for the team because of how he handles himself as a coach" says McCartney. "I know that the team, myself included, have complete trust and respect for Don which are huge traits towards a successful team."
It's amazing the difference a calendar year can make but McCartney appreciates the position he and the rest of the WHL have been put in to be able to play a season. After numerous projected start dates for the Regular Season came and went due to health and safety precautions, when the league's Central Division kicks off tomorrow night it will be a testament to the hard work and determination they've kept in order to let their athletes play in a safe environment.
"I'm just excited to get back with the team for that atmosphere around the rink. It's just unbelievable that we got the opportunity to experience a Hub and finally get back to playing hockey games. I think it's really exciting, there's a lot of rivalry in the East Division which will bring a fast and hard-hitting game right when the puck drops."
• Discuss this story on the Western Hockey League message board...


Western Hockey League Stories from February 25, 2021
The opinions expressed in this release are those of the organization issuing it, and do not necessarily reflect the thoughts or opinions of OurSports Central or its staff.