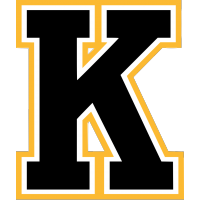 Successful Road Trip
December 2, 2021 - Ontario Hockey League (OHL) - Kingston Frontenacs News Release



During a tough stretch, the Kingston Frontenacs came away with four of six points last weekend that saw the Fronts play three games in three days with two road games. Facing-off against the top three teams in the Eastern Conference, the Black and Gold find themselves just three back of the Eastern Conference lead with three games-in-hand on the first-overall North Bay Battalion.
A Battalion Battle
The Fronts could not get home win before the two-game road stretch suffering a 5-2 loss to the Eastern Conference-leading North Bay Battalion. Freshman Nathan Poole scored his first OHL goal in the game, with fellow rookies Gage Heyes and Jackson Stewart teaming up to register their first points in their OHL careers, respectively. "I kind of came off the bench and saw Stewie (Stewart) going wide and made a great pass to Gager (Heyes), and he gave me a nice pass and was able to bury it," said Poole after the game. "It was a pretty unreal moment celebrating with those guys given we are pretty tight-knit guys, us three."
General Manager Kory Cooper announced the addition of defenceman Ben Roger during the week, with the former London Knight suiting up in his Frontenacs debut. The mobile defender added, "I like the group here and looking forward to going after it. The trade came out of nowhere and it was a pretty big shock for me, but I am excited to start playing here. The guys and coaches have made it easy for me."
Hamilton Hounds Front To Extra Time
After going down one in the first, Kingston scored four unanswered goals (Three in 3:34 of time) en route to a 5-4 SO win on the first trip to Hamilton. Lucas Edmonds and first-star Shane Wright each scored twice on three points, and Francesco Arcuri extended a point streak to seven games with three assists. Leevi Meriläinen remained perfect on the season in shootouts with seven stops on a 26-save performance. After going down one in the first, Kingston scored four unanswered Chris Thibodeau put the only goal past either goaltender during the epic 14-player shootout. Kingston had gone 0-4 on powerplays before firing three, with the man advantage strengthening their chances of pulling out the win.
The extra-time game was the Frontenacs league-leading seventh, and they are tied with London Knights for most overtime points (11).
Thomas Budnick and Bulldogs Mark Duarte dropped the gloves in a very physical game with a combine 45 minutes in penalties dished out.
Kingston Steels One in Mississauga
A second consecutive 5-4 victory gave the Fronts a two-game winning streak adding to an impressive 5-1-1-0 road record, wrapping up the three-in-three-stretch. Francesco Arcuri scored with just over four minutes remaining in regulation, helping the Fronts escape after a Steelhead three-goal comeback to make it 4-4 after two periods.
Defenceman Duncan Schneider (#23) made his OHL debut with Kingston during the game in Mississauga. With Quinton Burns away at Capital City Challenge and injuries to Chase Costantino and Ren Roger, Luca Caputi needed some help with minutes on the back end. Schneider skated his first shift early in the affair with Jake Murray.
Fast Eddy
Assistant Captain Lucas Edmonds continues to pace the Fronts offensive attack in goals(12), assists (23), and points (35) points. The North Bay, ON native, was held pointless for the first time in seven games last Friday in the loss to North Bay before wrapping up the weekend with five points in the two road wins, including two tallies in the Hamilton win. He leads all OHL point scorers with a 1.84 goals-per-game average, and second in OHL assists with 23.
Francesco On Fire
Francesco Arcuri has had a strong start on the scoresheet, tied for second on the Frontenacs with a career-high 22 points only 17 games into the season after finishing with 20 over 60 games in 2019-20. The Dallas Stars draftee (Sixth Rd' 21) scored twice, including the game-winner, securing the last Sunday's 5-4 win in Mississauga. Extending a point-streak to eight games, the Woodbridge, ON born forward has six goals and six assists for 12 points, remaining one of the team's hottest players heading into this weekend's games. His Three game-winning goals lead the team, along with his +8 rating.
Frontenac vs Frontenac
Defenceman Quinton Burns will lace up for the Gold Medal on Wednesday night at 7:00 pm as his Team Canada Red squad tries and get pucks past Team Black and goaltender Mason Vaccari. Burns has registered an assist, and Vaccari has stopped 48 of 55 shots faced over two games.
Forward Matthew Soto (4GP - 1G,2A) and Team Canada White take on the Women's National Team in the bronze medal game at 2:30 pm Wednesday afternoon.
Fronts Notes
Rookie Forward Nathan Poole left Sunday's game with an injury in the second period and did not return. Listed day-to-day
Defenceman Duncan Schneider made his Fronts/OHL debut versus Mississauga last Sunday after signing a Standard Player agreement during the day
Forward Francesco Arcuri extended to an eight-game point streak vs Mississauga last Sunday (6G,6A).
Defencemen Ben Roger and Chase Costantino both were injured in Hamilton and are listed day-to-day
Forward Mitchell Brooks was named the SandsLand Realty Academic Player of the Month for November
Kingston fourth Eastern Conference Goals-Allowed (69) - Third Eastern Conference Goals-For (77)
Kingston's 14 points at home tied second-most (NB) in Eastern Conference (Ham -15)
Lucas Edmonds tied for second in OHL overall points scoring (35). Leads OHL in points-per-game (1.84)
Defenceman Lucas Peric tied for OHL lead in defence powerplay goals (3)
Team Stat Pack - GP (19)
(11-5-3-0) - 25 points (Three back Eastern Conference Lead / Two Back of East Division Lead
Power Play - 26.3% Fifth-overall OHL / Third Eastern Conference
Penalty Kill - 76.7% 15th-overall OHL / 7th Eastern Conference
Leaders (Top/3)
Goals - Edmonds (12), Frasca (10), Wright, Arcuri (9)
Assists - Edmonds (23), Chromiak (14), Wright, Arcuri (13)
Points - Edmonds (35), Wright, Arcuri, Frasca, Chromiak (22)
PIMs - Haché (27), Poole (27), Callens (17)
SOG - Edmonds (89), Wright (79), Chromiak (67)
Plus/Minus - Arcuri (+8), Frasca, Edmonds (+7), Ludwinski, Murray (+5)
Powerplay Points - Edmonds (12), Wright (10), Chromiak (8)
Rookie Points - Soto (14), Ludwinski (12), Thibodeau (6)
On The Front
The Frontenacs play their third consecutive road game this Thursday at 7:05 pm in Peterborough, taking on the recently returned Mason McTavish and the Petes.
The next home game is particularly special on Friday, December 3, with the Oshawa Generals making their second visit to the Leon's Centre at 7:00 pm. The game is the Annual Teddy Bear toss and fans are encouraged to bring a teddy bear/stuffed animal to throw on the ice following the first Fronts goal. The bears will be donated to Salvation Army Kingston Citadel.
• Discuss this story on the Ontario Hockey League message board...


Ontario Hockey League Stories from December 2, 2021
The opinions expressed in this release are those of the organization issuing it, and do not necessarily reflect the thoughts or opinions of OurSports Central or its staff.