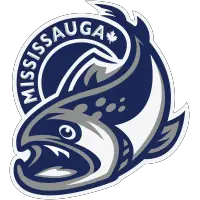 Steelheads Set Franchise Record 11 Straight Games with a Point
November 26, 2021 - Ontario Hockey League (OHL) - Mississauga Steelheads News Release



MISSISSAUGA, ON - The Mississauga Steelheads set a franchise record with a 5-3 win over the Sudbury Wolves on Thursday November 25, extending their streak to 11 straight games with at least a point. Over the stretch, they have picked up 20 of a possible 22 points. With the victory last night, the hockey club has now won four games in a row and sits third in the Eastern Conference behind the Hamilton Bulldogs and the North Bay Battalion. The Steelheads have a game in hand on the Bulldogs and three games in hand on the Battalion.
General Manager and Head Coach James Richmond spoke about what the new record meant to his club. "I am very proud to hear our guys have set a new franchise record for points in consecutive games. I know how hard it is to win games in the OHL, and to watch our team compete the way they have this season has been really fun. Obviously, we have a long road ahead of us, and we don't want to lose sight of what we are trying to do on a game-to-game basis, but it does feel nice to let the boys know they have accomplished something pretty special. A big thanks goes out to all the support staff, Frates, Grant, Binne, Becks, Tayls, Krackers, Doyler, Matt and the front office staff for all their effort and commitment to helping the players be the best they can be. And I can tell you the team will try their best to keep it going."
Steelheads Captain Ethan Del Mastro had this to say about the team's performance. "Really proud of our team. A lot of people counted us out to start the season because of our young group. I think we've come together really well and stuck to our identity. We have to keep this momentum going and continue to improve throughout this season. Overall great accomplishment!"
The Steelheads struggled at the beginning of the season, posting a 2-4-0-0 record in their first six games. After shaking the rust of not playing OHL hockey for a year and a half, the Steelheads banded together to become one of the league's top teams. With lots of new, young talent alongside a strong veteran core, the Steelheads have dominated the play and outshot their opponents in nearly every game.
Veterans like James Hardie (13G, 8A) and Ty Collins (5G, 10A) each sit at over a point-per-game to start the season, while rookies Owen Beck (6G, 9A) and Zakary Lavoie (4G, 6A) have stepped up to the challenge on the second line. Luca DelBelBelluz (10G, 11A) has also shown a significant improvement since the pandemic, as the sophomore earned his first career hat-trick on November 21.
Team Statistics Over the 11 Game Stretch
Overall Record (9-0-1-1) | Home Record (4-0-1-0) | Away Record (5-0-0-1)
Winning Percentage - 90.91%
Time Elapsed - 28 Days (October 29th - November 25th)
Longest Win Streak - 5 games (currently on a 4-game winning streak)
Goals Scored - 46 (4.18/game)
Goals Against - 17 (1.55/game)
Shots For - 39.1/game
Shots Against - 24.6/game
Player Statistics Over the 11 Game Stretch
Luca DelBelBelluz 16 points (8G,8A) | First career hattrick on November 21st vs. SBY
James Hardie 15 points (7G,8A) | Second in the league with a +/- rating of +19
Owen Beck 11 points (4G,7A) | 6th in rookie scoring with 15 points (6G,9A)
Ty Collins 12 points (5G,7A)
Zakary Lavoie 8 points (4G,4A) in his last 8 games | First career goal November 18 at NIAG
Ethan Del Mastro 8 points (3G,5A) | Leads league with a +/- rating of +20
Kasper Larsen 6 points (6A) in his last 8 games
Luke Misa 5 points (1G,4A) in his last 8 games
Aidan Prueter 6 points (3G,3A) in his last 9 games
Zander Veccia recorded his first career goal October 30 at HAM
Ole Bjorgvik-Holm +8 rating over his last 9 games
Chas Sharpe recorded his first career multi-goal game November 7 vs. NIAG
Goalie Statistics Over the 11 Game Stretch
Roman Basran (6-0-0-1)/1.48 GAA/.937 SV%/2 SO | Recorded his first career shutout November 5 vs. HAM | Leads the league in GAA (2.25) and SO (2)
Joe Ranger (3-0-1-0)/1.72 GAA/.938 SV%/1 SO | Recorded his first career shutout November 12 at OTT
The Mississauga Steelheads are in Sudbury tonight for the second of back-to-back matchups as they look to push their streak to 12 games at Sudbury Community Arena.
• Discuss this story on the Ontario Hockey League message board...


Ontario Hockey League Stories from November 26, 2021
The opinions expressed in this release are those of the organization issuing it, and do not necessarily reflect the thoughts or opinions of OurSports Central or its staff.
Other Recent Mississauga Steelheads Stories