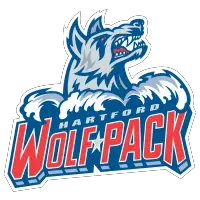 Springfield Thunderbirds 5, Hartford Wolf Pack
November 5, 2017 - American Hockey League (AHL) - Hartford Wolf Pack News Release



Springfield, MA, November 3, 2017 - Joe Whitney scored twice for the Hartford Wolf Pack Friday night at the MassMutual Center, and the Wolf Pack had three power-play goals, but Curtis Valk had two tallies for the Springfield Thunderbirds, and Samuel Montembeault made 38 saves to get his first pro win, as the Thunderbirds prevailed by a score of 5-3.
Ryan Sproul had two assists for Hartford, his first two Wolf Pack points. Henrik Haapala had three assists for the Thunderbirds, and Dryden Hunt had two helpers.
Springfield jumped out to a 2-0 lead in the first period, on goals by Anthony Greco and Valk.
"The beginning of the game, we had some opportunities to start for the first four minutes, but when they started pressuring pucks we were unable to break them out and come out clean," Wolf Pack head coach Keith McCambridge said. "Our execution wasn't where it needs to be, letting them, with opportunities on the power play, to gain some momentum on their side, on their home ice. They're going to happen during games, but we have to make sure we're not shooting the puck over the glass, or making passes when guys are changing, coming off the bench. Those are just plays where you've got to make sure your thinking cap is on and you're dialed in and you're aware of what's going on on the ice."
Greco opened the scoring at 10:18, just four seconds after a Thunderbird power play expired. Hunt fired a shot from the right side of the slot, and Greco deflected it past the stick side of Wolf Pack goaltender Alexandar Georgiev (26 saves).
Valk doubled the lead with 3:46 left in the period, with his third goal of the season. Hunt worked the puck out of the right-wing corner to Valk at the bottom of the circle, and his high shot found an opening behind Georgiev and zipped up under the crossbar.
The Wolf Pack carried 3:01 of power play time over into the second period, though, after a Reece Scarlett took four minutes in penalties at 19:01 of the first, and Hartford would capitalize only 12 seconds into the second.
Sproul got his first point in four games with the Wolf Pack, setting up a goal by Vinni Lettieri, who moved down the right side and unloaded a shot that squeezed through Montembeault and dropped into the net.
Just 13 seconds thereafter, Greco was hit with a slashing penalty, giving the Wolf Pack a two-man advantage for the 1:47 that remained in Scarlett's penalty time. The Hartford power play clicked again at 2:09, as Whitney's third goal of the year tied the game. Sproul worked the puck to Cole Schneider along the goal line on the right-wing side, and his backhanded pass across to Whitney set him up with an open net.
"I thought our pushback in the second period, to be able to get ourselves back in that game and tie it up, was real strong," McCambridge said.
The Thunderbird power play, though, would put Springfield back on top with only 7.8 seconds left in the period, with Whitney off for slashing. Jayce Hawryluk got the goal, on a bid from the bottom of the left circle that hit Wolf Pack defenseman Alexei Bereglazov and deflected past Georgiev.
After that late goal in the second, Springfield got an early one in the third, as Valk scored his second of the game at 2:49 to make it 4-2. Valk broke into the Wolf Pack zone down the right side and kept the puck on a 2-on-1, moving toward the front of the net and beating Georgiev with a forehand shot.
"One goal away in the third period, and we make a poor read on an offensive zone faceoff, and they go down 2-on-1 and score," said McCambridge. "We have to make sure of where we are in the game, and what's the play that has to be executed to get ourselves the two points that we left on the table tonight."
The Wolf Pack got a late power play opportunity when Hawryluk was called for tripping at 17:34, and both teams would score during the man advantage.
Mike Downing made it a three-goal Springfield lead at 18:51 with an empty-net goal, as his clear from deep in his own zone went off the glass and found its way all the way down and into the Wolf Pack net.
Whitney then made the final margin 5-3 at 19:28, with Hawryluk still in the box. Scott Kosmachuk centered the puck from the left side along the goal line, and Whitney buried it past Montembeault from close range.
The Wolf Pack are right back in action on Saturday night, hosting the Providence Bruins in their first visit of the year to the XL Center. That game is a 7:30 PM faceoff, and tickets for all Wolf Pack 2017-18 home games are on sale now at the Agera Energy Ticket Office at the XL Center, on-line at www.hartfordwolfpack.com and by phone at (877) 522-8499.
Season ticket information for the Wolf Pack's 2017-18 AHL season can be found on-line at www.hartfordwolfpack.com. To speak with a representative about all of the Wolf Pack's many attractive ticketing options, call (855) 762-6451.
Hartford Wolf Pack 3 at Springfield Thunderbirds 5
Friday, November 3, 2017 - MassMutual Center
Hartford 0 2 1 - 3
Springfield 2 1 2 - 5
1st Period-1, Springfield, Greco 3 (Hunt, Haapala), 10:18. 2, Springfield, Valk 3 (Hunt, Haapala), 16:14. Penalties-Bereglazov Hfd (hooking), 1:18; Horvat Spr (interference), 4:23; served by Gropp Hfd (bench minor - too many men), 8:14; Brown Spr (interference), 13:44; Scarlett Spr (slashing, unsportsmanlike conduct), 19:00.
2nd Period-3, Hartford, Lettieri 4 (Sproul, Gilmour), 0:12 (PP). 4, Hartford, Whitney 3 (Schneider, Sproul), 2:09 (PP). 5, Springfield, Hawryluk 2 (Grenier, Lammikko), 19:52 (PP). Penalties-Greco Spr (slashing), 0:25; Bereglazov Hfd (delay of game), 8:11; Pedrie Hfd (hooking), 14:49; Whitney Hfd (slashing), 18:00.
3rd Period-6, Springfield, Valk 4 (Haapala), 2:49. 7, Springfield, Downing 1 18:51 (SH EN). 8, Hartford, Whitney 4 (Kosmachuk, Catenacci), 19:28 (PP). Penalties-Erixon Spr (cross-checking), 12:11; Hawryluk Spr (tripping), 17:34.
Shots on Goal-Hartford 9-17-15-41. Springfield 12-9-10-31.
Power Play Opportunities-Hartford 3 / 7; Springfield 1 / 5.
Goalies-Hartford, Georgiev 1-3-1 (30 shots-26 saves). Springfield, Montembeault 1-5-1 (41 shots-38 saves).
A-5,563
Referees-Peter Schlittenhardt (12), Michael Sheehan (74).
Linesmen-Libor Suchanek (60), Kevin Briganti (39).
• Discuss this story on the American Hockey League message board...


American Hockey League Stories from November 5, 2017
The opinions expressed in this release are those of the organization issuing it, and do not necessarily reflect the thoughts or opinions of OurSports Central or its staff.