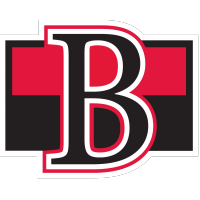 Sens Explain the Story Behind Their Jersey Numbers
March 6, 2019 - American Hockey League (AHL) - Belleville Senators News Release



Behind every jersey number is a story of some sort.
It's not necessarily a major one but one way or another, there's a reason a player dons a certain number when they hit the ice.
It might be because of their favourite player growing up. The number might run in the family. Or it might literally just be the number they were given when they joined a team.
So, let's find out why each member of the Belleville Senators wears the number they wear.
#1 - Marcus Hogberg
I've been wearing it for a long time. I don't remember when I started wearing it but I've always worn it so I wanted to keep it.
#2 - Erik Burgdoerfer
I always wore it as a kid and in college and when it became available when I joined this organization, I switched to no. 2.
#4 - Jordan Murray
It was all that was left when I went to UNB so I just stuck with it. Matt Mitchell gave it to me at the start of last season so I've just had it ever since.
#6 - Andreas Englund
I was wearing no. 4 when I was growing up but when I came up to the senior team in Sweden four wasn't available so I took six.
#7 - Drake Batherson
I wasn't given many options considering I'm one of the youngest guys on the team but when I heard seven was available I took it. My dad wore no. 7 when he played for the Bulls and my grandfather wore seven too his whole life so I figured I'd take no. 7 too.
#8 - Max Lajoie
Drew Doughty was one of my favourite players and I got kind of lucky as Matt Mitchell asked me if I wanted that number so I took it.
#9 - Aaron Luchuk
I wore 91 all of junior but nine wasn't available when I got here so I took 25. But then Archibald arrived so I gave it up and nine was available so it was a pretty easy choice. 91 was the number I wore my whole life so I wanted to keep it as close to that as possible.
#11 - Vitaly Abramov
Since I was four years old, my dad loved this number. He played bandy and wore 11 so I took his number too.
#12 - Jack Rodewald
It was given to me when I came out of junior. I'm not too picky and I like it.
#13 - Chase Balisy
Growing up, my favourite player was Mats Sundin and I liked Pavel Datsyuk too, so 13 it was.
#14 - Jim O'Brien
No special reason. I just remember asking for a low number and this is what they gave me as I didn't want anything high.
#15 - Morgan Klimchuk
I usually wear 18 but Boston Leier had that number when I got traded here so I asked for any number that wasn't 34 and they gave me 15.
#16 - Joseph LaBate
I was born on April 16th.
#17 - Erik Brannstrom
26 was taken here and I've worn 17 before. My father played with 17 and 26 and my brother plays with 17 in the Swedish league.
#18 - Boston Leier
I was 25 but then when I came to Belleville I switched to 20. But then 20 got taken by one of the veterans so I switched to 18. I've never worn 18 before but I've never been a big numbers guy.
#19 - Adam Tambellini
I wore it in junior my last two years. I always just liked it. Nothing too crazy or special about picking it.
#21 - Nick Paul
I was given 13 my first year and stuck with it because 21 was already taken. My other choice was 27 but Curtis Lazar had it so when I went down all my numbers were taken so this is the first year 21 has been available so I took it and it's been hot for me.
#22 - Logan Brown
I usually wear 21 because my dad wore it but he also wore 22. It's definitely growing on me and I'd say I actually prefer it to no. 21 now.
#23 - Andrew Sturtz
I started the year as 37 but I've been injured all year so Matt Mitchell thought it might bring me some luck.
#24 - Christian Wolanin
It was the number I wore in college.
#25 - Darren Archibald
It's a number I've worn since junior now. My older cousin wore it back in the day when I was younger going to watch his junior games and I always looked up to him so I decided on 25 too.
#26 - J.C. Beaudin
They gave this number to me when I came here.
#27 - Stefan Elliott
I got traded here and there was four options and I liked 27 the best out of all of them.
#29 - Cody Goloubef
I'm not really sure. I don't have a reason.
#30 - Filip Gustavsson
There's no real reason behind the jersey number. In Lulea, they always wear 34 and 31 as their goalie numbers and I came up as a third goalie and I just took No. 30. It was a classic goalie number but if I would choose my own number, I would take 77 for a try because it looks really cool.
#34 - Daniel Ciampini
Seventeen is my normal number because of Wendell Clark. Growing up in Toronto and being a Leafs fan and with my family having tickets, I use to go to a lot of Leafs games. I loved watching him and the way he played so I wore 17 all the way up minor hockey. In junior I wore 26 which I kept just because they gave it to me. In college, I went back to 17 because it was available and this is my first year of pro I've been able to have it. But I'm wearing 34 now because of 17 x 2.
#38 - Rudolfs Balcers
The story is that there is no story. That was the number I got in San Jose last year and I just kept it this year.
#41 - Filip Chlapik
My idol growing up was my brother and he's older than me and he wore 14 so when I came here Jim O'Brien had that number so I flipped it for 41.
#44 - Justin Falk
It was the number they gave me when I first started playing pro.
Senators coaching staff:
Troy Mann - Head Coach
My number was 19. I was a huge Joe Sakic fan growing up so that's certainly why I wore that number.
Ryan Murphy - Assistant coach
I wore no. 19 because of Steve Yzerman. He was my favourite player. My first jersey was a Red Wings jersey and Yzerman was the best player on the team and I loved the way he transitioned from an unbelievable offensive scorer to a 200-foot player.
Kory Cooper - Goaltending coach
I switched in my first year of junior from no. 1 to no. 29 mainly because of Felix Potvin at that particular time. He was one of the better goalies in the NHL and I thought it looked pretty cool, had good style. I wanted to get out of the 30s as they were traditional goalie numbers at the time, and probably still are, so 29 was a good option and I stuck with it the rest of the way.
Shean Donovan - Player Development coach
For each time I played for, they just gave me a choice of numbers. I always wanted to be 16 because Rick Middleton was my favourite player but I only wore 16 in Calgary. Everywhere it was taken though. I wore 22 because it was my birthday, I wore 10 because it sounded like Thomas the Train and they wanted me to wear that number, there's all different reasons. Twelve they gave me in Colorado. In Pittsburgh, they gave me a number. If I could it would be 22 or 16 though.
Chris Kelly - Ottawa Senators Assistant Coach
I wore 11 in junior, and 11 in the minors, and for some reason I couldn't get it when I got to Ottawa. They weren't willing to give it out, probably because some Alfredsson guy had it. So, I knew I wasn't getting that number. Someone that was really good to me when I started was Shaun van Allen and he always looked out for me when I went into Ottawa's system and we're still good friends today and I took his old number so I wore 22 for a lot of years. When I went to Boston Shawn Thornton was wearing 22 so I went up a number to 23.
• Discuss this story on the American Hockey League message board...


American Hockey League Stories from March 6, 2019
The opinions expressed in this release are those of the organization issuing it, and do not necessarily reflect the thoughts or opinions of OurSports Central or its staff.