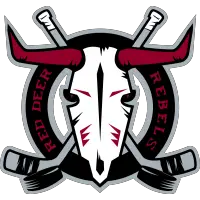 Rebels Hopeful Fischer Sees the Benefits of Attending a Hockey Academy
August 28, 2019 - Western Hockey League (WHL) - Red Deer Rebels News Release



Count Braden Fischer as one of the many believers in hockey academies.
The Winnipeg product, currently attending the Red Deer Rebels training camp, wasn't always a booster of the private institutions. But after excelling at the Rink Academy in his hometown last winter he had a major change of heart.
"Honestly, at the beginning, when the Rink was first introduced (in 2016), I was against it," Fischer said Wednesday following a main camp scrimmage at the Centrium. "I was a triple A guy through and through."
And then rising star Ty Thorpe exited the Rink program to join the Brandon Wheat Kings a year ago, creating an opening at the Academy that was eventually filled by Fischer.
"They called me during the summer and asked me to play for them and I have nothing but good things to say about it now," said the five-foot-10, 160-pound winger. "You're on the ice every day, you're getting all sorts of training. And the quality coaching . . . they're professionals, that's their job. You never get that in midget."
Fisher, who turns 17 in October, was selected by the Wheat Kings in the 2017 WHL bantam draft after scoring 25 goals and collecting 57 points in 30 games with the Winnipeg bantam AAA Monarchs.
He suited up with a Winnipeg city midget league team the following year, erupting for 36 goals and 59 points in 34 games before joining the midget AAA Wild for two games near the end of the regular season, scoring once and adding two assists.
"Playing city midget wasn't the plan but I kind of made the best of it," he said. "Then with the Wild I was able to go to midget AAA (western) regionals."
Fischer was a point-per-game player with the Rink Academy prep squad last winter with 15 goals and 15 helpers in 30 outings. His strong play during the second half of the season earned him a spot in Rebels camp after the Wheat Kings dropped him from their list this summer.
"I talked to Shaun (Rebels assistant GM Sutter) and he had nothing but good things to say. He's been great the whole time," said Fischer.
"It was hard coming over," he added. "I've been in Brandon camps the last couple of years so I've had to meet whole bunch of new guys here.
"At first it seemed weird not knowing anybody and being in a new city for the first time, but it's been great. Everybody has been welcoming and it's been a lot of fun."
Sutter said that the Rebels had nothing to lose by placing Fischer on their list and inviting him to camp.
"We thought that he had a real good second half of the season and he's always been able to score," said Sutter. "He's a skilled guy with good offensive abilities and we just thought with his skill set he's a guy we wanted to get a look at.
"You can see that he can skate and has the skill set and brain for the game. He's always been a skinnier kid and the Rink Academy has done a good job with physical development of players and you can see that he's getting stronger.
"There was a number of guys on his team that will play in our league most likely this year and there was a lot of games where he was better than some of those guys. We decided why not take a chance on him and see where he's at. So far, he's shown he can skate and handle the puck with the big (veteran) guys."
Fischer scored for Team Black in a 5-4 win over Team White in Wednesday's main camp scrimmage. Josh Tarzwell, Alex Morozoff, Zak Smith and Jace Isley also tallied for the winners.
Replying for Team White were Brett Davis, Dallon Melin, Jayden Grubbe and Chris Douglas.
Team Black netminder Byron Fancy surrendered three goals while Eric Ward gave up a single marker. Team White starter Ethan Anders was beat for two goals and Chase Coward yielded three.
Main camp resumes Thursday with practices at 8 and 11 a.m. and a scrimmage at 5 p.m.
Main camp rosters (includes year of birth and hometown; x-returnee)
Team A Black
Goal - x-Byron Fancy, 2001, Claresholm; Eric Ward, 2001, Edmonton.
Defence - x-Ethan Sakowich, 1999, Athabasca; Kyle Masters, 2003, Edmonton; Trey Patterson, 2003, Calgary; x-Jacob Herauf, 2000, Sherwood Park; x-Hunter Donohoe, 2000, Surrey, B.C.; Mason Ward, 2002, Lloydminster.
Forwards - x-Josh Tarzwell, 2000, Red Deer; Keaton Sorensen, 2002, Red Deer; Jaxsen Wiebe, 2002, Moose Jaw; Braden Fischer, 2002, Winnipeg; x-Alex Morozoff, 2001, Saskatoon; x-Zak Smith, 2001, Austin, Man.; Jace Isley, 2002, Grande Prairie; Ethan Rowland, 2002, Calgary; x-Cameron Hausinger, 1999, Anchorage, Alaska.
Guest forward: Reese Johnson, Saskatoon.
Team B White
Goal - x-Ethan Anders, 2000, Pilot Butte, Sask; Chase Coward, 2003, Swift Current.
Defence - Christoffer Sedoff, 2002, Helsinki, Finland; x-Dawson Barteaux, 2000, Foxwarren, Man.; x-Chase Leslie, 2002, Camrose; Jeremy Hancock, 2003, Melfort, Sask.; x-Ryan Gottfried, 2001, Winnipeg; Blake Gustafson, 2002, Ardrossan.
Forwards - x-Dallon Melon, 2002, Czar; x-Brett Davis, 1999, Winnipeg; Jordan Borysiuk, 2002, Lloydminster; x-Arshdeep Bains, 2001, Surrey, B.C.; Jayden Grubbe, 2003, Calgary; x-Chris Douglas, 2000, Richmond, B.C.; Josh Medernach, 2003, Lloydminster; x-Blake Sydlowski, 2001, St. Albert.
Guest forwards - Brandon Hagel, Morinville; Scott Feser, Red Deer.
• Discuss this story on the Western Hockey League message board...


Western Hockey League Stories from August 28, 2019
The opinions expressed in this release are those of the organization issuing it, and do not necessarily reflect the thoughts or opinions of OurSports Central or its staff.
Other Recent Red Deer Rebels Stories