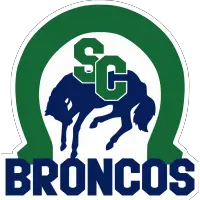 Prospect Profile: Caleb Wyrostok
April 21, 2020 - Western Hockey League (WHL) - Swift Current Broncos News Release



Caleb Wyrostok couldn't have asked for a much more memorable Western Hockey League debut. The 2003-born forward from Medicine Hat pulled a Swift Current Broncos jersey over his head for the first time in regular season action December 11 at the state-of-the-art Rogers Place in Edmonton.
"About an hour before we stepped on the ice was when the nerves started to kick in," Wyrostok admitted. "But when we got out onto the ice and I got the solo lap in, that's when the nervousness started to go away."
To set the tone for Wyrostok's WHL debut, you have to go back to May 3 of 2018, when Wyrostok was a late-round pick of the Broncos.
At 197th overall, just 27 players were selected after Wyrostok, and only four of them have set foot on a WHL ice surface since.
"I was following the draft because that's what most bantam-aged kids do," he said. "But I didn't have any expectations that I would get drafted."
Wyrostok was in school when he saw his name appear on the screen, giving him an indication of where he might play in a few seasons.
After a 2018-19 campaign in which he scored 20 goals and added 15 assists in 30 games with the Northern Alberta Xtreme Elite 15's program, Wyrostok committed to the WHL by signing a Standard Player Agreement with the Broncos May 29 of 2019.
After dressing for four pre-season games with the Broncos, Wyrostok returned to the NAX program, though this time making the jump to the midget prep ranks where his team finished with a 33-3-0 record in 2019-20.
"We were a really tight-knit group of guys, I think we built a lot of chemistry over this past year," Wyrostok said. "I think that really helped us win games this season. We had some struggles, but I think that was honestly a good thing because it's a bit of a reality check that every team would bring their A-game against us."
Wyrostok was a key cog in the NAX teams offence, scoring 23 goals and adding 25 assists in just 31 games. The most eye-popping number is the 148 penalty minutes he accrued over the season, something he admits he's trying to work on before jumping to the WHL.
"He's one of those guys that will get offence from his hard work," said Broncos director of player personnel Gary Aubin. "He'll score those garbage goals where you'll check the video afterwards and say 'OK that one went off of Caleb and in.' He plays that style of game where he's going to get to know a lot of opposing goalies in the league."
Jumping back to Wyrostok's WHL debut, the Broncos dropped a 3-1 game to the Oil Kings, but it was the rookie forward who announced his arrival to the league with an exclamation point.
"They were breaking out and one of their defenceman tried a cross-ice saucer pass," he recalled. "I picked it off with my glove and caught the other defenceman flat footed. I was using my speed, which I think is one of my biggest assets, and when I knew I had him beat I made up my mind that I was going to cut to the net."
Wyrostok protected the puck on his backhand before cutting across the crease and sliding it into the back of the net past the outstretched leg of Todd Scott, scoring his first career WHL goal 10:17 into the second period.
He may not hit the highlight reel in that fashion every game throughout his career, but the Broncos are excited about the potential Wyrostok brings.
"I think he's going to be a fan favourite with his work ethic and how hard competes," Aubin said. "He's a great kid from a great family and is one of those kids that plays in the blue paint because he has no fear."
Wyrostok has improved his offensive production every year since the beginning of his draft year, and hopes to continue the trend of getting better as he has his sights set on a full-time roster spot in Swift Current next season.
"I don't really put numbers to it," Wyrostok said of expectations for next season. "I just want to come in and give the guys a chance to win. I'm just hoping to have a lot more good games than bad games."
Playing in the CSSHL Midget Prep division gave Wyrostok the chance to catch up with other Broncos prospects throughout the season, such as Mathew Ward and Josh Davies.
He's looking forward to joining those two, and others, in helping the Broncos return to form.
"I'm definitely excited to play with those guys and hopefully turn things around," Wyrostok said. "I talked to them pre-game and post-game when I played against them and we would talk somewhat often throughout the year so I'm looking forward to growing with them."
• Discuss this story on the Western Hockey League message board...


Western Hockey League Stories from April 21, 2020
The opinions expressed in this release are those of the organization issuing it, and do not necessarily reflect the thoughts or opinions of OurSports Central or its staff.
Other Recent Swift Current Broncos Stories