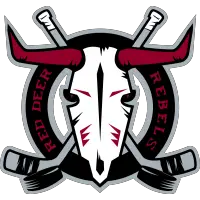 Rebels Prepared for WHL Bantam Draft to be Conducted Online Wednesday; Will Pick Sixth Overall
April 21, 2020 - Western Hockey League (WHL) - Red Deer Rebels News Release



The world is in a different place right now and as a result Wednesday's 2020 Western Hockey League bantam draft will be conducted in a different fashion.
Four members of the Red Deer Rebels front office - owner, president and GM/head coach Brent Sutter, assistant GM and director of player personnel Shaun Sutter, senior vice-president Merrick Sutter, and Cam Moon, director of broadcasts and media - will meet at the club's office in the morning to await the 10 a.m. start of the draft.
The foursome will communicate with the Rebels scouting staff via Microsoft Teams video and then conduct the club's draft online, as opposed to past drafts held in large meeting rooms - the past two were held at the Cambridge Hotel in Red Deer - with every WHL team having a full table of scouts, managers and coaches.
"There's an interface the Western Hockey League provides. You make your picks and everything happens in real time," said Shaun Sutter. "It's the exact same process used with both the (CHL) import draft and the recent US (Prospects) draft.
"The league does have experience running these types of drafts, this is just the first time the bantam draft - with everything going on with the COVID virus - won't have everybody in one room," Sutter added. "It will create some different challenges I guess."
The Rebels have the sixth overall pick in the draft, following Regina, Prince George, Moose Jaw, Tri-City and Saskatoon, in that order.
The draft is one of the deepest in years and Sutter is confident the Rebels will garner some top talent with not just their first pick but also later.
"This is a real good group. The fact that there's a player in this age group that got exceptional status, that says quite a bit," said Sutter, in reference to forward Connor Bedard, whom the Regina Pats have also indicated they'll be taking first overall.
As a result of gaining exceptional status from Hockey Canada, Bedard - from the West Vancouver midget prep Warriors- will make his WHL debut as a 15-year-old and will be allowed to play the entire 2020-21 season as an underage skater.
The remainder of the players picked on Wednesday won't be eligible to play in the WHL full time until the following year.
"I believe there were three players in total who applied for the exceptional status so that speaks volumes (about the available talent in this year's draft)," said Sutter. "It's a deep draft, you're going to get good players in the second, third and fourth rounds. A lot of teams are pretty excited about it."
Sutter indicated the Rebels will select the best player available at No. 6, as opposed to picking to fill a certain position.
"I think when you're picking sixth overall you do try and look at the best players," he said. "If all things are equal you might have to look at different things, but when you're picking that early you're often focused on who the best player is."
From what he's heard, Sutter said the first four picks have already been decided.
"I don't know if that's true or not, but there's a lot of speculation," he said. "The guys on social media and the internet seem to have it right. It's supposed to be Bedard at one, (Riley) Heidt two, (Brayden) Yager three and then supposedly (Lukas) Dragicevic four."
Both forwards, Heidt had 17 goals and 37 points in 44 games with the midget AAA Saskatoon Contacts in 2019-20 while Yager was basically a point-per-game player with the same team. Dragicevic was a star defenceman with the Delta Academy bantam prep squad.
Sutter identified Bedard, Heidt and Yager as the top three forwards available in the draft, with Tanner Molendyk from the Yale Academy bantam prep squad the top defenceman and Dragicevic close behind.
Another rearguard that will likely be selected early is Mazden Leslie of Lloydminster, who played at the midget AAA level in his hometown this past season.
"Leslie will be right up there and there's a few other guys who are really good players, really good prospects," said Sutter, referring to the likes of defencemen Kaden Hammell of the West Vancouver bantam prep Warriors and Austin Zemlak of the Edmonton OHA Academy bantam prep team, and forward Grayden Slipec of the bantam prep Warriors.
"Those are the names, if you look at the internet and social media, that come up quite a bit."
The Rebels will have a top-10 pick for the third time in the last 10 years. Red Deer took forwards Adam Musil and Jake Leschyshyn at No. 6 in 2012 and 2014, respectively, and the team's most recent top-10 selection, forward Jayden Grubbe (pictured above, photo by Rob Wallator), went seventh overall in 2018.
On the local level, Sutter expects several players from the 2019-20 Red Deer major bantam Rebels to be selected on Wednesday, with the number including forwards Harrison Lodewyk, Talon Brigley and Chase Walker.
"I think all three are going to get picked and they also have a few defencemen and a goalie who had really good seasons last year," said Sutter.
The bantam Rebels won the 2019-20 AMBHL South Division title just prior to the league being shut down due to the COVID-19 pandemic.
"It's very similar to last year in that they're such a well-coached team," said Sutter. "Their team was arguably the best in their league this past season.
"Their team plays hard and their kids play together and play as a team. Because of the job (head coach) Justin Jarmolicz had done in developing those kids, I think there's a lot of (WHL) teams who look at the players on that team as guys they want to draft.
"I think it will be very similar to last year when they had a larger group of players drafted than what you thought might happen."
• Discuss this story on the Western Hockey League message board...


Western Hockey League Stories from April 21, 2020
The opinions expressed in this release are those of the organization issuing it, and do not necessarily reflect the thoughts or opinions of OurSports Central or its staff.
Other Recent Red Deer Rebels Stories