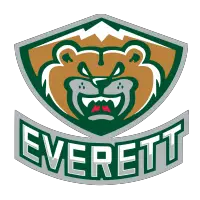 Dennis Williams Earns Second WHL Western Conference Coach of the Year Award in His Career
April 21, 2020 - Western Hockey League (WHL) - Everett Silvertips News Release



EVERETT, Wash. - Dennis Williams, completing his third season as head coach of the Everett Silvertips, has been named WHL Western Conference Coach of the Year for the second time in his career. Williams led the Silvertips to their fourth straight 40-win campaign, and the second highest point total in the WHL this season.
"I'm very grateful and thankful to receive the WHL Western Conference Coach of the Year award," said Williams. "The truth behind this honor is that it's a team award, reflective of the work ethic of everyone involved for the great season we produced - from our ownership, to Louis Mass and Mike Lysyj on our coaching staff, to support staff, and management. Everyone works hard to put others in the position to succeed. Our players deserve a significant amount of recognition for their effort, execution, and compete level. The buy-in was terrific and everyone came to the rink each day looking to get better. It puts us in position to look forward for more next season."
In his third season as Silvertips head coach, Williams led the club to second most points in the entire WHL and U.S. Division at a 46-13-3-1 record (96 points), the Silvertips' third straight season with more than 40 wins and 90 points since Williams was named head coach to begin the 2017-18 season.
The Silvertips also accumulated four players who scored 20 goals or more, saw Bryce Kindopp become the first Silvertip to score 40 goals in a season since 2013-14 (Joshua Winquist), and led the entire WHL in power play percentage (27.5) and fewest goals allowed per game (2.2).
The Silvertips also ranked third in the league in goal differential (+86), led the league in road wins (21), and were second in home wins (25).
By the final week of the WHL regular season, the Silvertips saw all three 20-year old category players sign entry level contracts with National Hockey League clubs: Kindopp (Anaheim), defenseman Wyatte Wylie (Philadelphia), and defenseman Jake Christiansen (Columbus). In addition, four Silvertips - forwards Gage Goncalves and Michal Gut, and defensemen Kasper Puutio and Ronan Seeley have been listed by NHL Central Scouting in their final ranking ahead of the 2020 NHL Entry Draft.
Goaltender Dustin Wolf earned his second consecutive WHL Western Conference Goaltender of the Year award after being selected by the Calgary Flames in the 2019 NHL Entry Draft, while Wolf was named WHL First Team All-Star and Christiansen and Kindopp were named Second Team All-Stars, all in the Western Conference. Silvertips players also earned international competition opportunities with Wolf named to Team USA at the 2020 IIHF World Juniors, and defenseman Olen Zellweger heading to Team Canada Red for the 2019 World U17 Hockey Challenge.
Williams, a native of Stratford, Ontario, also served behind the bench as assistant coach with Hockey Canada at the 2019 Hlinka Gretzky Cup and previously served Team Canada Black at the 2018 U17 World Hockey Challenge.
For his Silvertips career, he is 133-48-7-7 (.722) in 198 games behind the bench, ranking second in franchise all-time coaching wins, games, and currently, the Silvertips all-time leader in points percentage. Williams was named Western Conference Coach of the Year in 2017-18, his first campaign, when he helped guide the Silvertips to the U.S. Division title and their second Western Conference title in franchise history.
He is vying to become the second recipient of the Dunc McCallum Trophy for WHL Coach of the Year in Silvertips history. Kevin Constantine was named recipient of the award in 2003-04. The WHL will announce the winner of the Dunc McCallum Trophy on Thursday, May 7.
ABOUT THE DUNC MCCALLUM TROPHY
The Dunc McCallum Memorial Trophy for WHL Coach of the Year is presented annually to the WHL coach who has had the greatest impact upon his Club's performance during the WHL Regular Season. The trophy is named in memory of Dunc McCallum, the legendary Brandon Wheat Kings Head Coach, who was twice named WHL Coach of the Year while building the Wheat Kings into a WHL powerhouse in the 1970s. From 1976 to 1981, McCallum compiled an impressive regular season record of 251-123-41 while behind the bench of the Wheat Kings.
Winners of the Dunc McCallum Memorial Trophy / WHL Coach of the Year (since 2000):
2018-19: Marc Habscheid, Prince Albert Raiders
2017-18: Manny Viveiros, Swift Current Broncos
2016-17: John Paddock, Regina Pats
2015-16: Dave Lowry, Victoria Royals
2014-15: John Paddock, Regina Pats
2013-14: Dave Lowry, Victoria Royals
2012-13: Ryan McGill, Kootenay ICE
2011-12: Jim Hiller, Tri-City Americans
2010-11: Don Nachbaur, Spokane Chiefs
2009-10: Mark Holick, Kootenay ICE
2008-09: Don Hay, Vancouver Giants
2007-08: Don Nachbaur, Tri-City Americans
2006-07: Cory Clouston, Kootenay ICE
2005-06: Willie Desjardins, Medicine Hat Tigers
2004-05: Cory Clouston, Kootenay ICE
2003-04: Kevin Constantine, Everett Silvertips
2002-03: Marc Habscheid, Kelowna Rockets
2001-02: Bob Lowes, Regina Pats
2000-01: Brent Sutter, Red Deer Rebels
1999-00: Todd McLellan, Swift Current Broncos
• Discuss this story on the Western Hockey League message board...


Western Hockey League Stories from April 21, 2020
The opinions expressed in this release are those of the organization issuing it, and do not necessarily reflect the thoughts or opinions of OurSports Central or its staff.