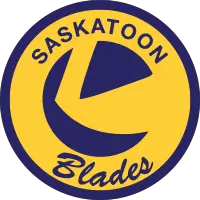 Need to Know: 2020 WHL Bantam Entry Draft
April 21, 2020 - Western Hockey League (WHL) - Saskatoon Blades News Release



The clock is ticking towards the 2020 WHL Bantam Entry Draft, and this year's installment is sure to be unlike anything we've ever experienced before. The COVID-19 pandemic has forced the WHL to conduct the draft online, with each team making their selections remotely from its own headquarters. This, of course, comes with a lot of questions and uncertainty, but we're working to answer many of those, and bring some clarity to our fans and season ticket holders.
Here's everything you need to know about the 2020 WHL Bantam Entry Draft
When does the draft take place?
Wednesday, April 22nd. The Regina Pats hold the first overall pick, which will be made at 10:00 a.m. MST.
Am I able to live-stream the draft?
On Wednesday, Zach Hodder, Manager, Player Development for the WHL and Taylor Rocca, Director, Communications for the WHL, will host a live show via the WHL's YouTube page providing commentary and analysis of all 22 selections in the first round of the 2020 WHL Bantam Draft.
WATCH at WHL.ca & WHL YouTube
When do the Saskatoon Blades pick?
We're on the clock with the fifth overall selection in the first round. This is the first of 15 selections we're able to make - five of which coming in the top 80 overall.
While we're on the topic of draft picks, let's dig a little deeper into how we acquired each selection.
Round 1 - 5th overall
This pick is more than two years in the making, originally acquired from the Regina Pats in a major blockbuster deal on January 10th, 2018. This is the same multi-team trade that brought forward Max Gerlach to the Bridge City from Medicine Hat, along with goaltender Tyler Brown from Regina.
MORE
Round 2 - 28th overall
This selection bounced through a few teams before landing in Saskatoon. Originally belonging to Red Deer, the Rebels sent its 2020 2nd rounder to Winnipeg in October of 2018, which was then traded to Blade City in exchange for defenceman Reece Harsch and the third overall pick in 2019 last May.
Round 3 - 48th overall
Originally belonging to Prince George, this is the same pick that came with defenceman Rhett Rhinehart in a trade on January 9th of this year. Majid Kaddoura, a 2020 1st round draft pick & the rights to unsigned 2003-born prospect Jayden Watson were shipped to Prince George.
Round 3 - 55th overall
This is originally the Blades selection.
Round 4 - 77th overall
This is originally the Blades selection.
Round 7 - 134th overall
Defenceman Libor Zabransky was shipped to the Moose Jaw Warriors on November 6th in exchange for this pick. Zabransky was later dealt to the Kamloops Blazers at the 2020 Trade Deadline.
Round 8 - 165th overall
This is originally the Blades selection.
Round 9 - 185th overall
This selection was brought into Blade City during the preseason in 2018, when Logan Doust was shipped to the coast. Doust, who's home to North Vancouver, B.C. was selected by the Blades in the 9th round in 2016.
Round 10 - 209th overall
This is originally the Blades selection.
On top of our top 10 selections, the Blades have five succeeding picks at their disposal.
Round 11 - 231st overall
Round 12 - 253rd overall
Round 13 - 275th overall
Round 14 - 297th overall
Round 15 - 319th overall
Who is eligible to be selected in this year's draft?
Players eligible for the 2020 WHL Bantam Draft will be 2005-born players who reside in Alberta, B.C., Manitoba, Saskatchewan, Northwest Territories, Yukon, Alaska, Arizona, California, Colorado, Hawaii, Idaho, Kansas, Minnesota, Montana, Nebraska, Nevada, New Mexico, North Dakota, Oklahoma, Oregon, South Dakota, Texas, Utah, Washington and Wyoming.
• Discuss this story on the Western Hockey League message board...


Western Hockey League Stories from April 21, 2020
The opinions expressed in this release are those of the organization issuing it, and do not necessarily reflect the thoughts or opinions of OurSports Central or its staff.