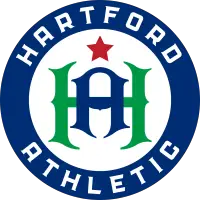 Obregón Jr. Pushes Hartford to 2-0 Victory over Real Monarchs
September 15, 2021 - United Soccer League Championship (USL) - Hartford Athletic News Release



In desperate need of 3 points, Hartford Athletic took care of business on home turf, defeating Real Monarchs 2-0 for their ninth win of the season.
Hartford played on the front foot for most of the opening stanza but couldn't quite get a quality chance in front of net. Finally, in the 30th minute, the Boys in Green broke through. While off-balance, Danny Barrera, making his typical magic in the midfield, played a beautiful ball through to Juan Carlos Obregón Jr. Obregón Jr., one-on-one with the goal keeper, smashed it to the back of the net for the opening goal of the match. It's Obregón Jr.'s 7th goal of the season, tying him with Wojciech Wojcík for the club's single-season record. It was also Barrera's USL Championship leading 9th assist of the season, also a club single-season record.
Hartford took a 1-0 lead into the half and emerged from the break in a similar fashion, registering chances but unable to break the match open. Finally, in the 83rd minute, Hartford broke through. Off a set piece from just outside the right hand side of the box, Luka Prpa hit a ball to the near post, Obregón Jr. made a beautiful run to it and the ball found the back of the net after glancing off defender Daniel Flores. The own-goal doubled Hartford's lead and the Boys would never look back. This was the first win for Athletic since August 17th and the first clean sheet since July 24th. Goalkeeper Jeff Caldwell has recorded 6 clean sheets this season.
Hartford Athletic will return to action at home next Saturday, September 26th at 7 PM against Tampa Bay Rowdies. This is also our annual Match for a Cause. Players will be wearing special kits which will be auctioned off starting Friday. All proceeds will benefit The Legacy Foundation of Hartford. Click the links for tickets or more information about our Match for a Cause.
FAST STATS:
Shots (On-Target): Hartford 16 (5) - 12 (2) Real Monarchs
Corners: Hartford 5-3 Real Monarchs
Fouls: Hartford 14-16 Real Monarchs
Offsides: Hartford 4-0 Real Monarchs
Possession: Hartford 44.8%-55.2% Real Monarchs
Passing Accuracy: Hartford 74.3%-79.7% Real Monarchs
Saves: Hartford 2-4 Real Monarchs
SCORING SUMMARY:
30' - Juan Carlos Obregón Jr. (Danny Barrera) 1-0
83' - Daniel Flores (Own Goal) 2-0
DISCIPLINARY SUMMARY:
5' - Jaziel Orozco (Yellow)
45+1' - Bret Halsey (Yellow)
45+1' - Jamison Olave (Yellow)
45+1' - Mirza Harambasic (Red)
52' - Kevin Saucedo (Yellow)
67' - Christian Nydegger (Yellow)
69' - Nico Cardona (Yellow)
HARTFORD ATHLETIC STARTING LINEUP:
13 (GK) Jeff Caldwell; 4 (DF) Nicolás Cardona, 15 (DF) Tulu, 20 (DF) Thomas Janjigian, 3 (DF) Younes Boudadi; 10 (MF) Danny Barrera (Derek Dodson, 75'), 80 (MF) Justin Haak, 28 (MF) Conor McGlynn, 6 (MF) Arthur Rogers (Luka Prpa, 68'); 23 (FW) Preston Tabort Etaka (Gabi Torres, 74'), 29 (FW) Juan Carlos Obregón Jr. (Walmer Martinez, 88')
REAL MONARCHS SLC STARTING LINEUP:
24 (GK) Jeff Dewsnup; 99 (DF) Jaziel Orozco, 52 (DF) Kevin Soucedo, 82 (DF) Haroun Conteh (Daniel Flores, 62'); 27 (MF) Bret Halsey, 83 (MF) Christian Nydegger, 41 (MF) Ibrahim Bance (James Moberg, 82'), 47 (MF) Charlie Wehan, 61 (MF) Malik Johnson; 96 (FW) Seth Powder (Max Mata, 61'), 93 (FW) Yekeson Suban (Josimar Quintero, 45')
• Discuss this story on the United Soccer League Championship message board...


United Soccer League Championship Stories from September 15, 2021
The opinions expressed in this release are those of the organization issuing it, and do not necessarily reflect the thoughts or opinions of OurSports Central or its staff.