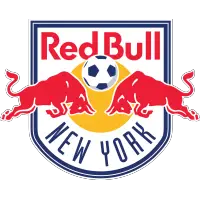 New York Red Bulls Weekly Update
March 22, 2010 - Major League Soccer (MLS) - New York Red Bulls News Release



RED BULLS BLAST SANTOS IN FRONT OF SELLOUT CROWD: It was a historic night and the start of a new era as the New York Red Bulls tallied three first half goals to cruise to a 3-1 win over legendary Brazilian side, Santos FC, in the Grand Opening of Red Bull Arena on March 20. The sellout crowd of 25,000 was treated to a night of festivities, fireworks and a celebrity penalty kick contest at halftime.
The first official goal at Red Bull Arena was scored 11 minutes into the match when Joel Lindpere low shot attempt went off the wall, but he got to his own rebound and volleyed a left-footed blast past Santos FC goalkeeper Fabio Costa. Red Bulls defender Mike Petke, a native New Yorker and the franchise leader in games played made it 2-0 Red Bulls just two minutes until halftime and midfielder Dane Richards capped the half with a goal in the 45th minutes to give New York and insurmountable 3-0 lead. Santos finally got on the scoreboard in the 91st minute of the match.
When the stadium doors officially opened at 4:30 PM, thousands of long-time fans of the Red Bulls franchise poured through the gates to take advantage of what, for most, was their first live peek inside the stadium they've waited more than 10 years to see. The unanimous reaction... it was well worth the wait.
In addition to the Red Bulls win, fans saw the stars come out before the sun set across Harrison as a host of celebrities, dignitaries, and Red Bull athletes got the red carpet treatment. Arriving for the festivities Super Bowl winner Reggie Bush of the New Orleans Saints, James Stewart, Ryan Sheckler, Ian Walsh, Kevin Robinson, Ronnie Renner and Chris Davenport.
Grammy-winning R&B star Kelly Rowland performed the national anthem. And, Olympic gold-medal winner-and now three-time defending World Cup ski champion-Lindsey Vonn delivered the ceremonial first ball to help christen Red Bull Arena. She did it in style as she was driven from the south endzone tunnel to the midfield circle in Red Bull NASCAR driver Brian Vickers' number 83 car, jumping from the passenger side window to deliver the game ball to referee Jorge Gonzalez just before kickoff.
Vonn, who trains much of the year in Austria, told MSG Network's Tina Cervasio she's been to a few soccer games before, but this stunt was a first for her. "That was so cool!"
Before the match, legendary soccer player Franz Beckenbauer, a World Cup winner as both a player and coach, as well as a longtime New York Cosmos fan favorite, met with the media as well as with his former Cosmos teammate Shep Messing, now a Red Bulls game analyst for MSG Network, for a brief interview.
For those who weren't lucky enough to get a ticket, the match was broadcast across the Metro New York area on Madison Square Garden Network, as well as across the United States on Fox Soccer Channel and Fox en Espanol. In addition, the match was telecast back to Austria on Servus TV as well as to 10 other countries in Latin America, including Mexico, Dominican Republican, El Salvador, Guatemala, Honduras, Venezuela, Nicaragua, Costa Rica, Panama and Belize, as well as other islands in the Caribbean, as well as Brazil for the Santos fans. In addition, over 300 media credentials were also issued for the game.
For photos of the historic day, go to Red Bull Photofiles at
http://www.redbull-photofiles.com/Photofiles/PhotofilesModule/ShowShootingImages?shootingID=1265833391717-688220097
For video content from the Red Bull Content Pool
https://www.redbullcontentpool.com/stock/showVideoOffer.action?offerID=1269149280500-597850221
RED BULLS HOST FIRE IN MLS OPENER ON ESPN: After going unbeaten in 10 games during the preseason, the Red Bulls will look for three points in their first game of the season, when they take on the Chicago Fire at the first MLS game at Red Bull Arena on Saturday, March 27 at 7:00 PM ET (TV: ESPN, ESPN Deportes; Radio: WADO 1280 AM).
After the Red Bulls and Santos FC played to a sellout crowd on Saturday night, tickets are going quickly the New York's game against Chicago. The Fire is coming off a 2009 campaign which saw it lose in the Eastern Conference Final in a penalty kick shootout to eventual champion Real Salt Lake last season. Since then, Chicago has undergone several changes, with new Mexican coach Carlos de los Cobos now at the helm. Fire forward and former U.S. national team star Brian McBride returns to the squad after leading the team in goals in 2009 with seven.
McBride could be joined in the attack with former Fulham targetman Collins John, who joined the Fire in the offseason. Chicago also brought in Polish defender Krzystof Krol and Salvadorian midfielder Julio Martinez to bolster their ranks while midfielder Cuauhtemoc Blanco and forward Chris Rolfe departed. The Fire went 3-1-2 in preseason and had its last scrimmage last Saturday at TOYOTA Park against the University of Notre Dame cancelled due to inclement weather.
New York has a 10-20-6 record all-time in regular season action against the Fire and a 7-9-2 home mark. Last season, the Fire swept the season series with a pair of 1-0 wins. On April 5, Marco Pappa tallied from long range to give the Fire the win at TOYOTA Park. Rolfe scored the match-winner moments before halftime on May 24 at Giants Stadium, earning the victory. Red Bulls forward Juan Pablo Angel has scored five goals in eight starts against the Fire.
The Red Bulls have gone unbeaten in their last six home openers (3-0-3) and is 7-3-3 all-time. Their last loss in a home opener was against the Columbus Crew on April 12, 2003 - a 1-0 defeat.
NEW YORK RED BULLS SCHEDULE (March 22-28)
Please contact a member of the Red Bulls Communications Staff if you have any requests or questions.
This Week's Schedule (subject to change - all times ET):
Monday, March 22: Training at Montclair State University facility at 10:00 AM
Tuesday, March 23: OFF
Wednesday, March 24: OFF
Thursday, March 25: Training at Montclair State University facility at 10:00 AM
Friday, March 26: Training at Montclair State University facility at 10:00 AM
Saturday, March 27: Red Bulls vs. Chicago Fire at Red Bull Arena at 7:00 PM (TV: ESPN, ESPN Deportes; Radio: WADO 1280 AM)
Sunday, March 28: OFF
RED BULLS-FIRE CREDENTIAL INFO: Members of the media interested in applying for credentials for the Red Bulls-Fire match on Saturday at 7:00 PM may do so by e-mailing Brian.Tsao@newyorkredbulls.com. In the application, please indicate the individual(s) covering the match, affiliation and press box/media workroom seating requirements. Note that the press box is located outdoors, so please dress accordingly to that evening's weather conditions.
RED BULLS HOST COUNTDOWN TO KICKOFF EVENTS: In anticipation of the Red Bulls' home MLS opener against the Chicago Fire Saturday at 7:00 PM, the club will have two major events in the tri-state area.
On Wednesday, March 24, goalkeeper Bouna Coundoul and newcomers Joel Lindpere, Carl Robinson and Greg Sutton will on-hand at the ESPN Zone in Times Square for an autograph signing starting at 6:30 PM. The first 50 fans who purchase a game card worth $25 or more will receive an exclusive Red Bulls regulation size soccer ball.
On Thursday, March 25, the entire team will be attending a MLS First Kick viewing party at Zeppelin Hall in Jersey City, NJ, coinciding with the MLS season opener between Seattle Sounders FC and the Philadelphia Union. The event starts at 9:00 PM and lasts until 11:00 PM. Fans can pre-register for the event by paying $25 for a two-hour open bar. Tickets are $35 at the door. All proceeds from the event go to midfielder Seth Stammler's Sporting Chance Foundation - a nonprofit 501(c)(3) organization dedicated to aiding the people of Haiti. To register, call 201.583.7017/201.583.7000 x 7123. Guests must be at least 21 years old to attend.
ESB LIGHTS UP IN HONOR OF RBA: In honor of the Grand Opening of Red Bull Arena, the Empire State Building was lit up in on Friday, March 19 by head coach Hans Backe, assistant coach Richie Williams, goalkeeper Bouna Coundoul, and defender Mike Petke at a special ceremony. Red Bull Arena sets the standard for other soccer venues across the continent is the home of the New York Red Bulls of Major League Soccer (MLS).
The Empire State Building lit up in the Red Bulls' kit colors - white, red and white - last weekend. The lightning of the Empire State Building had special significance to Williams, Coundoul, and Petke, who all spent a significant portion of their youth within eyesight of the building. Because of the beautiful weather in the tri-state area today, the coaches and players visited the 86th floor observatory deck and were allowed the special honor of visiting the 103rd floor, a floor not open to the public, and one of the highest points in Manhattan. For photos, please e-mail kate.brewsterduffy@newyorkredbulls.com.
RED BULLS ACQUIRE ROBINSON, SIGN SUTTON: Red Bull New York announced on March 11 that it acquired former Welsh National Team midfielder Carl Robinson from Toronto FC in exchange for a fourth round selection in the 2011 MLS SuperDraft. The Red Bulls also announced on the same day that it signed goalkeeper Greg Sutton. Both featured for the Red Bulls in Saturday's 3-1 win over Santos FC, with Robinson starting and playing the entire first half and Sutton coming on for Bouna Coundoul in the 61st minute.
"Carl is a very consistent player who will immediately contend for a spot in our starting lineup," said Red Bull New York General Manager and Sporting Director Erik Soler. "He has a significant amount of experience at both the club and international level and we expect that he will bring a strong veteran presence to our locker room."
"We have been impressed with Greg's performances during his time with us in preseason," Soler added. "He is a very experienced goalkeeper and will compete for a starting role."
Robinson, 33, played for Toronto FC in regular season play 74 times in the past three years - mostly as a defensive midfielder. Last season, Robinson notched two assists in 21 games, 20 of which were starts. Prior to coming to MLS, Robinson played for a number of English Championship clubs. In 2002, Robinson joined Portsmouth, playing 15 games, before being loaned out to Sheffield Wednesday and Walsall.
From 2003-06, Robinson suited up for Portsmouth and was loaned out to Sunderland, where he played in 52 games and scored six goals. Robinson joined Toronto FC after playing for Norwich in 2006. The 5-10, 165-pound midfielder started his career at Wolverhampton Wanderers in 1995 and ended up featuring in 163 games over seven years. Robinson earned 52 caps for Wales after making his senior international debut in 1999. Last year, Robinson announced his retirement from international soccer.
Sutton joins New York after three seasons playing for Toronto FC, where the Canada native made 34 appearances, including 33 starts, compiling seven shutouts and 155 saves. Prior to his time with Toronto FC, Sutton was a fixture in goal for the Montreal Impact of the USL First Division, making 132 appearances and helping the team to the a title in 2004, earning USL MVP, Goalkeeper of the Year. He was also named Impact Defensive Player of the Year. A four-time USL-1 Goalkeeper of the Year honoree, Sutton was on the New York roster in 2000, but did not make an appearance in an MLS match. Sutton has made 16 appearances for the Canadian National Team.
REDBULLARENA.US RELAUNCHED: Red Bull New York announced the re-launch of RedBullArena.us, the official website of Red Bull Arena, New York's state-of-the-art, soccer-specific stadium being constructed in Harrison, NJ.
RedBullArena.us will become an all-inclusive destination for all things related to the new home of the New York Red Bulls, including arena news, features, directions to the facility, an event calendar, and a live webcam that will allow supporters of the Red Bulls to follow the final stages of the construction process.
The look of the site was designed by Red Bull Creative, while the site was created and built by AmericanEagle.com.
RED BULL ACADEMY UPDATE: MARCH 22
A LOOK BACK:
U20s: The Red Bull U20s are not in season.
U18s: The Red Bulls U18s came back from a goal down to earn a point against U18 DC United, earning a 1-1 draw on Saturday, March 20 at American University. In the first half, the U18s controlled the majority of the possession but could not score. The Red Bulls came closest to taking the lead when Brandon Adler (Montville, NJ) knocked a shot of the crossbar. However, in the 35th minute, DC United countered for the 1-0 lead.
"At half-time we talked about being patient and continuing to play our game. We were keeping the ball well, but we just needed to be more effective in the offensive third of the field," stated Head Coach Paul O'Donnell.
It did not take long for the Red Bulls to tie the game. Substitute Mike Innocenzi (Franklin Lakes, NJ) had an immediate impact on the game as took a pass from George Velasquez (Union City, NJ) and fired a 25-yard blast into the upper left corner for the tie in the 48th minute. The Red Bulls came close on several more occasions but could not get the winning goal.
Lineup: Bonder, Ehrenworth (McCarthy 53'), Adler, Montanez (Innocenzi 45'), Garcia, Gallego, Davis, Najem , Manosalvas (Lyle 77'), Velasquez (Gonzalez 84'), Mencia (Battistesa 45').
Subs not used: Cardona, Nicholas.
Goals: Innocenzi (48').
U16s: The U16 Red Bulls did not play last week.
U14 Pre-Academy: The U14 Pre-Academy Red Bull did not play last week.
U14 1996: The U14 1996 team earned the Ironbound Spring Warm-up Tournament championship, beating U14 Ironbound, 1-0, in the final, scoring eight goals and conceding none.
The Red Bulls opened the tournament with a 4-0 win over U14 FC Premiere Milan on Friday, March 19. Justin Yacovino (North Bergen, NJ) opened the scoring five minutes into the game, assisted by Derrick Etienne (Paterson, NJ). 18 minutes later Michael Liska (Hillsborough, NJ) finished a cross from Ezequiel Sandoval (Elizabeth, NJ) to increase the lead to 2-0. On 30 minutes, Tyler Pinho (Cranford, NJ) made it 3-0 for the Red Bulls, with Yacovino earning the assist. The final goal came from Kevin Ferreira (Poughkeepsie, NY), assisted for Javier Gonzalez (North Bergen, NJ).
Next up for the U14 1996s was U14 Twin County SA on Saturday, March 20. Before the Grand Opening of Red Bull Arena, the youngest Red Bulls won a tightly contested match, 1-0. Yacovino scored the only goal of the match in the 27th minute after a great long ball from Liska.
On Sunday, March 21, the Red Bulls defeated U14 PA United Grifos, 2-0, to advance ot the final. Yacovino again was on the score sheet after taking a bad clearance from the keeper to score from midfield. In the second half Juan Pablo Rojas (Piscataway, NJ) put the U14 1996s put the game away with a goal assisted Etienne.
The final was exciting as the team sought to capture their first championship. With limited scoring chances by both teams, Etienne broke the deadlock when he took a ball from Yacovino and beat the GK with 20 minutes left. After taking the lead, the Red Bulls fought for the final 20 minutes to earn the win and championship.
"It was a great weekend for the team in terms of soccer," said head coach Antonio Meza. "They played very well and had very good sequences of passing and possessing. They created good chances to score. It is always difficult to play against physical teams, but today the group demonstrated that with discipline and effort they can get results. They deserved to win, and they had a great weekend. Congratulations to all of them".
A LOOK AHEAD:
Wednesday, March 24
U16 Red Bulls @ U16 Met Oval, 8:00 pm at Metropolitan Oval (US Development Academy League)
Thursday, March 25
U18 Red Bulls @ U18 Met Oval, 8:00 pm at Metropolitan Oval (US Development Academy League)
Saturday, March 27
U14 1996 Red Bulls @ U14 Met Oval, 2:00 pm at Metropolitan Oval
SOLO FUTBOL AIRS SUNDAY: Red Bulls WADO 1280 AM and 92.7 FM announcers Ernesto Motta and Robert Sierra host their weekly call-in radio show, Solo Futbol, on Sunday night from 8-11 PM on WADO 1280 AM. Motta, Sierra and their panel of experts and guests analyze the Beautiful Game and the New York Red Bulls, as they start for their upcoming MLS season.
• Discuss this story on the Major League Soccer message board...


Major League Soccer Stories from March 22, 2010
The opinions expressed in this release are those of the organization issuing it, and do not necessarily reflect the thoughts or opinions of OurSports Central or its staff.