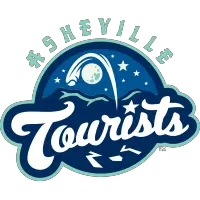 Mistakes Once Again Cost Tourists in Close Loss
May 25, 2019 - South Atlantic League (SAL) - Asheville Tourists News Release



ROME - This one is hard to explain. The Asheville Tourists are better than the Rome Braves. It's really not even that close. Yet Asheville is now 0-4 against Rome after somehow losing the series opener 5-4 on Saturday night.
Colten Schmidt could not have pitched any better. Asheville's left-hander was the first Tourists pitcher this year to last seven innings in a start. He did not allow a single earned run. Rome's starting pitcher Jose Olague threw the ball over the plate and just prayed his defense would make plays behind him. It worked. Asheville struck out only twice in the game. Schmidt completely outpitched Olague. To put it plainly, Schmidt is better. The Tourists are better. It didn't matter.
The first inning was sluggish. Asheville let Rome score three runs after an error and an infield single that no one seemed interested in fielding. Despite the slow start, the Tourists settled in. Schmidt was excellent. The Braves could barely hit the ball out the infield while Schmidt mixed in a season-high nine strikeouts.
Offensively things picked up in the fourth. John Cresto hit a two-run double to bring Asheville within a run. Danny Edgeworth hit a two-run Home Run in the seventh to give the Tourists a 4-3 lead. However, the insurance never arrived.
Following Edgeworth's longball Asheville squandered a trio of scoring opportunities in the final three innings. They had runners at first and second with no outs but failed to execute a sacrifice bunt. A double-play promptly followed to end the seventh. Asheville hit into double plays in the eighth and ninth frames as well.
The Tourists late inning troubles continued on the other side also. Rome rallied for the game-tying run in the eighth and for the fifth straight contest Asheville allowed damage in the ninth inning. Although no one in the stadium saw it unfolding the way it did.
How the winning run scored is even harder to explain so I'll keep it simple. After a walk and a sacrifice bunt, what appeared to be a routine groundout, turned into Asheville's second error. The runner from second raced home for Rome's win.
• Discuss this story on the South Atlantic League message board...


South Atlantic League Stories from May 25, 2019
The opinions expressed in this release are those of the organization issuing it, and do not necessarily reflect the thoughts or opinions of OurSports Central or its staff.