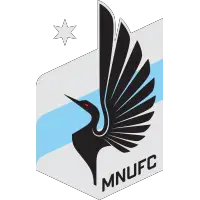 Loons Get First Ever Win in Dallas
May 22, 2022 - Major League Soccer (MLS) - Minnesota United FC News Release



FRISCO, Texas. -- Toyota Stadium isn't exactly what you would call a generous host to squads visiting FC Dallas, as they haven't lost at home since October 27, 2021. A downright inhospitable host to opposing MLS clubs. For the Loons, who had already started the week this past Wednesday with a 1 - 1 draw, capping off their first doubleheader week of MLS regular season play in a place that's downright inhospitable? Not exactly how you want to spend your Sunday.
But, as they say, that's why they play the games, as the Loons played through the pressure and took down FC Dallas with a massive 2-1 win.
From the initial kickoff, the boys caught Dallas off guard with an attack that was hot out of the gates. The strategy paid off well, as Robin Lod gave the Loons the upper hand when he found himself in the right place at the right time to put a boot on a muffed save attempt from Dallas keeper Maarten Paes in the 20th minute. This goal was a historic one for Lod, as it made him the all-time leading goal scorer in MNUFC's MLS history.
Then, after around thirty-minutes into what had shaped up to be a stellar effort from the Loons, the refs decided to get fairly trigger-happy with the yellow cards. In what felt like a matter of seconds, Michael Boxall earned one for a bad foul, followed a few seconds later by Kervin Arriaga for protesting the Boxy foul and then a few seconds later by Franco Fragapane for an unnecessary challenge. The succession of incidents caused the boys to lose their composure a bit the rest of the half, as FC Dallas' ramped up their attack on the Loons back line. Fortunately, they held up to the peppering of shots, and took their 1 - 0 lead into the half.
The 55th minute proved to be another case of "right place, right time" for D.J. Taylor, as a Reynoso corner kick bounced to a waiting Taylor just outside the box, booting a grass-burner into the corner of the net for the very first MLS goal of his career.
However, and as to be expected, FC Dallas were not about to go quietly. In the 59th minute, FC Dallas' forward Paul Arriola kept FC Dallas in the game with a laser from just outside the box, and just out of reach for Dayne St. Clair. The goal kept FC Dallas in striking distance to keep things interesting.
The latter part of the second half seemed to mimic the trajectory of the first, with Minnesota United striking early and FC Dallas holding possession for the remainder of the second. But the Loon defense held firm just as it had in the first half, preventing the FC Dallas offensive onslaught from spoiling a very big, much needed win in a place where so few have.
MAN OF THE MATCH: Defender DJ Taylor
LINEUPS:
Minnesota United: GK Dayne St. Clair; D Kemar Lawrence, Bakaye Dibassy, Brent Kallman, DJ Taylor; M Kervin Arriaga, Wil Trapp (c), Franco Fragapane, Emanuel Reynoso, Robin Lod; F Bongokuhle Hlgonwane
FC Dallas: GK JImmy Maurer; D Marco Farfan, José Antonio Martínez, JNkosi Tafari, Emmanuel Twumasi; M Paxton Pomykal, Facundo Quignon, Tsiki Ntsabeleng, Paul Arriola, Jáder Obrian; F Franco Jara
UP NEXT:
MINNESOTA UNITED FC vs. UNION OMAHA
Allianz Field | Saint Paul, Minnesota
05.25.2022 | U.S. Open Cup | Round of 16
7:00 pm CT (ESPN +)
MINNESOTA UNITED QUOTE SHEET
MNUFC HEAD COACH ADRIAN HEATH
On the win over Dallas possibly being the best result of the year...
"It might appear that when you look at what they say, how they've done at home, but sometimes you get rewarded for your hard work in the other games and I feel as though we haven't had anywhere near the reward we should've had the last two games. And today we've gone and got three points where everybody probably thought we were going to get beat here because we haven't won here in the past. Pleased for the players. Thought our first half performance was excellent, the shape. We handled their rotation with the fullback and the wide guy at midfield players really, really well. Credit to our fullbacks and the two wide guys who did a really good job at that. In the first half we looked dangerous, so it's a big win for us. It's calming a lot of people down. You would think we were the bottom of the league with all the nonsense I keep hearing people write. But, there you go. It was a big win for us."
On getting to 18 points with the win...
"Yeah, because it's not from me, Jerry. I'm fortunate that I can put that behind me because I don't do any social media. But my staff tell me, and people tell me what's said and what's being written. It surprises me when I hear it, but this is another win. It helps us start to climb up the table. If we keep everybody fit and healthy, I think we're going to do okay. Probably a bit more than okay. A bit better than probably a lot of other people think."
On if Jesus Ferreira not starting changed up the defensive plan...
"They've played him as the number nine without a number ten. They've been playing a 4-3-3 with a six and two eights. Paxton Pomykal has had a particularly good year. I was worried that they were going to play [Jesus] Ferreira in there as well because they have got a really, really dangerous front five with plenty of pace, plenty of intelligence. I don't know what the reasons were for that, but obviously when you see maybe their top scorer, I think he is, not playing then it gives you a little bit of a boost. This was about us, not about them because I thought our shape in the first half was excellent."
On DJ Taylor's performance...
"It was very good tonight. Against whether it be [Paul] Arriola, whether it be [Jader] Obrian. Arriola is an international player, makes really intelligent runs and if you're in bad spots he makes you pay for it. But DJ did really well. He used the ball well, he defended well, he made some good tackles and he got forward when he needed to. Obviously the rest of the group and the staff are really delighted for him to get a goal because the one thing about him is he comes in every day, works hard, and tries to get better. And today is a little bit of a reward for that."
On both goals coming off recycled set pieces...
"Well, it was. I thought we put some good set pieces in again today; I don't think we got our head on the first one nearly enough. But obviously Robin's alive, you know Rey can hit the ball, he can do the knuckleball and I know that he can; I've seen him in training working on that one - where it just bounces in front of the goalkeeper and obviously Robin was alive and Johnny on the spot and when you get the first goal away from home, we've spoken about it so many times, it does start to change the game."
On Robin Lod becoming the clubs top goal-scorer in history...
"Yeah, I'm pleased for him. He's a quality player, quality man, great professional. No matter what I say to him, 'play wide left, wide right, number ten, up front', and we've had him in the number six position, the number eight position a few times and he's done terrific. He's been a terrific pick up for us. I couldn't thank him enough for what he has done for us all."
On the continuity of the starting 11...
"It's nice, but we've had to look at it with and obviously with Kervin's [Arriaga] yellow now he'll be suspended next week and I think Boxy [Michael Boxall] is suspended as well. So, we'll have to look at Wednesday now. We might have to play them again and give some of the others a rest and get them prepared for what will be maybe the toughest game of the season against New York City. Reigning champions. I've managed to fortunately watch them today. Really good with the ball. We'll have to be good next week. I also know it's a game we can win if we can play like we did against the Galaxy and like we've done tonight and parts of Seattle."
On what happened to Tyler Miller during warmups...
"He pulled up in the warmup. We don't know whether it's muscular. It's around his rib cage. We'll have a better idea tomorrow."
On playing in cooler weather...
"It always helps when you can actually breathe and walk and run without feeling like you'll keel over after 10 minutes."
MINNESOTA UNITED DEFENDER DJ TAYLOR
On the plan being to get an assist and now to get a goal...
"The plan now is to get more assists and more goals and help team every time I play."
On how much pride you take in your defensive work...
"It's just trusting in my own ability to defend 1v1 no matter who is on that sheet. Sometimes you look up and it's a big name you are going against, but at the end of the day its about making a name for myself and showing the league and everbody out there who I am and what I am trying to be, and that's one of the top defenders in the league."
On seeing the pass before your goal...
"Yeah, honestly when it came out I said I gotta smack this and try to hit it into the corners as best as I could and luckily I was able to kind of watch it go through the line of people into the side net. I actually didn't see Fraga [Francisco Fragapane] but I just hit it as cleanly as I could."
On describing the week with two games...
"I'm just super proud of myself. I'm a guy who is always working gives himself 110% each day. So it just feels good to get a reward for all my effort. Obviously last year trying to get into the starting lineup and now it's another year where my feet have been planted at the club and I'm striving to be the best I can be and honestly it's been a blessing but I know the work doesn't stop here I gotta keep pushing and never be satisfied with where I am at."
On what it means to be the first team to win in Dallas this season...
"It's huge. We want to be able to win away or home. Playing against Dallas, who is one of the top teams this year with all the goals they have been scoring. It's huge for the group, especially for our chemistry going forward in that tough stretch that we have been going through and the stretch we have after the break."
On being so outspoken on mental health and what it means to you...
"For me it's something that I have struggled with as an athlete. I think there are a lot of athletes that struggle with it. It kind of goes under the radar because we are kind of viewed as these almost machines who are just supposed to reach goals; meet them no matter what it costs. Even if it costs a mental piece or an emotional piece. I just want to bring awareness to that. To start conversations, that we are still human beings and yes we make a lot of sacrifices, but there is a lot of help that others need out there too. For me, it's just about being selfless and creating that conversations about athletes and how we go about our lives and that's why I really wanted to donate to [NAMI] for my Man of the Match, because it goes hand in hand with coming in your footsteps so if I help other young athletes who are going to come through this club or system be in better shoes than I was, then that is the goal. It's all about being selfless and giving back for me."
On how long giving back has been important to you...
"As I have reached each higher level as an athlete I feel like mental health and the mental aspect of the game has become more and more important. [There's] a lot of guys I've seen that have had a lot more talent than I did that just mentally weren't there or were struggling with things that they weren't able to get over. It's a huge part of the game. How you feel on the field, but also off the field and what you go through. Me personally, I can attest to this: I hold things in and don't share my feelings enough, which may affect my training if I'm holding in things that maybe made me mad or upset me the other day. But when I do open up and express how I feel and create that space for me and create conversations with the guys its super beneficial and helps me get through. Everything that I do towards mental health is stuff that I have gone through myself and I just want to help others do it and use my platform to do that."
On what you will do to celebrate the win...
"Unfortunately, I haven't been able to have chocolate cake; I did have a coke. There's still two more games left so maybe once we get to the international break I can have a little chocolate cake. So yeah I'll just have another coke and straight back to the waters looking forward to Omaha and NYCFC. When I go home I'll celebrate with the family and it will be good to see my little brother."
On the difference between the hot temperatures...
"It makes a huge difference. Playing in the sixty-degree weather felt good. In the heat you are struggling a lot and if you lose the ball you don't get it back for ten minutes and you're heaving and you can't breathe. But luckily with the cool we feel like we can run for days. It helps us mentally."
On playing with the same starters again...
"With the results not going our way we had to look at ourselves in the mirror and "Gaf" [Adrian Heath] had to put a lineup together that has good chemistry and is getting results. With our game against Los Angeles Galaxy, yeah, we didn't win but we played the best way that we have wanted to play. So keeping those guys in and that same mentality its working for us, so its just helping the team move forward. Guys are bringing their own internal pressure - kind of like Adrian talked about before - and this eleven is pushing to do that with each other and it's resulting in wins and good play."
• Discuss this story on the Major League Soccer message board...


Major League Soccer Stories from May 22, 2022
The opinions expressed in this release are those of the organization issuing it, and do not necessarily reflect the thoughts or opinions of OurSports Central or its staff.