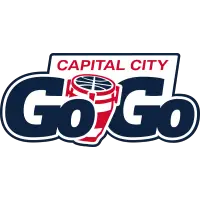 Late Three Pushes Magic Past Go-Go
December 3, 2019 - NBA G League (G League) - Capital City Go-Go News Release



WASHINGTON, D.C. - The Capital City Go-Go (5-5), the NBA G League affiliate of the Washington Wizards, were sunk by a late Josh Magette three in a loss to the Lakeland Magic (6-4) on Tuesday afternoon in the Go-Go's second-ever Education Day game.
The first half of the game featured a defensive battle, as the Go-Go reached a 45-33 lead midway through the second quarter, the team's largest advantage of the game. Lakeland finished the quarter on a 21-8 run, with a flurry of three-pointers as they finished 6-12 from deep in the second and took a 54-53 lead into the half.
The third quarter was a back-and-forth battle with neither team gaining more than a five-point lead. The Magic carried an 83-78 advantage into the fourth, and a quick five points from Lakeland gave them their largest lead of the game at 88-78. The Go-Go were able to hold the Magic scoreless for the next three-and-a-half minutes, as they cut the game to 88-85. The two teams traded baskets until Chris Chiozza started a Go-Go run with a three and a steal on the opposite end that led to a Jerian Grant three to give them a 103-101 lead with 2:21 remaining. Another Chiozza three pushed the Go-Go lead to five with 1:28 left to go, but Josh Magette spoiled the comeback bid with three free throws and a three-pointer from the top of the arc with five seconds remaining to give the Magic the win.
All five Go-Go starters scored in double-figures in the game, led by Jalen Jones and Jerian Grant, who each finished with 22 points. Wizards' assignees Admiral Schofield (12 points, five rebounds) and Justin Robinson (10 points, seven assists) each performed well for the Go-Go. Mike Cobbins (12) and Jalen Hudson (11) rounded out the bulk of the scoring for Capital City, while Chris Chiozza added nine points and six assists in his first game back with the Go-Go after spending the past week with the Wizards on the West Coast.
Josh Magette led the way for the Magic, scoring 28 points on 7-11 shooting from three, while also grabbing seven rebounds and dishing seven assists. Orlando's second two-way player BJ Johnson added 21 points and Vic Law had 15 points and four rebounds for the Magic, who went 17-38 (.447) from three on the day.
The Go-Go will be back in action on Friday as they travel to Delaware to take on the Blue Coats at 7:00 p.m. Lakeland will play at home on Friday as well, as they host the Greensboro Swarm at 7:00 p.m.
GO-GO HEAD COACH RYAN RICHMAN
On what went well today:
"I thought we defended pretty well overall. We got good shots. The ball got a little sticky and we got into trouble just not moving. [Lakeland] is obviously a very aggressive defensive team, so when we got into the paint and got them moving we were pretty good. [The] guys played hard and that's a good team, well coached team. I thought we played well and played hard. Just a little error at the end. We talked about it already and hopefully we'll clean it up going forward."
On the fourth quarter highlights:
"I thought Jalen Jones and Chris [Chiozza] played well. It's great having Jerian [Grant] on the floor. I thought [Admiral Schofield] and Justin [Robinson] did some things on the court too. [It was] just a team effort. Mike [Cobbins] was playing well. Defensively he really helps us and having a five in the game like Mike who has a feel [helps us]. Overall good team effort against a really good team."
GO-GO FORWARD ADMIRAL SCHOFIELD
On today's game:
"We didn't give up as many points as we have in most of our losses. We played defense from start to finish. Just at the end, we didn't execute on the defensive end. [Josh Magette] had an open three, he's been hot all night. More than just 50/50, it was more like 60/40 for him tonight. Tough shot [at the end], we got a good look, just didn't make it on our end. We have to be able to live with that. There's 50 games in this league, so we've got to move on. [I've] got another game today, so definitely have to move on. But we played with energy, we played good on both ends. It's a hard-fought game."
• Discuss this story on the NBA G League message board...


NBA G League Stories from December 3, 2019
The opinions expressed in this release are those of the organization issuing it, and do not necessarily reflect the thoughts or opinions of OurSports Central or its staff.