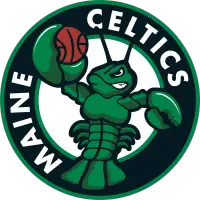 Knicks Top Red Claws Down the Stretch
March 21, 2019 - NBA G League (G League) - Maine Celtics News Release



White Plains, NY -The Maine Red Claws, presented by Unum, erased a big deficit but were unable to take down the playoff-bound Westchester Knicks, falling on the road Thursday night, 105-94.
Maine (19-30) got a prolific performance from P.J. Dozier. The Boston Celtics Two-Way Player finished with a game-high 33 points on 11-23 shooting. Fellow Two-Way Player R.J. Hunter added 19 points and 7 rebounds in the loss. Thomas Robinson, playing in his 3rd Red Claws game, recorded his 3rd double-double, with 11 points and 17 rebounds. Andrew White finished with 10 points.
Westchester (29-20) went on a 15-3 run in the final 3:30 to turn a 1 point game into an easy victory. The Knicks were led by Luke Kornet, on assignment from the New York Knicks, who finished with 25 points. Jameel Warney added 21 points in the win.
The Red Claws and Knicks traded buckets early, with Dozier's corner three tying the game at 6. The Knicks would then score 7 straight points, capped off by a Zak Irvin lay-up. The run swelled to 9-0 before Sheldon Jeter stopped the bleeding with a three. Knicks assignee Luke Kornet dropped in a pair of threes to put Westchester up 10. The Red Claws would rattle off 6 straight points to cut it to 21-17. Billy Garrett's lay-up gave the Knicks a 27-19 lead after 1.
Irvin's reverse lay-in made it a 13 point lead at 32-19. The Red Claws made a run to get back into it. Jeter and Nick King made back-to-back buckets to cut it to 9. White knocked in two threes to cut it to 39-31. Robinson's free throws and ensuing lay-up cut it to 6 points. Goodwin's spinning lay-up kept pace with the Knicks, but Kornet dropped in a three in the last minute to extend the lead back to 10, but Robinson's late bucket made it 50-44 Westchester at halftime. Kornet did not miss a shot in the first half (5-5; 3-3 from three) for 14 points. Dozier led Maine with 9 points.
Dozier hit a three to open the 3rd, and just like that, it was a 3 point game. Jameel Warney scored a pair of baskets, sandwiched around a Hunter three. Dozier's step-back made it 59-56. Dozier continued his moster quarter, knocking in a pair of free throws to make it a 1 point game. Dozier's offensive rebound and putback tied the game at 62. Hunter's three gave Maine its first lead since 3-2 at 65-62. Sekou Wiggs' three-point play late in the quarter gave Westchester a 71-68 lead. The Knicks led 73-70 after 3. Dozier scored 17 points in the 3rd period, getting Maine back in the game.
In the 4th, Garrett's three-point play extended the Knicks lead to 5. Dozier drove and scored to get it back to 1 point with 7:00 to go. Dozier kept it at 1 with another bucket, but Kornet's three-point play made it 93-89 with 3:12 left. Garrett followed that up with a bucket to put the Knicks up 6. Kornet's follow finish made it 97-90 with 1:35 to go. The Red Claws would not get any closer.
Maine shot 38% (32-85) from the field, 26% (9-34) from three-point range, and 81% (21-26) from the free throw line. Westchester shot 46% (41-89) from the floor, 24% (4-17) from downtown, and 66% (19-29) from the charity stripe.
The Red Claws wrap up the season Saturday at Delaware. The 7 p.m. tip can be seen on Facebook Live.
• Discuss this story on the NBA G League message board...


NBA G League Stories from March 21, 2019
The opinions expressed in this release are those of the organization issuing it, and do not necessarily reflect the thoughts or opinions of OurSports Central or its staff.