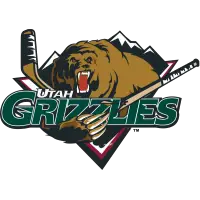 Grizzlies Release Protected List
June 3, 2008 - ECHL (ECHL) - Utah Grizzlies News Release



West Valley City, Utah - Utah Grizzlies Head Coach and Director of Hockey Operations Jason Christie today released his 2008-2009 Protected List. Players who signed contracts prior to this past season with either the New York Islanders or their AHL affiliate in Bridgeport are not eligible for this list.
Goaltenders
Sean Fields
Nathan Lawson
Rob McVicar
Forwards
Scott Burt
Ryan Cruthers
Jason Deleurme
Gregg Johnson
Justin Johnson
Rob Sirianni
Ryan Kinasewich
Evan Kotsopoulos
Travis Rycroft
Defensemen
T.J. Campbell
Ian Forbes
Scott Ford
Sean Offers
James Sanford
Andy Sertich
Teams are allowed to protect as many players as they wish provided the players protected meet the guidelines as defined in the Collective Bargaining Agreement between the ECHL and the Professional Hockey Players' Association which state that teams shall retain the rights to each player that:
1. Signed a Standard Players Contract in 2007-08, and has not been traded or released, OR
2. Signed Standard Players Contract in 2007-08, and was recalled to the National Hockey League, the American Hockey League or an International Ice Hockey Federation team, and has not been traded or released, OR
3. Received a 2007-08 Qualifying Offer for the current season, and DID NOT sign a Standard Players Contract, and has not been traded or released, OR
4. Has been suspended by the team or League, and has not been traded or released, OR
5. Signed Standard Players Contract on or after the first day of the 2007-08 regular season, then subsequently signed an NHL/AHL contract, and has not been traded or released, OR
6. Has executed the ECHL Retirement Form, and has not been traded or released
Protected lists may exceed 20 players.
Teams must complete all Future Consideration trades by 3 p.m. ET on June 13 and must submit their Season-Ending Roster by 3 p.m. ET on June 15.
Season-ending rosters may include up to 20 players and cannot include any players who did not sign an ECHL contract in 2007-08.
The Grizzlies open the 2008-2009 season Saturday, October 18 at Idaho. The home opening weekend for Utah is Friday and Saturday October 24 and 25 versus Alaska at the E-Center.
The ECHL will have 24 teams in 16 states and British Columbia playing 864 games from Oct. 17, 2008 to Apr. 4, 2009. Nineteen of the 24 teams have played at least five years in their current city.
The third-longest tenured professional hockey league behind only the National Hockey League and the American Hockey League, the ECHL averaged 4,174 per game last season, marking the fourth year in row and the 16th time in the last 18 years that the league has averaged over 4,000 fans. The league has drawn over four million fans each of the last five years and 11 times in the past 12 seasons.
• Discuss this story on the ECHL message board...


ECHL Stories from June 3, 2008
The opinions expressed in this release are those of the organization issuing it, and do not necessarily reflect the thoughts or opinions of OurSports Central or its staff.