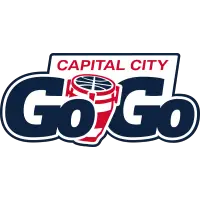 Go-Go Run Home Winning Streak to Six with 130-125 Victory over Mad Ants
February 13, 2020 - NBA G League (G League) - Capital City Go-Go News Release



WASHINGTON, D.C. - The Capital City Go-Go (18-17), the NBA G League affiliate of the Washington Wizards, took down the Fort Wayne Mad Ants (17-18), 130-125, to take its home winning streak to six and its overall winning streak to four heading into the All-Star Break.
Neither team was able to gain much of an advantage throughout the game, as both teams' offenses flourished early on. Capital City led just 69-65 at the break despite shooting .667 from the field in the first half. After trading baskets to begin the second half, the Go-Go went on a 13-2 run to take an 88-79 lead with 5:31 left in the third. Despite a few late comeback attempts from the Mad Ants, the Go-Go were able to hold the lead for the final 21 minutes of the game, with 9:37 of those minutes with a lead of five points or fewer.
Capital City set a team record with its .610 shooting clip on the night, as it shot 47-77 from the field. The Go-Go also went 8-16 from three and 19-20 (.950) from the free throw line, marking just the second time in team history that they finished with a field goal percentage over 50, three-point percentage over 40 and a free throw percentage over 90 in the same game, and became just the second NBA G League team this season to top the 60-50-90 clip (Lakeland). The Go-Go outscored the Mad Ants 70-52 in the paint, marking the second time in the last three games the team finished with 70-plus points in the paint.
Seven Go-Go players finished in double-figures, led by Jalen Jones' 22 point-night, his 17th 20+ point outing of the season. Wizards' two-way player Johnathan Williams added a 20-point, 10-rebound double-double, while second two-way player Garrison Mathews added 11 points, eight of which came on a clutch three and five free throws in the final 1:09 of the game. In his second start of the season, Noah Allen tallied a season-high 18 points, while Jerian Grant went for 17 points, seven rebounds, seven assists and a game-high +17 rating. Ike Iroegbu (13 points) and Phil Booth (10 points) each added off the bench.
Fort Wayne was led by Walt Lemon Jr.'s 26 points, six rebounds and eight assists, while C.J. Wilcox added 24 on 8-12 shooting from three. Indiana two-way player Brian Bowen II added 18 points and Ben Moore (16 points), Stephan Hicks (12 points) and JaKeenan Gant (10 points) chipped in for Fort Wayne in the loss. The Mad Ants shot 16-40 (.400) from three and 46-87 (.529) from the field in the defeat.
Both teams will exit the All-Star Break with a trip to Greensboro, Fort Wayne's coming on Feb. 19, while Capital City will head for a back-to-back road trip against the Swarm on Feb. 21 and 22. The Go-Go will host its second Education Day of the season in their next home game against the Maine Red Claws on Feb. 25 at 11:30 a.m.
GO-GO HEAD COACH RYAN RICHMAN
On tonight's game:
"I thought defensively we did a really good job. We started Noah [Allen] for a defensive presence on [Walt] Lemon [Jr.]. He's one of the hardest guards to defend in the league. We've had a hard time with him, but I thought we did a good job of making him shoot jump shots [and] keep him out of the paint. I thought we rebounded well. That was a big difference in our last loss at Fort Wayne."
On Jalen Jones being selected for the FIBA AmeriCup team:
"Team USA kind of pinpointed him to be on their roster. He's a versatile player. He can play [the] 3, 4 [and] he can play some small-ball 5 when needed. He's the perfect representation for our country and I'm excited for him."
GO-GO FORWARD JALEN JONES
On the game and his performance tonight:
"I think we have a great system here. Our coaches do a great job of making sure that everybody touches the ball so everybody has an opportunity to score. We are playing such hard defense, everybody wants to get shots, but our coaches do a good job of setting up plays where everybody can touch the ball. My teammates do a great job of finding me."
On finding multiple ways to help the team:
"I just try to do little things to get myself going at first. If my shot is not going right away, I just try to play hard defense and let my energy take over, and I think we played well as a whole. I feed off my teammates' energy. When they are bringing energy, I do not want to be the odd man out, so I just try to match their energy as well as possible."
On his FIBA selection:
"It is an honor. It is an honor anytime you represent your country. I am heading to Miami for training camp for four days, then we head to Puerto Rico, and then we play a game here in D.C. I am excited for the opportunity and I am very thankful to be selected."
• Discuss this story on the NBA G League message board...


NBA G League Stories from February 13, 2020
The opinions expressed in this release are those of the organization issuing it, and do not necessarily reflect the thoughts or opinions of OurSports Central or its staff.