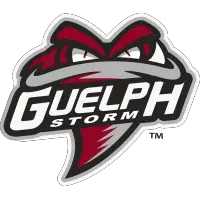 Game Preview: Guelph Storm at Soo Greyhounds
December 3, 2021 - Ontario Hockey League (OHL) - Guelph Storm News Release



The Storm are back in action tonight as they begin their weekend road trip with a game against the Soo Greyhounds. The puck drops at 7:07pm.
The three wins in three games last weekend a four game win streak earned the Storm an honorable mention in the CHL's top 10 rankings. With a record of 13-6-1-1 and 28 points, the Storm currently sit 2nd in the conference standings just shy of the Knights with 31. Finding a recent hot streak is Matthew Poitras, who in his last two games has been able to score two goals and tally one assist. The most recent Storm win saw a dominant performance when they beat the Otters 7-3. Third year forward Jacob Maillet scored his first two goals of the season helping the Storm get the edge on the Otters. The Storm will look to play spoiler against Greyhounds as they play for the 3rd time this season at the GFL Memorial Gardens. The Soo currently lead the season series two games to one defeating the Storm 4-2 and 9-2. The Storm pulled off a 6-5 victory the last time these two clubs went head to head.
The Soo Greyhounds are 12-9-0-0 and are 3rd in conference standings. They have had some stagnant success recently winning only 2 out of their last 5 games which saw their wins come in games against the Erie Otters and the Sarnia Sting. The Greyhounds are coming off that 2-0 win against the Sting and this should give them some jump in their step as they are at home tonight. Rory Kerins who leads the team in points with 32 and assists with 21 will be a key piece to the continued success of the Greyhounds as he leads the team offensively.
HEAD TO HEAD
2021-22 Regular Season GUE 2-2-0-0 SOO 2-2-0-0
2019-20 Regular Season GUE 3-1-0-0 SOO 1-2-0-1
Last Five Years GUE 7-10-1-2 SOO 13-4-2-1
Last Five Years At Guelph Storm GUE 4-6-0-0 SOO 6-1-2-1
Last Five Years At Soo Greyhounds GUE 3-4-1-2 SOO 7-3-0-0
TOP SCORERS
LAST 5 GAMES
MATCH UP
Guelph StormSoo Greyhounds
Season Record 13-6-1-1 12-9-0-0
Last 10 Games 7-2-0-1 5-5-0-0
Streak 4-0-0-0 1-0-0-0
Last Game 7-3 W vs Erie (2021-11-28) Final 0-0 T vs Sudbury (2021-12-01) Postponed
Home Record 7-2-0-1 7-3-0-0
Away Record 6-4-1-0 5-6-0-0
Goals For 84 88
Goals Against 71 80
Power Plays 22/88 (25%) 27/85 (31.76%)
Power Plays - Home 11/40 (27.5%) 13/37 (35.14%)
Power Plays - Away 11/48 (22.92%) 14/48 (29.17%)
Penalty Killing 15/69 (78.26%) 21/79 (73.42%)
Penalty Killing - Home 6/35 (82.86%) 9/33 (72.73%)
Penalty Killing - Away 9/34 (73.53%) 12/46 (73.91%)
Leading Rookie Poitras (7-12-19) McConnell-Barker (8-5-13)
Most Penalty Minutes Matthew Papais Ryan O'Rourke
Team PIM/GM 9.4/21 9.9/21
Players to Watch:
Guelph Storm - Jake Karabela
Currently leading the team in assists with 15, Karabela has put up 18 points in 21 games featuring 3 goals. Already off to a hot start for the team has Karabela being a key piece to the Storm's success this season. He enters tonight's game on a 2-game point streak which has had him tally 3 assists in the two games against the Otters last weekend.
Soo Greyhounds - Tanner Dickinson
The St. Louis Blues 4th round selection in the 2020 NHL Draft has been able to total 28 points in 21 games. With 9 goals total Dickinson has been able to find early success in this Greyhound lineup and has been a leading factor to its offensive success. His 9 game point streak was broken last game against the Sting but this streak saw Dickinson score 6 of his 9 goals and total 14 points.
Upcoming Games:
The Storm play a two game toad trip this weekend which sees them go to the Soo tonight and visit Saginaw tomorrow to take on the Spirit. Then the team is back in action at home on Wednesday, December 8th when the Sarnia Sting are back in Guelph to take on the Storm. The puck drops at 7:00pm.
• Discuss this story on the Ontario Hockey League message board...


Ontario Hockey League Stories from December 3, 2021
The opinions expressed in this release are those of the organization issuing it, and do not necessarily reflect the thoughts or opinions of OurSports Central or its staff.