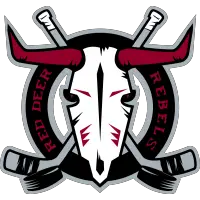 Former Hitmen Defender Egener Moving up Coaching Ranks
June 17, 2021 - Western Hockey League (WHL) - Red Deer Rebels News Release



Mike Egener continues to build his resume.
Egener was hired as a Red Deer Rebels assistant coach on Thursday, just another step in what he hopes will lead to a long and prosperous career in coaching.
After retiring as an active player in 2015, Egener was an assistant coach with Mount Royal University for one season and then served as head coach of the U15 prep team at the Okanagan Hockey Academy in Penticton for four years.
Now he's back in the same league in which he starred as a talented and rugged Calgary Hitmen defenceman in the early 2000s.
"If you want to make something out of coaching you have to take that next step," he said from his home in Penticton.
"OHA has been really good to me but I just felt that it was time. I needed to be challenged in a different way. Certainly I know I'll get that moving to the Western Hockey League and Red Deer. This is an opportunity to learn more and further grow as a coach and as a person."
Egener was offered the job by Rebels president and general manager Brent Sutter after the latter picked him from a strong list of applicants.
"It kind of came up fast," said the 36-year-old, whose coaching duties at OHA revolved mostly around teaching but also included other responsibilities.
"This academy is a great place to cut your teeth as a coach," he said. "You learn the ins and outs from experienced people who have been around the game at all sorts of different levels and leagues.
"Our job requirements since I've been here have ranged from a wide variety of things. Not just teaching but helping out with driving, parent contacts . . . just helping out with off ice stuff when need be.
"The coaches here have a variety of roles and I'm hopeful that I can use all of that experience moving forward."
Egener does not know Steve Konowalchuk on a personal level but was introduced to the incoming Rebels head coach during a recent telephone chat.
"I don't know him personally but I know of him as a player and what he's done as a coach," said Egener. "We had a conversation during this (hiring) process and I feel really comfortable with him. We had a good chat and I'm really looking forward to working with him and with Ryan (assistant coach Colville)."
Egener became familiar with Red Deer and the Rebels during his four years with the Hitmen. In addition, he played with Rebels assistant GM Shaun Sutter in 2000-2001 and his brother, Luke, was a Rebels defenceman from 2005-09.
"Part of my decision to pursue this opportunity is having that familiarity with Red Deer as a player. The Rebels were always a tough team to play against and were obviously our main rivals," said Egener, who played with the WHL team in the CHL all-star game in 2004 and had Brent Sutter as a coach.
"It was a short touch but I just really respected him."
Luke Egener presented his older brother with a glowing review of his four years with the Rebels.
"He had nothing but really good things to say about the people in the organization. He was a good resource for me that way. I also know Shaun Sutter, he was 20 and I was 16 my first year with the Hitmen and he kind of took me under his wing.
"Also (Rebels senior vice-president) Merrick Sutter is a friend of my brother. So there's that connection. There are connections in hockey and everyday life and you trust them."
Born at a military base in Germany, Egener eventually moved to Calgary where he played minor hockey before joining the Hitmen.
He was selected 34th overall by the Tampa Bay Lightning in the 2003 NHL entry draft and went on to play 11 years in the AHL, ECHL and the EIHL, the United Kingdom Elite League.
Egener was a player/assistant coach with the Coventry Blaze (pictured above) in his last of three seasons with the club and helped them win a EIHL championship in 2014-15.
"You play your whole career striving to get to achieve that and I got a good taste of what it takes to win a championship," he said. "I'm so fortunate I was able to do that at the end of my career."
Brent Sutter sorted through an impressive list of candidates being deciding on Egener.
"Any one of the candidates would do a great job," said the Rebels boss. "We went through them all, Steve, Shaun, Merrick and myself, and wanted to make sure we found the right person, someone who checked off all the boxes and would complement Steve and our staff.
"Mike is a real good fit. We wanted Steve to have a comfort level and during the process we found someone he can be really comfortable with."
Sutter will make a decision regarding the hiring of a goaltender coach in the coming weeks.
"It's not a situation where a goalie coach has to be here all the time," he said. "You do not need a goaltender coach who has to be at every practice and every game. He just has to work with the goalies and allow the goalies to put in place what they were taught.
"Goalies need space and time to themselves at this level to mature."
Egener, meanwhile, has two weeks remaining on his contract with OHA and will soon begin the process of selling his house in Penticton and moving his family to Red Deer.
• Discuss this story on the Western Hockey League message board...


Western Hockey League Stories from June 17, 2021
The opinions expressed in this release are those of the organization issuing it, and do not necessarily reflect the thoughts or opinions of OurSports Central or its staff.
Other Recent Red Deer Rebels Stories