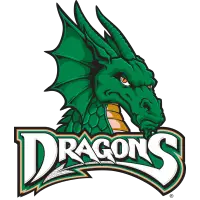 Dragons Notes for Friday
April 5, 2019 - Midwest League (MWL) - Dayton Dragons News Release



Friday, April 5, 2019 l Game # 2
Fifth Third Field l Dayton, Ohio l 7:09 p.m.
TV: Dayton's CW (26) l Radio: Fox Sports 980 WONE
Bowling Green Hot Rods (1-0) at Dayton Dragons (0-1)
RH Joe Ryan (2-1, 3.72 w/Hudson Valley) vs. LH Jacob Heatherly (1-5, 5.82 w/Greeneville)
Today's Game: The Dayton Dragons (affiliate of the Cincinnati Reds) meet the Bowling Green Hot Rods (affiliate of the Tampa Bay Rays) in the second game of the 2019 season. After tonight's game, the two teams will play a two-game series in Bowling Green starting Saturday night. Season Series: Bowling Green 1, Dayton 0.
Last Game: Thursday: Bowling Green 3, Dayton 2. The Hot Rods built a 3-0 lead before Dayton scored two runs in the eighth inning to pull within a run. Mariel Bautista and Pabel Manzanero each had RBI singles in the eighth for Dayton. The Dragons nearly tied the game when Bautista tried to score from second on Manzanero's single after Reniel Ozuna had scored ahead of him, but BG center fielder Michael Smith nailed Bautista at the plate to preserve the lead and end the inning. The Dragons were retired in order in the ninth.
Individual Notes
Five players who spent part of the 2018 season with the Dragons return in 2019. They include pitchers Jarod Solomon, Andy Cox, Adrian Rodriguez, Connor Bennett, and outfielder Shard Munroe.
Seven members of the Dragons are rated among the Reds top 30 prospects (Baseball America). They are OF Michael Siani (#8); OF Mariel Bautista (#16); RHP Lyon Richardson (#17); RHP James Marinan (#19); 3B Juan Martinez (#22), LHP Jacob Heatherly (#23) and 1B Bren Spillane (#30). Additionally, SS Miguel Hernandez is ranked #25 by Fangraphs.com and 2B Jonathan Willems is ranked #26 by MLB.com.
1B Bren Spillane was the 2018 Collegiate Baseball Magazine Player of the Year, the Big Ten Conference Player of the Year, and a Triple Crown winner in the Big Ten with the University of Illinois. He batted .407 with 22 home runs in 50 games and produced a .944 slugging percentage that led the nation.
Three Dragons players were selected to play in the 2018 Pioneer League All-Star Game with Billings. They included RHP Jared Solomon, RHP Eddy Demurias, and C Pabel Manzanero. Solomon and OF Mariel Bautista were selected as Pioneer League Full-Season All-Stars.
The Dragons roster includes three players who hit for a batting average of at least .300 with at least 200 at-bats at the Advanced-Rookie level in 2018, one level below the Dragons in the farm system. They include Mariel Bautista (.330 at Billings), Dylan Harris (.314 at Billings) and Miguel Hernandez (.301 at Greeneville). Outfielder Shard Munroe (.313 at Billings) also topped the .300 mark with 99 at-bats. Catcher Pabel Manzanero hit .291 in 251 at-bats at Billings.
The Dragons roster includes six players drafted within the first five rounds of the 40-round amateur draft, including RHP Lyon Richardson, #2, 2018; 1B Bren Spillane, #3, 2018; OF Michael Siani, #4, 2018; RHP Ryan Campbell, #5, 2018; LHP Jacob Heatherly, #3, 2017; RHP James Marinan, #4, 2017 (by the Dodgers).
Dragons RHP Eddy Demurias played in the 2018 NCAA Super Regional with the University of South Carolina.
Dragons infielder Dylan Harris set the Sunshine State Conference all-time record for career hits. Harris hit at least .400 in three of his four seasons of college baseball. He also set the school record at Nova Southeastern University for single-season hits in 2018, his senior year.
Team Notes
The Dragons roster includes five players from NCAA Division I programs, one player from an NCAA Division II school, one player from a junior college program, five players drafted and signed out of high school, 11 players originally signed as international free agents, one player acquired in a trade, and one player signed as a Minor League free agent.
The Dragons roster includes players from five countries. It includes 12 players who make their home within the continental United States, one player from a U.S. territory (Puerto Rico), six players from Venezuela, three players from the Dominican Republic, one player from Mexico, one player from the Bahamas, and one player from the island of Curacao.
The Dragons roster includes 13 pitchers, two catchers, six infielders, and four outfielders.
The Dragons will feature a five-man starting pitching rotation, including Jared Solomon, Jacob Heatherly, Jhon De Jesus, James Marinan, and Lyon Richardson, in that order. Heatherly is the only left-hander.
The Dragons bullpen features seven right-handers and one left-hander. The right-handers are Connor Bennett, Ryan Campbell, Eddy Demurias, Alexis Diaz, Julio Pinto, Adrian Rodriguez, and Eduardo Salazar. The lefty is Andy Cox.
Upcoming Probable Pitchers (Game times are Dayton time) (All games on WONE 980 AM and www.daytondragons.com) (stats from 2018)
Saturday, April 6 (7:35 p.m.) Dayton RH Jhon De Jesus (no record) at Bowling Green TBA
Sunday, April 7 (3:05 p.m.) Dayton RH James Marinan (3-2, 3.35 w/Billings & GCL Dodgers) at Bowling Green TBA
Monday, April 8 (7:05 p.m.) Dayton RH Lyon Richardson (0-5, 7.14 w/Greeneville) at Fort Wayne TBA
• Discuss this story on the Midwest League message board...


Midwest League Stories from April 5, 2019
The opinions expressed in this release are those of the organization issuing it, and do not necessarily reflect the thoughts or opinions of OurSports Central or its staff.