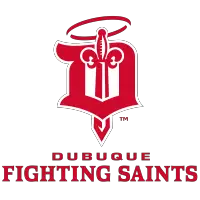 Chicago Tops Dubuque in OT Thriller
February 13, 2021 - United States Hockey League (USHL) - Dubuque Fighting Saints News Release



Ryan Ufko scored late in the overtime period and Chicago beat Dubuque 3-2 in a crazy 3 on 3 OT period. The Saints and Steel were deadlocked for most of the game and offense was at a premium in the Saturday night showdown. The Saints have points in two of three this season against Chicago.
-Chicago came out firing in the first period, scoring an early opener thanks to Joe Miller. Miller took a cross ice feed from Adam Fantilli and blasted it over the blocker of Lukas Parik.
-Chicago had a good opportunity to double their lead, but Dubuque put together a strong performance on the PK. Though the Saints rank last in the league in that department, they looked strong in the first period, not allowing a shot.
-Shortly after that, the momentum shifted towards the Saints as they found their legs. The top line of Stephen Halliday, Andrei Buyalsky and Matt Savoie were clicking all period and did so to get the Saints equal. Buyalsky scored his second goal in as many games on a two on one with Savoie to tie the game at one.
-After two periods, the score didn't change a both teams managed minimal opportunities. Dubuque became the first team in the league this season to hold Chicago with fewer than 10 shots through the first two periods (the Steel had seven).
-Dubuque came up empty twice on the power play in period two as that unit continues to struggle to find consistency.
-Both teams cashed in early in the third period to set up a wild finish. First it was Dubuque, who took their first lead of the game on a Max Burkholder point shot. It didn't take long for Chicago to push the score back even as their captain Erik Middendorf grabbed his 22nd of the season to equalize at two.
-The rest of the third period played out similar to most of the game as the teams traded few chances and clamped down defensively. The final five minutes included a flurry on each side, but both goalies stood tall.
-The overtime period was electric from the drop as both the Saints and Chicago had grade A chances denied multiple times. The Saints had the better of the opportunities but were kept off the board. Chicago ended the game on a Ryan Ufko blast that beat Parik short side.
-Dubuque grabbed a point in the overtime loss and will look for a full two points tomorrow when they face the same Steel team.
• Discuss this story on the United States Hockey League message board...


United States Hockey League Stories from February 13, 2021
The opinions expressed in this release are those of the organization issuing it, and do not necessarily reflect the thoughts or opinions of OurSports Central or its staff.