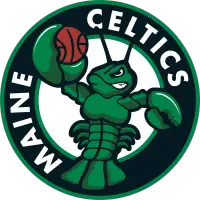 Valentine's Second Straight Triple-Double Lifts Maine
March 31, 2022 - NBA G League (G League) - Maine Celtics News Release



GREENSBORO, NC - The Maine Celtics, presented by Unum, rode Matt Ryan's 30 point performance and Denzel Valentine's second consecutive triple-double to storm back in the second half and defeat the Greensboro Swarm, 122-117. Maine out-scored Greensboro 41-19 in the pivotal 3rd quarter.
Ryan led Maine (16-15) with 30 points on 11-18 shooting (5-11 3P) and four rebounds. Valentine earned his second straight triple-double, both against the Swarm, with 10 points, 16 rebounds and 12 assists. He joins Chris Clemons, also this season, as the only two players in franchise history to record consecutive triple-doubles.
Malik Fitts turned in 19 points and five rebounds while on assignment from the Boston Celtics. Sam Hauser, also on assignment, put up 16 points, four rebounds and three steals. Deonte Burton had 14 points and four rebounds. John Bohannon neared a triple-double himself with 12 points, nine rebounds and nine assists. Eric Demers finished with 10 points and three steals.
Kai Jones and Arnoldas Kulboka each dropped 23 points for Greensboro (9-23), with Jones grabbing 11 rebounds and Kulboka having five. Scottie Lewis totaled 18 points and five rebounds while Jalen Crutcher tallied 17 points and four assists. JT Thor registered 11 points and two blocks and Jarrell Brantley scored 10 points to go with four rebounds.
Crutcher and Burton both dropped in a layup on their team's first possession. Thor slammed home a lob and hit Jones for an easy bucket before Joe Chealey's 1-for-2 free throw gave the Swarm an 8-2 lead just over two minutes in. Ryan jumpstarted Maine with a pair of mid-range jumpers and an and-one to bring them within one possession. Marcus Derrickson's 1-for-2 and Fitts' strong finish gave the Celtics a 13-12 lead, their first of the night. Kulboka and Crutcher each answered with a triple, with Kulboka adding two more to give Greensboro a 26-17 lead. Demers curled around a screen and finished a layup, followed by Hauser's and Maine's first long-ball of the game after an 0-9 start. Isaiah Cousins' game-tying layup finished off a 10-0 run for the Celtics, but Thor's 1-for-2 put the Swarm in front 28-26 after one.
Bohannon rocked the rim with a dunk to begin the second quarter. Brantley went on a 7-0 solo run that put Greensboro up 35-28 before Fitts' scored off of a backdoor cut to end the run. Ryan's transition three got Maine back within one possession, but Crutcher responded with a running hook and transition three of his own to make it 44-37 in favor of the Swarm. Demers canned an off-balance three before Burton found him alone in the left corner for an open three that cut the deficit to two. The score was locked at 50-48 for a couple of minutes until Brantley ended the drought from distance. Ryan canned a contested three to make it 55-51, Greensboro with a minute and 23 seconds left and the team's traded misses until the halftime buzzer.
Bohannon dished to Valentine for an easy bucket in the lane and Lewis drained a corner three to open the third quarter. Hauser, Ryan and Burton ripped through triples in short succession to put Maine back in front, 62-58. The Celtics never looked back from there, throwing off the Swarm by coming out of a timeout in a zone defense and forcing a free-throw line miss from Thor. Hauser and Burton each added another from deep before Thor ended a 17-3 Maine run with a corner triple of his own. Hauser splashed home his fourth three of the game and Maine's sixth of the quarter prior to Burton posterizing Thor to give the Celtics a comfortable lead, 77-64. Valentine stripped Jones on a dunk and lasered a ž court pass to Bohannon for an easy jam. Cousins' deep pull-up three briefly gave Maine a 20-point advantage before Jones' driving finish made it 92-74 heading into the fourth.
D.J. Carton's windmill slam capped off an 8-4 run as the fourth quarter got going, bringing the Greensboro crowd back into the game with the Swarm down 14, 96-82. Fitts' step-back three beat the shot clock and pushed Maine north of the 100-point mark. Kulboka hauled in a rebound and dribbled down for a contested three to keep the Swarm within 15 as the clock reached the seven-minute mark. Burton threw down another huge dunk, this time over Jones, who hustled back and finished at the rim in response. Greensboro pulled within 11, but Valentine connected with Bohannon to stretch Maine's lead back to 13, 108-95. Ryan knocked down a pair of big shots for the Celtics before Lewis' eight-straight points cut the Swarm deficit to 10, 113-103 with just under two and a half minutes left. Jones' first three of the game and Lewis' leaner from the right elbow cut it to five with a minute remaining, and Jones split his free throw attempts with 34.4 seconds to go that made Maine's lead 115-111. Valentine, Hauser and Bohannon proceeded to ice the game from the stripe as Greensboro's comeback attempt fell just short, giving Valentine his second triple-double in as many games. The Celtics finished 43-87 (49.4 percent) from the floor, 16-43 (37.2 percent) from deep and 14-16 (87.5 percent) from the line. The Swarm shot 45-91 (49.5 percent) from the floor, 15-39 (38.5 percent) from deep and 8-12 (66.7 percent) from the line.
The Maine Celtics head further south to play their final game of the 2021-22 regular season against the Lakeland Magic on April 2.
• Discuss this story on the NBA G League message board...


NBA G League Stories from March 31, 2022
The opinions expressed in this release are those of the organization issuing it, and do not necessarily reflect the thoughts or opinions of OurSports Central or its staff.