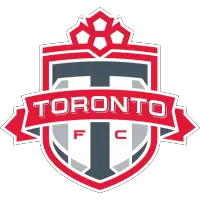 Toronto FC (0) - Atlanta United (2) Post Game Summary
October 16, 2021 - Major League Soccer (MLS) - Toronto FC News Release



SCORING SUMMARY
ATL - Luiz Araújo 45+2' (George Bello, Ezequiel Barco)
ATL - Marcelino Moreno 90+7' (Alan Franco)
MISCONDUCT SUMMARY
ATL - Matheus Rossetto 16' (caution)
TOR - Ifunanyachi Achara 24' (caution)
TOR - Auro Jr. 84' (ejection)
ATL - Ezequiel Barco 84' (ejection)
TOR - Mark Delgado 90+2' (caution)
ATL - Anton Walkes 90+8' (caution)
RECORDS (W-L-D)
Toronto FC 6-16-7 25 points
Atlanta United 11-9-9 42 points
LINEUPS
TORONTO FC - Alex Bono; Auro Jr., Omar González, Kemar Lawrence, Richie Laryea; Michael Bradley (C), Mark Delgado, Jonathan Osorio; Ifunanyachi Achara (Jahkeele Marshall-Rutty 31', Alejandro Pozuelo 61'), Yeferson Soteldo, Jacob Shaffelburg (Jozy Altidore 61').
Substitutes Not Used: Quentin Westberg, Justin Morrow, Eriq Zavaleta, Noble Okello, Nick DeLeon, Patrick Mullins
ATLANTA UNITED - Brad Guzan (C); Miles Robinson, Alan Franco, Anton Walkes; Brooks Lennon, Marcelino Moreno (Erick Torres 90+9'), Santiago Sosa, Ezequiel Barco, George Bello; Luiz Araújo (Franco Ibarra 77'), Matheus Rossetto (Amar Sejdiè 90+3').
Substitutes Not Used: Alec Kann, George Campbell, Jürgen Damm, Jake Mulraney, Erik López, Machop Chol
MEDIA NOTES
Atlanta United beat Toronto FC at BMO Field for the first time in franchise history.
JAVIER PÉREZ - HEAD COACH, TORONTO FC
Q. It's been a strange, difficult season and this game seemed to somehow fit that with a strange, difficult ending. Seems like things lost control toward the end. How did you see it?
Yeah, I think you are absolutely right. I think it'sd a weird game. I think we didn't deserve to lose the game. We didn't deserve to be 1-0 down at halftime. I think they scored there right at the end and I think that we stayed in it the rest of the game and we tried different things, but we couldn't really find the right opportunity. I think Omar has a very clear chance towards the end to find the tie, but in the end we don't score and we get with a loss tonight, which I think doesn't reflect really what the team did on the field.
Q. Alejandro and Jozy both saw action for the first time since the summer. What did you think of their performances, and how important was it to get them back into action considering their lengthy absences?
Yeah, I think it was obviously very important for them to get some minutes. I think they came on a difficult game. Both of them they are very experienced players, and they are used to these kind of games, but unfortunately they have been out for a long time. So it wasn't really the purpose to change, really, the game, because I think if they can get the extra minutes, that's already a positive for the team and stay healthy.
But I'm very positive and I'm very happy they contribute and they were on the field. I think they will have more minutes in the next few games towards the end of the season. Hopefully they can speed up in the game.
Q. You guys are officially eliminated from the playoffs now, but are you proud of the way this team has played and how the club's fortunes have sort of turned around since you took over?
I am. I think the team really fought. The team really fought the all the way through. Never gave up, and I don't expect them to give up now. I think we still have to fight for points, and it's not a team that gives up easily.
So I think I'm proud the way we went down. I think it's been an extremely difficult season for us. Many of the games, they didn't go our way. I think it reflects, as well, the characteristics of the season, and I think it will make us stronger.
I think we still have our Cup, a championship to play for, the Canadian Cup, and I think having that objective towards the end of the season is going to help us to stay strong, stay motivated, and it's going to make us strong, the whole experience, to be a team to come back and fight for titles.
Q. Things got contentious towards the end, Auro and Ezequiel Barco, both getting sent off, and then tempers seemed to flare. What was your perspective on that situation? What happened there to really get that going?
Yeah, I saw that in first -- very, very close, right, because it was on that side of the bench. And really it was some confrontation in the middle of the field, and then I think Barco was upset with the previous play with Auro, and they get close in the face but nothing really happened there.
The linesman, the assistant referee interpreted that was enough to send him off and he communicate that to the main referee, and that was done. My opinion that probably wasn't enough to send them off, but I respect the opinion of the referees. They consider that way and I respect it.
What I think is not acceptable is just us, the players, they go towards the tunnel outside. I know exactly the part of the staff that they partner part of the confrontation, but I don't think the staff should be involved. I think the players, if they get in a confrontation, it's their story, and the staff, they are there to support, not to recriminate anybody. So one of the staff from them, he got into the tunnel to -- I don't know what was his intention, just to have aggression on Auro or then to recriminate in something, and then is when everything get difficult. I think it was goalkeeper coach.
But I think it's not acceptable that the staff recriminates anything to the players. I think that's the job for the referees and the staff, we are there to help our own players and that's the end of the story. So I think some people, they should know better where their places are.
Q. To go back to the first Atlanta goal, what did you make of that one and how much did it remind you of the last meeting between these two teams where it took a bit of a deflection to be the difference?
It's not really the same goal. I think it's just an unfortunate goal. We get out of position maybe in midfield, but I don't think we deserve to be 0-1 in the end at halftime.
So I don't want to read too much in between. I think it's one of these nights that we have to forget and just focus on our next game, which is Miami.
Q. Despite the result, there seemed to be some positives out there. I thought Kemar Lawrence played really well, and Gonzales looked much fresher than he had in the past. What did you think of their performance on behalf of the defense?
As I said before, I'm very happy. I think the way the back four and they have been playing the last stretch of games, I think we are playing well. We are competitive. The defense looks solid again, even if we conceded two goals today. But it's a game that you have to watch it in order to realize why the two goals, they come from.
On top of that, I think Kemar is doing an amazing job as a center back, and Omar has been playing really well in the past few games. He has even that opportunity to score. I think Guzan makes a terrific save.
But yeah, overall, I think our defense is doing a great job, anticipating, playing a little bit higher up on the field, not giving time and space, and I think it's only in that transition where they are extremely dangerous that they score a goal, and we conceded that goal right before the halftime.
Overall, I think I'm pretty happy with the way we've been working together on the defensive.
Q. You subbed on Jahkeele at the half-hour mark after Achara was injured and you brought Jahkeele off as part that double substitution. Can you explain the rationale? Was he injured? Was it tactical?
Very simple, it's tactical. The one thing that was between him and Alejandro, and Alejandro couldn't play more than a half because he's been out for a long time. So we decided to bring Jahkeele on, he did a great job. But then we decided to change tactically. We went into our 4-4-2 diamond and it was difficult to accommodate Jahkeele in that shape, you know, that we started the game in a 4-3-3 and then went in a 4-4-2 diamond. It was a tactical decision.
I think we were able to keep the three in the middle, the back four, as I said before, I think the back four are doing a great job, and then he was up front just to leave Yeferson and Jozy. Yeferson was probably a little bit more wide or wider than would be my preference, but that was a tactical change to the 4-4-2 diamond; and I think Jahkeele gets these minutes and I think it was important as well for him and his development, and he will have more opportunities from now till the end of the season. He has been playing now consistently during a number of games and I think it's a good experience for him.
Q. I saw two different teams between the first and the second half. What did your team modify to get more attack chances, because we saw two teams pushing so much forward but I think Toronto got more chances and opportunity and very good effectively. What do you think about the first half and the second half?
Yeah, I think you're right, I think we have a first half with a lot of energy that we've been playing in the past, with Jacob and Achara, these two players, they give that you. They give you the energy. They give you the depth, not only the possession, but with them I think we can play a little bit more vertical.
As I mentioned yesterday, yesterday you asked me or one of your colleagues asked me about what we have been working on during the international break, and it was just being a little bit connected, a little bit more connected with the back four to give freedom to the three up front, and I think that was the intention. That's why it looked where, again, both teams, they were creating chances in transition, being dynamic, aggressive.
And then the second half, we changed the shape, and we have more feet in the middle, so it's normal that we look a bit more -- we look a bit more in control, more possession type game.
You are absolutely right, I think the team look a little bit different in the first and the second half. Just because of the personnel and the formations that we use in each one of the halves.
ALEX BONO - GOALKEEPER, TORONTO FC
Q. Maybe you can just tell me from your perspective, what happened on that first goal? Because it seemed like he hit it with his left foot and it went off his right foot or something like that. Can you clarify what you saw?
I haven't seen it yet but that's kind of the way I saw it as well. We are in stoppage time in the first half, so we had a goal kick, move everyone up, it's kind of standard operating procedure, let's get to halftime, 0-0, thought we had a really good first half as a group defensively and we had some really good chances.
Get to the half, regroup and go again in the second half. Unfortunately we kind of broke down along the right side and they got a cut-back, and yeah, I read, you know, his body position looked like he was trying to cut it across the goal with his left foot, so I started moving to my left, and I believe -- I haven't seen are a replay, I believe it hit off his playing leg and just kind of took a weird flight that went in front of me a little bit.
You guy who is know better than me. I haven't seen a replay yet. I was just there in person.
Q. The way he smiled after that goal suggested that I think he thought it was a bit fortuitous.
Yeah.
Q. At the end of the game, things got messy, did you get a view of what was going on with Auro and Barco? Looked like there was a coming together and they stood face-to-face and then started drawing and then got set off. Did we miss something?
It's a language I'm not familiar with, so in terms of what have was said, I can't tell you. But from what I saw, you know, Auro didn't -- he wasn't happy the way that Barco went down the play before, as I think a lot of us weren't and I think Auro was kind of sick of it. They had been wasting some time off the clock in a couple softer fouls that, if they are fouls or not is, whatever, but the way that they reacted to the foul was obviously to stay down and take some time off the clock. I think Auro had had enough, especially when it came to Barco, he had done it a few times and I don't think Auro believed it, that he really got much on him.
He must have said something that set Barco off and by the time I kind of gleaned what was going on, there was a lot of forehead-to-forehead. I saw a couple more aggressive foreheads from the other side.
But again, this is why we have the cameras all over the field supposedly. And why they are supposed to be able to take a look at this and why they decided to give both red, I would be interested to hear an explanation. I didn't see enough to really make a judgment either way on my end.
But I know that one was much more aggressive and if you will, Auto may be, you know, a bit of an instigator in this aspect. But in terms of throwing head butts, I didn't see Auro, you know, deliberately throw one or really aggressively head-butting in his direction. But again, I have to trust him until I see something otherwise that they looked at it and they saw, you know, the eye in the sky does not lie, that's what they say. Until I see something different, you kind of have to go off of what they are looking at.
Q. What do you think based on your perspective as a goalkeeper on the chances that Toronto made in the first half and then how they switch and show more aggressive in the second half? What do you think Toronto need to do to make a goal based on those minute choices that they created?
He think it was just kind of one of those nights that we had some really, really good chances. We had a cross bar on the first half, Brad made an incredible save on Omar's head on the second half, that's what it looked like from my angle.
We had chances, and maybe it's just kind of one of those nights where it didn't fall in our favor. We didn't quite get the bounces. At the end of the day, you know, I felt that was a group we played a pretty good game. I thought that we had the better player for the majority of the game plan. One break down at the end of the first half and they capitalize and maybe a bit lucky on the finish, and then second half, we're pushing, we're pushing, we're pushing, trying to go for a goal and you know those chances on the fast break the other way are always going to happen when guys are out of position and guys are pushing hard to try and even the game up.
So in terms of, you know, missed opportunities, I thought we had great chances and it didn't happen for us today. At the end of the day, you take the loss and you learn from it, and you say, hey, listen, we're starting to play some good football as a group and we are starting to gain confidence and a lot of bodies are coming back and it's the healthiest we've been all season really and it's the most we've been clicking all season. That's no coincidence.
We'll continue to move on. We have a lot of games packed into this last schedule, and we'll continue to keep playing good football and go for three points every time we touch the field.
Q. Does the fact that the elimination from playoff contention is official now as a mathematical change anything for this group?
No, I don't think so. I think that for a while -- we never stopped believing that there was obviously a possibility until the numbers say it's so, but we knew we were facing a steep uphill battle for a while now and we focused on one game at a time. Don't even look at the table because at the end of the day, we can't really control how the rest of our season goes. We can only control how we perform, the points we put on the board and the product we put on the field.
So it's always been a focus on the next game, and don't look beyond that, and I think that will continue. And now, we are eliminated from the playoffs now, we've got four league games left to go out there and show everyone that we are not going to accept our place in the standings. We are not going to accept the product we put out this entire season and we are going to keep trying to get better and keep showing these fans that they are hungry and this is not a place this club wants to be. Our ambition is try to finish on a high note and show people that we are hungry and come back next year with a vengeance and energized and ready to go and put this club back a where it belongs at the top.
• Discuss this story on the Major League Soccer message board...


Major League Soccer Stories from October 16, 2021
The opinions expressed in this release are those of the organization issuing it, and do not necessarily reflect the thoughts or opinions of OurSports Central or its staff.