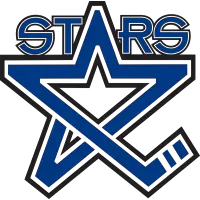 Stars Select Jake Boltmann, Colby Enns in USHL Dispersal Draft
April 22, 2019 - United States Hockey League (USHL) - Lincoln Stars News Release



Lincoln, NE - On Monday, the Stars took part in the USHL's Dispersal Draft. The event took place after the Central Illinois Flying Aces organization withdrew temporarily from the league at the conclusion of their season. After a weighted lottery that excluded Central Illinois and Team USA, Lincoln was given the sixth overall pick in the selection process.
With their first pick, the Stars drafted defenseman Jake Boltmann.
In the past two seasons, Boltmann has played in 12 games as a Flying Aces affiliate. The University of Minnesota commit registered his first USHL point with an assist on a game-wining goal against the Stars back on April 6th.
The '01-born defender hails from the hockey hotbed of Edina, Minnesota where he's made a name for himself as a dual-sport star for Edina High School. In three years playing for the school, he's scored nine goals and 46 points in 86 career games. His four goals and 17 points this season, helped him earn a place on the 2018-19 All-USA Boys Hockey 2nd Team, joining Stars affiliate Garrett Pinoniemi.
Boltmann has additional experience for Team Southwest in the UMHSEHL, scoring 5-16-21 in 46 career games, along with appearances at three USA Hockey Select Player Development Camps.
"Boltmann as an affiliate player playing a few games with Central Illinois, he's a little bit more raw, but he had a great high school season," said Chupp. "He's a young kid who has potential to play in our league next year. We think he meets a need and has potential. Both Jon Hull and Billy Pugliese have seen him play. We had a couple conversations with those that know him well, we've talked to Minnesota about him and the things that they've seen from him-the timeline for him is a big one. Any time you draft a kid, you want to know the expectation: how long he is going to play in the league, where his school sees him right now, and the things they want to see him improve on. In those conversations we started to develop a level of comfort with him."
With their second and final pick of the draft, the Stars again added to their blue line with the selection of Colby Enns. Another right-shot defenseman, Enns brings a 6-2 186 lbs frame to the ice, two years of junior hockey experience, and a commitment to the nearby University of Nebraska-Omaha.
After being made the fourth-overall selection in the 2018 Phase II Draft, Enns recorded three goals and 12 assists in 60 games with the Flying Aces this year. His stat line included one helper against the Stars on April 6th.
Prior to 2018-19, Enns played at home for the Minot Minotauros in NAHL, scoring 10-30-40 in 70 games in 2017-18, and 2-1-3 in 13 games ins 2016-17. Like Boltmann, Enns skated for his hometown high school, scoring 27-33-60 in two years at Minot High.
"Enns is a guy that has been in the league and has had some success in our league," said Chupp. "We added two right-shot defensemen, which are difficult to find. I think both have league experience and both have things they're going to continue to grow in, but we're excited to add that depth on our back end in guys that have been in the USHL and understand what it takes to be successful."
The Stars will continue in their off-season preparation with the USHL Phase I and Phase II drafts set for May 6th and 7th respectively. Season ticket holders who have yet to renew can do so by calling (402) 474-7827. All previous renewals and renewals made by this Friday, April 26th, will be entered for a chance to win a VIP Stars Draft Experience, with exclusive access to the Stars war room for one of the two drafts. Check out all the new benefits of being a Stars season ticket holder at www.lincolnstars.com/seasontickets.
• Discuss this story on the United States Hockey League message board...


United States Hockey League Stories from April 22, 2019
The opinions expressed in this release are those of the organization issuing it, and do not necessarily reflect the thoughts or opinions of OurSports Central or its staff.