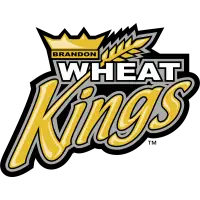 Ritchie, Ginnell Back in the Fold, Wrap up Pre-Season Tonight
September 25, 2021 - Western Hockey League (WHL) - Brandon Wheat Kings News Release



Brandon, MB - The reinforcements are beginning to trickle back for the short-staffed Brandon Wheat Kings.
The Western Hockey League club, which takes on the Winnipeg Ice tonight in pre-season action at the RINK Hockey Academy at 7 p.m., welcomed 19-year-old forwards Nolan Ritchie and Riley Ginnell back into the fold on Wednesday, boosting the number of players at practice to 17, with 15 skaters and two goalies.
Needless to say, head coach Don MacGillivray was thrilled to see the return of some familiar faces.
"It was awesome to see both of them," MacGillivray said. "It definitely helps the pace of practice, it helps the execution at practice. Everybody was excited to see them and they were excited to be back, which is even nicer.
"It's good. It makes us a better team right away and helps those young guys. It gives them a little more depth to work with, and they don't have to do everything on their own."
No other players are expected back before tonight's game.
Ritchie arrived back in Brandon around supper time on Tuesday.
"It was awesome to come back here today," Ritchie said. "Obviously I wasn't here for the start of camp so I didn't meet all the guys here so it was pretty awesome to come back and see all the guys and meet all the new guys here."
The Philadelphia Flyers were one of the teams that contacted Ritchie shortly after the National Hockey League draft in July, and he decided they were the best option.
Ritchie flew down to Philadelphia a week before Brandon's camp began in early September.
He went to a development camp for the first four days, and then had to wait for two weeks for rookie camp to begin. He stayed down there - the team put him up in a hotel - skating every day and working out.
The trick was filling his time in the afternoons and evenings. He golfed a couple of times and went to downtown Philadelphia once.
"It was just better to stay," Ritchie said. "It didn't make sense to come back and go back there two weeks later."
In the process, Ritchie missed Brandon's entire training camp. He admitted it was odd to be away while the Wheat Kings were on the ice.
"It was a little weird," Ritchie said. "Obviously that's not usually the case, but because of COVID, I guess that's the world we live in right now."
Ritchie, who lost more than half of his 17-year-old rookie season to a broken femur, rebounded nicely in the Regina hub this spring, leading the team in scoring in the early going. He finished with 10 goals and 17 assists in 24 games.
PERRY BERGSON/THE BRANDON SUN Riley Ginnell, shown watching a drill during Brandon Wheat Kings practice at Westoba Place on Wednesday, is eager to share some of what he learned at St. Louis Blues camp with his younger teammates.
That earned him the invitation to Philadelphia, and the chance to watch professional players in action. He quickly learned he'll have to get faster and stronger to compete, in part because of the work habits he encountered at the next level.
"Every day they're in the gym before working out and after they're in the gym again stretching and getting ready for the next day," Ritchie said. "They're on a routine there and they stick with it every day. Just how hard they work every day is pretty cool to see."
Meanwhile, Ginnell went to camp with the St. Louis Blues. He was also impressed by what he saw at the pro level, adding it took a couple of practices to get acclimated.
"Everything is a lot faster and stronger," Ginnell said. "The guys are moving quick. It was good to get your feet wet and get a look at that next level for sure."
He arrived back in Manitoba on Tuesday evening but had to spend the night in Winnipeg because his air carrier misplaced his luggage. It showed up on Wednesday morning so Ginnell drove back to Brandon, arriving at the rink just in time for practice.
"I couldn't wait," Ginnell said of reuniting with his Brandon teammates. "I was missing them the whole time I was there. I can't wait to get back and get started here."
Unfortunately for the team, 18-year-old forward Jake Chiasson suffered an upper-body injury in Edmonton Oilers camp on Saturday and will miss the rest of the team's rookie camp. The Wheat Kings have still not been briefed on the full extent of his injury.
The other Wheat Kings who are away include Ridly Greig (Ottawa Senators), Vincent Iorio (Washington Capitals), Marcus Kallionkieli (Vegas Golden Knights), Brett Hyland (Los Angeles Kings), Mason Ward (Detroit Red Wings) and Ethan Kruger (Edmonton).
"We have enough guys to play," MacGillivray said. "We want to see some things. We're still evaluating our group, we're still making decisions, we're still implementing systems. We have lots to learn from the game (tonight).
"I'm not worried about what the score is. I want to see some things, execution, effort, discipline, all those things you want to see as a coach."
Happily for the head coach, both Ginnell and Ritchie returned to Brandon ready to make an impact.
"It's good to come back and see how they treat themselves and perform there and what it is to be a pro," Ginnell said. "I'll bring back that knowledge here and do everything I can to help the younger guys and be more of a leader on this team."
Ritchie agreed.
"It's a pretty big year for me and for the team too," he said. "I think we have a pretty good group in there and I think we're going to have a good year."
Branden Crowe and Pete Gerlinger return to the air tonight for the first radio broadcast on the new home of the Wheat Kings, Bounce 96.1. The pre-game show begins at 6:45 and can be heard online or via the iHeart Radio app.
• Discuss this story on the Western Hockey League message board...


Western Hockey League Stories from September 25, 2021
The opinions expressed in this release are those of the organization issuing it, and do not necessarily reflect the thoughts or opinions of OurSports Central or its staff.
Other Recent Brandon Wheat Kings Stories