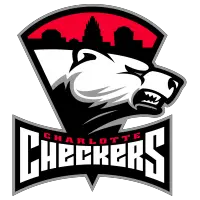 Riley Nash Provides Impact on and off Ice in Return to Charlotte
May 12, 2023 - American Hockey League (AHL) - Charlotte Checkers News Release



Charlotte made a splash over the summer, signing fan favorite Riley Nash and bringing an original Checker back into the fold.
One season later, it's clear just how much that reunion molded this year's team.
"Nasher has been the blood, sweat and tears down here," said head coach Geordie Kinnear.
A cursory glance at the numbers proves just how impactful the 34-year-old was on the ice, as Nash led the team in points (59) and assists (35) and tied for the team lead in goals (24) - all of which stand as career highs for Nash at any pro level.
"I played with a lot of good players and was obviously relied upon heavily in certain situations," said Nash. "That fuels the confidence a little bit. It was nice early on to get off to a good start and keep that rolling through the course of the year."
A lot has transpired since Nash last donned a Checkers sweater - namely over 600 games in the NHL. While he clearly carved himself a strong niche up there, spending this season in the AHL allowed the veteran forward a chance to tap into some different skills in his repertoire.
"I haven't been an offensive weapon in the NHL," said Nash. "So being able to express myself and play my game and trust my instincts a little more in this league definitely played into that [offensive success]."
Nash's stellar production only tells half the story of his season, though. He bore the brunt of the leadership responsibilities for Charlotte - especially given the fact that team captain Zac Dalpe spent long stretches of the season with Florida.
"We put a lot on his shoulders for a long period of time," said Kinnear. "But he does everything right every single day."
The reality of the situation wasn't lost on Nash - who quickly embraced that role.
"When you're 12 or 13 years older than a lot of these guys, you've got to step up," said Nash.
When it comes to experience, Nash's career has given him such a vast array to pass along to the younger portion of the roster.
"I've been through a lot," said Nash. "I was drafted quite high so I've had the pressure of being a high draft pick. I've played in the American League and I've been called up. I've played on the fourth line, third line, second line, a lot of minutes, not a lot of minutes. I think I have a lot of experience for a lot of these guys. Just trying to help them grow and develop and hopefully they earn that opportunity to show themselves at the next level too."
With a fairly fresh-faced roster for most of the season - whether it was rookies or players new to the level or a group unfamiliar with their teammates - the coaching staff leaned into Nash's example.
"If I'm a young player I couldn't be happier to learn from him and watch what he does every day," said Kinnear. "As a coach, those guys are valuable - not just for a coach but for an organization. Because really the young guys learn from those guys more than they do from us. As a coach I feel very blessed to have those guys."
Coming off a career year, Nash can now look forward to something he hasn't had in a while - stability. Heading into the second-half of his two-year AHL deal with Charlotte, Nash is happily settled into the Queen City.
"It's fantastic," said Nash. "I've been living here, there and everywhere for a couple years, so to be able to come back to a place that I know really well and have my kids with me - my oldest one in school and our younger one growing up here - it's really nice."
• Discuss this story on the American Hockey League message board...


American Hockey League Stories from May 12, 2023
The opinions expressed in this release are those of the organization issuing it, and do not necessarily reflect the thoughts or opinions of OurSports Central or its staff.