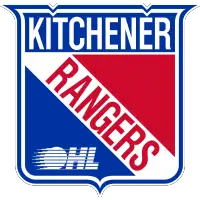 Rangers' Ingham Stressing Importance of Donating Blood One Save at a Time
December 13, 2019 - Ontario Hockey League (OHL) - Kitchener Rangers News Release



Jacob Ingham is playing with a message this season.
It's a message that's encapsulated both in front of him on the ice, and behind him, on his jersey.
The OHL veteran is no stranger to making big saves. But the biggest save he wants to make? A life, by giving blood.
"As a goalie, it's kind of a catchphrase my family and I came up with," he explained.
Stitched onto the back of his esteemed blue Kitchener Rangers jersey is the number 68. It's there for a reason.
"The 6 is for Give, and the 8 is for Blood," Ingham explains.
"When you see my number, that's me asking you to give blood."
In his fourth OHL season, 19-year-old Ingham is determined to continue to spread awareness of the importance of donating blood with his Jake Saves Campaign, an initiative he started last season in partnership with Hockey Gives Blood.
"I thought it was really important to be able to use my platform and power to get that message out there and help show people how important this is," Ingham said. "It's something you don't really realize until it affects you and your family firsthand."
Ingham's desire to spread awareness stems from a car accident that left his grandparents seriously injured in August of 2018. On their way home to Winnipeg from Barrie, their car collided with rock face outside of Marathon, Ont. Their long road to ongoing recovery required a lot of blood transfusions.
Both grandparents are doing well today. It's what instilled the gravity and urgency of the need for blood donations for Ingham.
"There are so many people in the world who need blood," he's come to discover.
Upon stumbling upon Hockey Gives Blood, a Canadian Blood Services non-profit aimed at educating the hockey community about the urgency for blood and stem cell donation, Ingham came up with the idea to involve himself a step further.
"One of the things that surprised me was that the number one reason why people don't give blood is just because they've never been asked," he learned. "So then, I kind of took it upon myself."
Ingham's old number, 1, was unavailable in Kitchener as an ode to the fans. So, his sister came up with the idea to switch to 68, with its encrypted meaning.
Until he gave blood for the first time, Ingham wasn't aware of what the process was going to entail, but was impressed at how little time it took.
"I think it took me five minutes and 20 seconds to give a full pint of blood and a full donation," he remembers. "I think if people are concerned about the time, everyone has five minutes to give some blood."
The idea for his Jake Saves Campaign didn't really come until January or February, not long before the Mississauga Steelheads' inaugural Hockey Gives Blood game took place. Ingham stumbled upon their Twitter account and reached out to founder Stu Middleton. He also looked to his parents, who he knew had given blood at the Canadian Blood Services clinic in Barrie, and together they thought it was a perfect fit.
He then came up with a goal to donate $4 for each save made through his first 50 games with the Steelheads last season, and ultimately raised $5,572 on a total of 1,393Â saves.
Upon being traded in the offseason, he wanted to do the same thing in Kitchener.
"I knew the fans are great here, I knew they'd get behind it, and the front office staff have been amazing," he said.
Ingham upped his donation to $5 a save, and the Rangers decided they wanted to match those numbers. Through his first 17 games with the Blueshirts, they've raised over $5,400.
"I'm looking forward to seeing that total at the end of the year and being able to present Canadian Blood Services with another cheque."
Ingham received the first ever Dayna Brons Honourary Award last summer in recognition of his efforts. Brons, a blood donor, was among the 16 killed in the Humboldt Broncos bus crash last April. She was the team's athletic therapist.
It was an honour he wasn't expecting.
"I didn't really have that goal in my mind coming into this," he said. "It was all about just trying to help and find a way to get the awareness up, but it was pretty incredible getting to speak to Dayna's parents and getting to know them a bit. I thought that was very important before accepting the award. I was really flattered."
In between juggling an OHL career as one of the older guys in the league, Ingham admits that spearheading a campaign has been a lot of work.
But it's challenge and a learning curve he's embracing.
"Right now I'm not in school, so in a way, this is my school," he said. "It's been great, taking a new adventure and a different step that isn't necessarily in hockey."
On top of that, Ingham was recently forced to focus on his own recovery. At the beginning of November, he was sidelined with an injury that kept him off the roster for most of the month.
Middleton, his partner at Hockey Gives Blood Canada and now close friend, was a shoulder to lean on during that time.
"Not being able to play took a bit of a toll on me. Stu reached out and asked me how I was doing," he said.
"It's a lot more than just a company, Hockey Gives Blood. I'd say it's almost like extended family."
As for what's coming down the pipelines, Ingham has a few things in place. He's planning on making appearances at the blood donation clinics in Kitchener for 3-4 hour timeslots. He wants to host more skates with kids, something he enjoyed doing last summer. There are also plans for another Hockey Gives Blood game toward the end of the season with the Rangers.
One of his main goals for the not-so-distant future? Making blood donations a regularity for everyone who is able to give.
"I know in Europe, everyone donates blood. I'd like to try to make that the norm here in Canada."
As for further inspiration, Ingham says he's looked to Guelph Storm alumni Garrett McFadden and his mental health campaign, McFadden's Movement.
"He was quite a bit older than me when he was doing it. I was a younger guy in the league and I thought something like that would be really hard to create, but it's been a lot of smooth sailing for me throughout the whole process," he said.
"If guys are thinking about stepping up and getting a movement or campaign going, I think they should go ahead with it. It's not as hard as it might sound. It's obviously going to be a lot of work, but if you're invested, you'll enjoy it."
Ingham was drafted by the L.A. Kings in the sixth round of the 2018 NHL Entry Draft. Playing at the NHL level would only do wonders for his platform, he says.
And he'd use that platform to its full extent.
"I want to do something throughout my whole career with this."
For more information on Hockey Gives Blood, visit hockeygivesblood.ca.
• Discuss this story on the Ontario Hockey League message board...


Ontario Hockey League Stories from December 13, 2019
The opinions expressed in this release are those of the organization issuing it, and do not necessarily reflect the thoughts or opinions of OurSports Central or its staff.