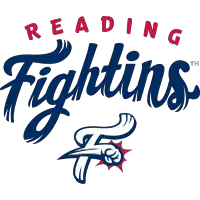 R-Phils Announce End of the Year Player Recognitions
September 12, 2021 - Double-A Northeast League (AA Northeast) - Reading Fightin Phils News Release



The Reading Fightin Phils have announced their end-of-season player awards with their homestands complete Below are some of the biggest contributors to the R-Phils in 2021.
Broadway Charlie Wagner Un-Sung Hero Award: Madison Stokes
Madison Stokes has been a day in, day out contributor to the Fightins since Opening Day. Stokes was awarded the Phillies MILB Defender of the Month in June, after he showcased his ability to play anywhere defensively at a high level all season. The former Gamecock has played six different positions, including 1B, 2B, 3B and shortstop while also playing both corner outfield positions. Stokes has a fielding percentage of .983 in 98 games. Offensively, Stokes has got it done with the bat as well, as he finished the year with a .240 batting average with 33 extra base hits. He was second on the team in total hits (82) and RBI (40). Outside of his play on the diamond, Stokes is an incredible teammate and leader in the clubhouse. He is always game ready with a professional, positive attitude and goes about his business in the right way.
Pepsi Stolen Base Leader Award: Matt Kroon
Speedster Matt Kroon takes home the Pepsi Stolen Base Leader after hitting the ground running when returning from the Injured List. Despite missing over two months of the season, Kroon stole six bags in 42 games. Leading the team in stolen bases alongside his impressive ability to get on bases (.363 OBP), has been a key reason to his success at the top of the order to finish out the season. Kroon is a hustler, with his elite base running speed as a plus tool he's able to turn singles into extra base hits, swipe bags, and advance around the diamond aggressively.
R-Phils Strikeout Leader Award: Francisco Morales
Making it two seasons in a row with triple-digit punchouts, the Phillies number five prospect Francisco Morales takes home the Strikeout Leaders Award with ease. Morales has notched 101 strikeouts in 78 innings with one start to go this summer. Morales not only leads the R-Phils pitchers in strikeouts, but also most of the Double-A Northeast. Morales has always been known for making opposing batters walk back to the dugout, as the tall right-hander is on pace for his third consecutive season with a SO9 above 10. He features a mid to high 90s fastball and a nasty slider that players continually chase.
R-Phils Clutch Player Award: Josh Stephen
One of the most difficult traits to develop in a player is the clutch gene, but it is safe to say that Josh Stephen's is very polished after this season. With two of the four walk-off hits this season for the Fightins, Stephen was the clear decision for the Clutch Player Award. Alongside the two game-winners, on the season Stephen has been productive with runners in scoring position. He leads the team in hits (24) with RISP, which gives him a .300 batting average with traffic on the basepaths, and with two outs in the inning he is even better with a .333 average.
FirstEnergy R-Phils Pitcher of the Year Award, Brian Marconi
The R-Phils top pitcher this season goes to none other than the southpaw from Philadelphia Brian Marconi. Despite starting the season in Jersey Shore, Marconi proved right away that he would be a valuable reliever for the Fightins this season. He has notched 13 saves on the season in 14 attempts. This leads the Double-A Northeast and it's not even close. The lefty did not allow a run in 27 of his 32 outings. Despite being a primary starter in college with George Mason, Marconi was quickly transitioned into the bullpen upon joining the Phillies organization thanks to his big strikeout numbers. With Reading, he held batters to a .192 average, with 53 strikeouts to go alongside his 2.38 ERA.
R-Phils Big Stick Award and FirstEnergy R-Phils MVP Award, Bryson Stott
Bryson Stott has been awarded both the R-Phils Big Stick Award and the R-Phils MVP Award for his impactful role in the 2021 season. Stott did not begin the year with Reading, as he was called up on June 1st after spending the first month of the year with Jersey Shore. Before coming to Baseballtown, the R-Phils were 4-21 with a winning percentage of .160. Since the Phillies Number Two Prospect joined Reading, the team sits with a 40-43 record, or a .407 winning percentage, as Stott has only sat six games since being called up.
As the Big Stick Award insinuates, Stott has benefited the lineup immensely with his production at the plate. He has a .296/.383/.481 slash line with 21 doubles, 10 homers and 35 RBIs. Stott has also swiped six bags and scored 46 times which just begins to tell the story of his skills as a baserunner. And defensively, he has spent a majority of the season representing the everyday shortstop role, and has handled it with ease. In 67 games this year, the Las Vegas native has a fielding percentage of .978 with just five errors in 228 chances.
• Discuss this story on the Double-A Northeast League message board...


Double-A Northeast League Stories from September 12, 2021
The opinions expressed in this release are those of the organization issuing it, and do not necessarily reflect the thoughts or opinions of OurSports Central or its staff.