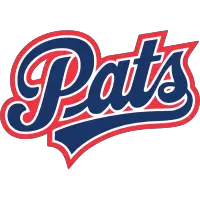 Pats Pick up Point in SO Loss to Hitmen
January 19, 2022 - Western Hockey League (WHL) - Regina Pats News Release



Regina, Sask. - The Regina Pats lost a hard fought game to the Calgary Hitmen on Tuesday evening, falling 4-3 in a shootout.
Regina came out flying to start the game, outshooting Calgary 23-7 in the first period, but found themselves down 2-1.
Each team struck once in the second, and the Pats tied it on a power play early in the third.
Overtime solved nothing, and only one player scored in the shootout: Calgary's Sean Tschigerl.
Things were fairly chippy between the two teams, with 54 minutes in penalties being handed out in total. All three of the Pats goals came on the power play, which went 3-for-7.
THE GOALS
1st Period
REG 1-0 at 9:02 - Ryker Evans (6), assisted by Tanner Howe and Logan Nijhoff (PPG) // Nijhoff fed a pass to Evans from the goal line to the top of the right circle, and he wired a wrist shot past Peters on the blocker side to open the scoring.
CGY 1-1 at 10:24 - Steel Quiring (7), assisted by Zac Funk and Blake Heward // The newly acquired Quiring headed to the net and got a great saucer pass from Funk, that he chipped over the shoulder of Sim.
CGY 2-1 at 15:48 - Riley Fiddler-Schultz, unassisted (PPG) // Coming down the left wing on a 3-on-1 rush, Fiddler-Schultz wired the puck top corner of the glove to give Calgary their first lead.
2nd Period
CGY 3-1 at 6:45 - Sean Tschigerl (18), assisted by Riley Fiddler-Schultz and Oliver Tulk (PPG) // Fiddler-Schultz saucered a pass from the left corner to Tschigerl at the top of left circle and he ripped a wrist shot over the glove of Sim to make it 3-1.
RGE 2-3 at 9:22 - Logan Nijhoff (14) scores. Assists: #43 Tanner Howe, #41 Ryker Evans (PPG) // Evans left the puck for Howe on the right side on the power play and set a perfect pick, which allowed Howe time and space to find Nijhoff in front on a beautiful re-direct.
Third period
REG 3-3 at 1:07 - Zack Stringer (8), assisted by Connor Bedard and Tanner Howe // Bedard let a snap shot go on a 5-on-3 advantage that deflected off of Zack Stringer in front, who was providing the perfect screen.
Overtime
No goals.
Shootout
REG - Connor Bedard - Miss
CGY - Blake Stevenson - Miss
REG - Cole Dubinsky - Miss
CGY - Sean Tschigerl - Goal
REG - Tanner Howe - Miss
FINAL: Pats 3 | Hitmen 4 (SO)
STATISTICS
SOG: REG - 44 | CGY - 31
PP: REG - 3/7 | CGY - 1/4
Faceoffs: REG - 42 | CGY - 27
GOALTENDING BATTLE
Regina: Drew Sim was solid, especially down the stretch, finishing with 28 saves on 31 shots. He made 23 saves on 24 shots in the final two periods and overtime.
Calgary: Brayden Peters was a wall in the first period, stopping 22 of 23, and finished the night with 41 saves on 44 shots, plus going 3-for-3 in the shootout.
THEY SAID IT
Assistant Coach Brad Herauf: "I think in the first period we stuck to our game plan and played to our identity. Don't know if Calgary didn't have the best start there, but we liked our game in the first period. I thought in the second period, we thought it was going to be a point night. We thought goals were going to be easy. I thought we kind of got away from it a little bit. Got a little bit individual. Got too cute at the blue line. We kind of let them stay in the game just because of our lack of execution and not sticking to our identity. But I've got to give our team credit: in the third period I thought we battled hard and we made it a game. It wasn't easy to score tonight. Their goalie played real well, so I give him a lot of credit there. We've just got to stay with it and not get frustrated. Not try to cheat to get more goals."
3 STARS
Brayden Peters- CGY - 41 saves on 44 shots
Riley Fiddler-Schultz - CGY - 1G, 1A
Logan Nijhoff - REG - 2A
UP NEXT
The Brandon Wheat Kings come to town next, this Friday, January 21 at 7 p.m. Next week, the Pats get two cracks at the Prince Albert Raiders, first on Jan. 25 and then on Jan. 28.
• Discuss this story on the Western Hockey League message board...


Western Hockey League Stories from January 19, 2022
The opinions expressed in this release are those of the organization issuing it, and do not necessarily reflect the thoughts or opinions of OurSports Central or its staff.