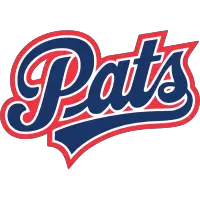 Pats Head to the Moose Jaw Events Centre Saturday
September 24, 2022 - Western Hockey League (WHL) - Regina Pats News Release



Regina, Sask. - The Regina Pats wrap up their home-and-home set Saturday at the Moose Jaw Events Centre against the Moose Jaw Warriors at 7:00 p.m.
MATCHUP
Tonight, the Pats wrap up their home-and-home opening weekend series with the Warriors, marking the 372nd all-time meeting between the two clubs dating back to the early 1980's.
These two clubs last met on Friday in Regina, with the Warriors edging the Pats 5-4 in regulation thanks to a pair of third period goals which tied and took the lead. The Pats lost a 4-3 lead in the third period, as Moose Jaw's Lynden Lakovic tied the game at 10:14. Ben Riche's second of the night took the lead at 12:50.
Tye Spencer scored a pair of the goals, while Cole Dubinsky and Borya Valis netted the Pats other goals. Easton Armstrong and Layton Feist also chipped in with two assists each in the loss. The final shots were 39-20 for the Pats. Regina went 0-4 on their power play, and 4-5 on their penalty kill.
On a positive note, Tanner Howe and Braxton Whitehead played in the opener for the Pats, as they were expected to miss the first game of the season. On the other head, the Pats are still without Alexander Suzdalev (WSH) and Stanislav Svozil (CBJ) while they're also missing Carter Herman, Zack Stringer and Jakob Brook to injuries.
For Moose Jaw, they are without several key players, as Denton Mateychuk, Eric Alarie, Max Wanner, Martin Rysavy, Jagger Firkus and Cole Jordan are at NHL camps. A cool moment last night in Regina though, was when Parker Berge (REG) skated against his younger brother Owen Berge (MJ).
Pats fell to 2-4-1 in season openers since 2016-17 and 3-3-1 over their last seven home openers.
WHERE TO WATCH/LISTEN
Radio: 620ckrm.com
Stream: WHL Live
HEAD TO HEAD (0-1-0)
It's the finale of this home-and-home series between the Pats and Warriors. The Pats are 194-147-13-9-8 vs. the Warriors, all time.
2022-23 HEAD TO HEAD
Date Home Away Time Result
September 23rd Regina Moose Jaw 7:00 p.m. MDT L, 5-4
September 24th Moose Jaw Regina 7:00 p.m. MDT
October 20th Moose Jaw Regina 7:00 p.m. MDT
October 23rd Regina Moose Jaw 4:00 p.m. MDT
December 16th Moose Jaw Regina 7:00 p.m. CST
February 11th Regina Moose Jaw 7:00 p.m. CST
March 17th Regina Moose Jaw 7:00 p.m. CST
March 18th Moose Jaw Regina 7:00 p.m. CST
This will mark the second of 8 meetings this season. The Pats won last years season series 6-4, going 5-0 at home and 1-4 on the road. The Pats have recorded at least a point in 13 of their last 18 meetings against Moose Jaw (11-5-1-1) coming in.
HEADLINES
Thursday, the Pats announced their 2022-23 leadership group, anointing Connor Bedard as the youngest captain in Pats history, while also making Luke Bateman, Cole Dubinsky and Braxton Whitehead alternate captains.
Tye Spencer recorded his first career two goal game on Friday night, building off an impressive pre-season where he tallied six points in five games (2G-4A).
Koen MacInnes made his debut for the Pats last night, allowing five goals on 20 shots. The Burnaby, B.C. 20-year-old goaltender is in his fourth season in the WHL, having now played for three clubs (Saskatoon, Everett, Regina). Last season with the Silvertips, he went 21-7-5 with a 2.60 goals-against average and a .909 save percentage and four shutouts.
Connor Bedard was held scoreless last night against the Warriors, being held pointless for just the 14th time in his WHL career, as he has 128 points in 78 career games (63G-65A).
BY THE NUMBERS
2: Career high point-streaks for Easton Armstrong and Zane Rowan dating back to last season...Armstrong (1G-3A) is on a career high three game point-streak while Rowan is on a career best two game point-streak (1G-1A).
3: Three Pats players attended NHL training camps this fall, as Cole Dubinsky (Edmonton Oilers), Alexander Suzdalev (Washington Capitals) and Stanislav Svozil (Columbus Blue Jackets) all received invites...Svozil and Suzdalev will not return for opening weekend.
3: Cole Dubinsky is 3 points away from 100 career points and 7 games away from 200 career games.
69: Points (27G-42A) for Tanner Howe last year was tied for third amongst all rookies, while his 42 assists were tied for third...he finished one point away from tying Jordan Weal for the fourth most points (70) by a 16-year-old in a single season in franchise history.
100: Points last season for Connor Bedard was fourth in the WHL, while his 51 goals was second...He recorded 85 points (40G-45A) over his final 42 games (since Nov. 28), with points in 39 of those 42 contests, after he had 15 points (10G-5A) in his first 20 games this season.
COMING UP
7:00 p.m., Thursday, Sept 29 - Regina Pats (0-1-0-0) at Edmonton Oil Kings (0-1-0-0)
7:00 p.m., Saturday, October 1 - Regina Pats (0-1-0-0) at Red Deer Rebels (1-0-0-0)
2:00 p.m., Sunday, October 2 - Regina Pats (0-1-0-0) at Calgary Hitmen (1-0-0-0)
7:00 p.m., Wednesday, October 5 - Regina Pats (0-1-0-0) at Brandon Wheat Kings (0-0-0-0)
• Discuss this story on the Western Hockey League message board...


Western Hockey League Stories from September 24, 2022
The opinions expressed in this release are those of the organization issuing it, and do not necessarily reflect the thoughts or opinions of OurSports Central or its staff.