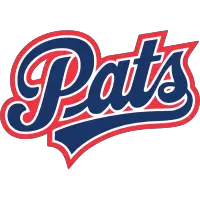 Pats Fall Behind Early, Lose 5-2 to Raiders
December 3, 2021 - Western Hockey League (WHL) - Regina Pats News Release



Prince Albert, Sask. - The Regina Pats couldn't recover from a messy end to the first period on Friday night against the Prince Albert Raiders, as they fell behind 3-0 after 20 minutes of play and eventually lost 5-2 at the Art Hauser Centre.
The Raiders now hop the Pats in the East Division standings by improving to 9-12-1, while Regina falls to 9-13-0.
Tanner Howe had a power play goal in his return to the Pats after playing for Canada Black at the Capital City Challenge, while Braxton Whitehead was credited with the Pats second tally thanks to an own-goal courtesy Nolan Allan.
Regina had some chances to get back into the game after Howe's goal in the second made it 3-1, but Prince Albert responded quickly with two goals in a 50-second span. The Pats power play also contributed to their defeat, as they went 1-for-8 with the man advantage. While the Pats out-shot Prince Albert 47-30 in the game, many of their shots were from the perimeter.
The Pats won't have much time to rest as they take on the Swift Current Broncos on Saturday at 7 p.m. in the #CHLLeaveYourMark Design a Jersey Game!
THE GOALS
1st Period
PA 1-0 at 12:07 - Sloan Stanick (7), assisted by Ozzy Wiesblatt // Stanick took a drop pass on the right wing in the offensive and was able to work to the middle before beating Kieper with a wrist shot right from the slot.
PA 2-0 at 15:08 - Cale Sanders (3), assisted by Eric Johnston and Keaton Sorensen // Sanders took the puck on the left half-wall after an offensive zone face-off win and was given enough room to fire a shot from the top of the left circle that went top-shelf.
PA 3-0 at 19:56 - Cale Sanders (4), assisted by Ozzy Wiesblatt and Keaton Sorensen // After Sorenson's wrap-around try hit the side of the net, Sanders was there to shovel it over Kieper with 3.4 seconds left in the period.
2nd Period
REG 1-3 at 13:24 - Tanner Howe (8), assisted by Stanislav Svozil (14) and Connor Bedard (7) // Bedard teed up Howe for a rip from the top of the right circle on the power play.
PA 4-1 at 14:44 - Evan Herman (6), assisted by Carson Latimer // Kieper made a save on Herman on a 2-on-1 rush, but Herman stayed with the play and followed up with a backhander that squeezed through Kieper.
PA 5-1 at 15:34 - Keaton Sorensen (4), assisted by Nolan Allan and Remy Aquilon // After some sustained offensive zone time, Sorenson carried the puck up high in the zone and threw a shot to the net that made its way through lots of traffic and found the twine.
REG 2-5 at 19:38 - Braxton Whitehead (2), unassisted // This one was an own-goal. After Whitehead cleared the puck down the ice on a penalty kill, Chaika passed the puck to Allan, but the pass hit the heel of his stick and ricocheted back on goal, where it slid between the legs of Chaika before he could react.
3rd Period
No Goals.
FINAL: Pats 2 | Raiders 5
STATISTICS
SOG: REG - 47 | PA - 30
PP: REG - 1-for-8 | PA - 0-for-5
Faceoffs: REG - 36 | PA - 28
GOALTENDING BATTLE
Regina: Matthew Kieper allowed five goals on 25 shots in the first two periods before being pulled. Drew Sim stopped all five shots he faced in relief in the third period.
Prince Albert: Tikhon Chayka was named the game's second star with a 45-save performance.
THEY SAID IT
Assistant Coach Brad Herauf: "Thought we established our game early [but] we kind of got away from it at the end of the first period and then we just had breakdowns. Nothing that they were doing special against us. We just had missed assignments coming back into our d-zone. Guys getting puck focused and they were getting pucks to the net...A lot of the shots we were getting today were from the outside. We didn't have enough guys going to the paint. I think they did a good job of boxing us out and stopping us from getting to the net."
3 STARS
Cale Sanders - PA -2G
Tikhon Chaika - PA - 45 saves on 47 shots
Keaton Sorensen- PA- 1G, 2A
UP NEXT
The Pats next game is Sat. Dec. 4 against the Swift Current Broncos. Regina will be wearing special jerseys, which were designed by Pats fan Allery Lang, who won the Real Canadian Superstore #LeaveYourMark Design a Jersey Contest. All jerseys are being auctioned off, with proceeds going to PC Children's Charity.To place your bid, click here. For tickets, click here.
• Discuss this story on the Western Hockey League message board...


Western Hockey League Stories from December 3, 2021
The opinions expressed in this release are those of the organization issuing it, and do not necessarily reflect the thoughts or opinions of OurSports Central or its staff.