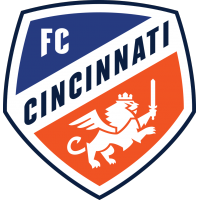 New York City FC Overwhelms FC Cincinnati 4-0
September 26, 2020 - Major League Soccer (MLS) - FC Cincinnati News Release



HARRISON, N.J. - FC Cincinnati fell to New York City FC, 4-0, at Red Bull Arena on Saturday night.
New York City FC (6-6-2, 20 pts.) got off to a fast start when Anton Tinnerholm played a through ball to Alexandru Mitrita, who got in behind FCC's backline and scored in the first minute of the match. FC Cincinnati (3-7-4, 13 pts.) had an opportunity to equalize in the 23rd minute, but Frankie Amaya's shot from distance went wide of the post.
The home side doubled the lead in the 25th minute when Tinnerholm scored on a tight angle from the edge of the six-yard box. NYCFC added a third goal just prior to halftime when Alexandru MItrita completed his brace in the 43rd minute, while Jesús Medina added a fourth from a free kick late in the match
FC Cincinnati will be back in action on Saturday, Oct. 3 when they will play Minnesota United FC at Allianz Field. Kickoff is set for 8 p.m. ET, and the game will be televised on WSTR 64, carried on the radio on WDJO (99.5 FM, 107.9 FM and 1480 AM), streamed regionally on fccincinnati.com/stream, out of market on ESPN+, while an audio stream will be available at TuneIn (WDJO) and fccincinnati.com.
For up-to-the-minute information about FC Cincinnati, visit the team's official website at fccincinnati.com, or follow the team on Twitter, Instagram and Facebook at @FCCincinnati. Additionally, fans are encouraged to download the team's official mobile app on the Apple App Store or Google Play for instant access to mobile tickets, team content and match notifications.
Information about seating options at the club's state-of-the-art West End Stadium - which will open in Spring 2021 - is now available at westendstadium.com. Season ticket deposits are now being accepted for traditional reserved seating and The Bailey. For more information about 2021 season memberships, visit westendstadium.com or the stadium's social properties on Twitter, Facebook or Instagram at @WestEndStadium, or by calling the team's sales and service staff at 513-977-5425.
New York City FC 4, FC Cincinnati 0
Red Bull Arena | Harrison, N.J.
September 26, 2020
SCORING SUMMARY
NYC - Alexandru Mitrita (Anton Tinnerholm) 1'
NYC - Anton Tinnerholm (Ismael Tajouri-Shradi) 25'
NYC - Alexandru Mitrita (James Sands) 43'
NYC - Jesus Medina (unassisted) 89'
FC Cincinnati: Spencer Richey, van der Werff, Kendall Waston ©, Tom Pettersson (Mathieu Deplagne HT), , Andrew Gutman (Greg Garza 55'), Joseph-Claude Gyau, Frankie Amaya (Caleb Stanko 57'), Haris Medunjanin, Allan Cruz (Yuya Kubo 71'), Jürgen Locadia, Brandon Vazquez
Bench: Bobby Edwards, Zico Bailey
Stats: Shots 8, Shots on goal 4, Saves 4, Corner kicks 7, Offsides 3, Fouls 17, Possession 39%, Passes 334 (80.5%)
New York City FC: Sean Johnson, Maxime Chanot, Alexander Callens, Ronald Matarrita (Gudmundur Thorarinsson 77'), Anton Tinnerholm, Ismael Tajouri-Shradi (Gary Mackay-Steven 77'), Alexander Ring (Jesus Medina 39'), James Sands, Alexandru Mitrita (Tony Rocha 86'), Keaton Parks (Nicolas Acevedo 86'), Valentin Castellanos
Bench: Brad Stuver, Joe Scally, Sebastien Ibeagha, Juan Pablo Torres
Stats: Shots 22, Shots on goal 8, Saves 4, Corner kicks 7, Offsides 3, Fouls 14, Possession 61%, Passes 541 (85.8%)
MISCONDUCT SUMMARY
NYC - Alexander Callens (caution) 35'
NYC - Ronald Matarrita (caution) 61'
CIN - Kendall Waston (caution) 64'
CIN - Haris Medunjanin (caution) 71'
NYC - Valentin Castellanos (caution) 78'
Referee: Armando Villarreal
Assistant Referees: Gjovalin Bori, Diego Blas
4th Official: Luis Arroyo
VAR: Dave Gantar
AVAR: Ian McKay
Weather: 70 degrees and mostly cloudy
Attendance: N/A
GAME NOTES
With tonight's loss the Orange and Blue are now 3-7-4 through 14 MLS matches ... FCC are now 1-6-0 in matches played in road venues ... FC Cincinnati's all-time, all-competition record against New York City moves to 0-4-0 ... The Orange and Blue are now 3-7-4 against Eastern Conference opponents this season
Greg Garza made his first appearance since Sept. 6 at Columbus when he replaced Andrew Gutman in the 52nd minute of tonight's match ... Garza has made seven appearances, including five starts, for the Orange and Blue this season
Alexandru Mitrita's first-minute goal is now the fastest goal scored against FC Cincinnati in the club's MLS history and it's the first-ever goal scored by an opponent in the first minute of a match ... the goal breaks the previous mark set by Chicago Fire FC's Fabian Herbers, who tallied in the second minute on Aug. 25.
Head coach Jaap Stam made one change to the starting lineup from the club's most recent match against Philadelphia Union on Sept. 23 ... Maikel van der Werff replaced Nick Hagglund
Nick Hagglund and Przemysław Tytoń was unavailable for selection for tonight's match in accordance with MLS health and safety protocols
Saad Abdul-Salaam, Siem de Jong and Jimmy McLaughlin were excluded from the matchday roster because of injuries
POSTGAME QUOTES
FC Cincinnati head coach Jaap Stam
On what the team learns from tonight's performance
"We learned, and you see this, if you play against a good side and if you want to press very high, you can be punished in a cruel way. That's for me to realize, and in a way you know it, but for everyone to realize that if you play in a certain way and you want to press higher up the pitch, which you all love, but if you play sides that have quality like this then sometimes yeah. Okay, we need to make decisions and talk to each other on the pitch. Keep it tight. Be closer. Be more compact. Otherwise, it becomes a very difficult game. That's what happened in the first half. Second half, you see you are more compact. Of course, they've already scored three. But still, they're trying to force it. They're losing balls going forward a couple of times. You even get an opportunity to score. That's the thing we can learn from this. We also need to say that the boys have tried hard. They're tired. You can see that at times as well. They put in a lot of effort in it this week. The opposition have a good side as well. They have been working together for three, four seasons, I believe. So, we need to take that into consideration as well, but we don't need to look for excuses. What we brought in the first half wasn't good enough. They punished us for that."
On not having all players available
"That makes it difficult, because you are always looking for players. Of course, we are very happy with the players that were on the bench, and what they can bring. You want to have more players on the bench, so that you can have different subs. But the players that came in the second half, they did well on the ball. They showed their work rate, quality at times as well. It's difficult to come in a game like this. We need to work on what we need to, need to improve and need to change in general."
On shifting the focus to Minnesota United FC
"You can see from today that the players need a rest. We need to assess them well tomorrow and the days after as well. You know, against Minnesota (United FC), a good team away from home as well. We need to work hard, but we also need to show quality. If you're tired, it becomes very difficult. We can see that. We need to get the players back into shape, and of course, forget this game and learn from it like we said in the beginning. We look forward to the next one."
FC Cincinnati defender Greg Garza
On tonight's match
"Unfortunately, I think, you have games like this in every season that you play, losing 4-0 to a great team that was much more superior that we were on the night. We need to give that credit to them, but I think there is a bit of pride there that we need to better ourselves and not allow that many goals being scored. Especially given the circumstances, a tiring night for all of us, but at the same time we need to do better in not allowing ourselves to concede that many."
On his performance
"Yeah, it's not easy coming in when it's already 3-0. I definitely mentioned it in the locker room after the game. It is kind of an embarrassing feeling coming on at three-nil. Myself personally, especially as a defender, there is not much you can do. It's just putting in as much energy and passion, and just dedication that you can out there. Try to get the guys' heads up. You can already see the heads down; the confidence is not very high. There's not much you can do on my end of things, just try to pick the energy up from the guys and try to pick out passes to build my own confidence during the game."
On managing defensively while applying a high pressure
"Yeah, I think I will have to disagree with you saying they're out with their top two attacking players. I think they're a very deep team that has guys that come in. You have (Valentin) Castellanos who came in for Heber. (Alexandru) Mitrita also came in. Guys that have started on and off the past couple of years. That is a very deep team you're talking about. Guys that have a lot of talent up front, who sometimes play, sometimes don't. I think in that situation, they have a very deep team with a lot of talent, but at the same time, I think getting scored on ... I think I looked up at the time and I think it was maybe 28 or 32 seconds into the game, or something like that. So, that is a huge confident taker from all of us. I am not even sure if that has to do with the press leaving us exposed. Once you let a goal in that early, you see a lot of heads go down. From there it was kind of a downhill slope and never getting back up. So, I do think there are a couple of things we can work on this week for the next game. Maybe we do a couple kickoffs for ourselves to see if we can make it over a minute for next week. That is something we have to sleep on tonight and realize that is something that cannot happen again."
FC Cincinnati goalkeeper Spencer Richey
On tonight's match
"Yeah, obviously disappointing. You know, we had a good week up until this point. You know, factoring in until last weekend. We just didn't quite come out with the same energy tonight that we had in those past two games. We got punished for it 30 seconds into the game, which, you know, always kills you on the road. To concede early is always difficult. And, you know, once we conceded the second, it's difficult to get back into those games. So, something we got to learn from and get ready for next weekend."
On how a positive COVID-19 result affected the team
"It's hard to say. It might have contributed a little bit. I think there's a lot of factors, the amount of games traveled. You know, it was a little bit sort of eerie yesterday, sort of a surreal moment. We hadn't had any COVID related issues. I think we're one of the very few clubs that have not been impacted by it until this point. So, you know, obviously we feel for Nick (Hagglund), for his health, first and foremost, but he also had been playing well and gotten a couple games in a row. So, really unfortunate for him. We're thinking of him during this time, and hopefully, he'll be able to shake it off quick and rejoin the team soon."
On why the team's struggles
"It's a good question. If I knew, I certainly would present it to the group and try to change that. But I think this league, this year, I think it might have been Colorado who won a game five-nothing and lost the game five-nothing in the same week. This year with the travel and everything that's gone into it, certainly every team is equally dealing with these difficulties. But I think some of the score lines across the MLS, it's not just us that's been struggling with this ability to maintain consistency and to maintain your energy levels game in and game out. So, I think it's something that's difficult, and teams are good enough in this league, that if you don't come ready to go, if you don't come full energy, you'll get exposed for it and exposed for it quick. So, I think that happened to us tonight. It brought us down to earth once again after a couple good results. We'll have to bring that same fight and energy next weekend, as we did this past week, if we want to continue to get points."
• Discuss this story on the Major League Soccer message board...


Major League Soccer Stories from September 26, 2020
The opinions expressed in this release are those of the organization issuing it, and do not necessarily reflect the thoughts or opinions of OurSports Central or its staff.