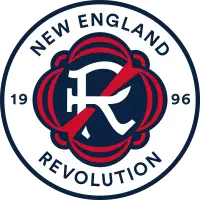 New England Revolution and New York City FC Play to 0-0 Draw
June 3, 2023 - Major League Soccer (MLS) - New England Revolution News Release



BRONX, N.Y. - The New England Revolution (7-3-6; 27 pts.) dueled New York City FC (4-7-5; 17 pts.) to a 0-0 draw at Yankee Stadium on Saturday afternoon. Revolution goalkeeper Djordje Petrović made five saves as the Revolution's sixth clean sheet of the season, and third consecutive draw, brings their away record to a 3-3-3.
Bobby Wood, starting for the seventh consecutive match, looked to score the opening goal just after the 20-minute mark when he snuck in behind the NYCFC defense, but the play was ruled offside. Moments later, Wood had another chance to break the deadlock as he dribbled into the area and delivered New England's only shot on target of the first half, but his effort was saved.
Petrović kept the match scoreless at the half with a spectacular diving save to deny Gabriel Pereira in the 23rd minute, his first of several crucial stops on the night. NYC's Richie Ledezma nearly broke the deadlock in the 34th minute with a shot from 20 yards away that rattled the woodwork. Petrovic, who now has 13 shutouts in his Revolution career, made another important save against Pereira in the 60th minute. Only two MLS teams, Cincinnati and Seattle, have more clean sheets than New England's six on the year.
After a scoreless first half, Bruce Arena made one change at the break as forward Giacomo Vrioni entered for Jozy Altidore, who made his first start of the season. Vrioni attempted to provide a spark with two shots and one on target in his 45-minute shift. Forward Gustavo Bou also came off the bench, returning from a five-match injury absence to play 15 minutes.
The Revolution return to Foxborough to begin a three-game homestand on Saturday, June 10 vs. Inter Miami CF, 7:30 p.m. ET at Gillette Stadium. The match airs on MLS Season Pass on Apple TV in English and Spanish, and on the radio at 98.5 The Sports Hub or 1260 AM Nossa Radio in Portuguese.
Match Notes
1. New England's record at Yankee Stadium moves to 3-5-3. 2. The club's six clean sheets are tied for third most in MLS as of the end of Saturday's match. 3. Djordje Petrović kept his sixth clean sheet of the season, his 13th with the club, and increased his career total to 147 saves, most in MLS since he debuted in June 2022. 4. Carles Gil notched team highs in duels won (7) and chances created (6), coming off his MLS Player of the Matchday selection on Wednesday. 5. Dave Romney is now the only Revolution outfield player to appear in every match, and play every minute, for New England as he logged a team-high nine clearances to anchor the backline. 6. Christian Makoun made his third straight appearance with a 90-minute outing and won a team-high three tackles. 7. Gustavo Bou made his first appearance since April 29, playing 15 minutes off the bench in his return from injury. 8. Jack Panayotou, a Homegrown Player from Cambridge, Mass., played 15 minutes off the bench in his sixth appearance of the season. GAME CAPSULE New England Revolution 0, New York City FC 0 June 3, 2023 - Yankee Stadium (Bronx, N.Y.)
Referee: Rosendo Mendoza Assistant Referees: Ryan Graves (AR1), Chris Elliott (AR2) Fourth Official: Filip Dujic Video Assistant Referee: David Barrie Assistant Video Assistant Referee: T.J. Zablocki Weather: 64 degrees and mostly cloudy
Scoring Summary: None
Misconduct Summary:
NE - Emmanuel Boateng (Yellow Card - Hard Foul) 43'
NYC - Maxime Chanot (Yellow Card - Tactical Foul) 81'
NE - Carles Gil ( Yellow Card - Time Wasting) 85'
NYC - Braian Cufré (Red Card - Serious Foul) 90+1'
New England Revolution: Djordje Petrović; Christian Makoun, Dave Romney, Andrew Farrell; Emmanuel Boateng, Latif Blessing (Jack Panayotou 75'), Carles Gil (c), Matt Polster, DeJuan Jones; Bobby Wood (Gustavo Bou, 75'), Jozy Altidore (Giacomo Vrioni 45')
Substitutes Not Used: Earl Edwards Jr., Esmir Bajraktarević, Noel Buck, Omar Gonzalez, Justin Rennicks, Ben Sweat
New York City FC: Luis Barraza; Maxime Chanot, Justin Haak, James Sands (c); Stephen Turnbull (Mitja Ilenic 74'), Keaton Parks (Tony Alfaro 87'), Alfredo Morales, Gabriel Braian Cufré; Gabriel Pereira (Matias Pellegrini 74'), Richard Ledezma (Talles Magno 62'), Santiago Rodríguez
Substitutes Not Used: Matt Freese, Nicholas Benalcazar, Andres Jasson, Kevin O'Toole, Gabe Segal
New York City FC
Team Statistics
New England Revolution 17 (5)
Shots (on Target) 12 (2) 7
Blocked Shots 4 1.50
Expected Goals (xG) 0.65 2
Saves 5 7
Corner Kicks 4 3
Offsides 3 13
Fouls 17 484 (83.7%)
Passes Attempted (% Completed) 395 (81.3%) 54.5%
Possession 45.5%
POSTGAME QUOTES: New England Revolution 0 at New York City FC 0 Matchday 17 - June 3, 2023
Revolution Sporting Director and Head Coach Bruce Arena
On the team's performance in the 0-0 draw:
Arena: "I think to play in two tough venues this week and getting a point in each game was a positive. They weren't perfect, but today I think we saw I some good fight in our team. It was a difficult game and an opponent that needed to win at home. So, I think we did a solid job. It was obviously a pretty even game. We'll take the point and go home."
On Djordje Petrović and the team recording its sixth clean sheet:
Arena: "Djordje [Petrović], in the first half, had a tremendous save, Steady throughout the game, good distribution, good to get a clean sheet. I think Djordje has been punished by some poor defending in front of him over the last couple of games, so it's good to see he got a clean sheet tonight."
On differences between Saturday's match and Wednesday in Atlanta:
Arena: "Again, every game is different. Yeah, we had more possession, [but] we scored three goals in the last, so I think the possession thing is well over done, but we did have more the ball. We certainly played better with the ball tonight than we did on Wednesday."
On Yankee Stadium's playing surface:
Arena: "I think they moved the field and they have more infield now on the soccer field that's sodded over. That's difficult and the grass is a little a tall because of baseball, and rightfully so, it's a baseball stadium. It was slippery. Both teams had a little trouble with their footing. The ball at times ran pretty quick. It wasn't easy to play on with the surface with the infield and the surface being a little slippery. I give our guys credit for just hanging in there and doing a solid job."
On team's defensive performance:
Arena: "Well, it was certainly better. I know there was that one real quality chance they had in the first half. We had one as well with Bobby Wood. I think on the night, maybe they had a couple of dangerous opportunities off of corner kicks, but I think for the most part, we were pretty solid defensively."
On Gustavo Bou and Giacomo Vrioni:
Arena: "It was Gustavo [Bou]'s first minutes in probably close to two months. I could be mistaken, but close to that. For Giacomo [Vrioni], that's probably one of his longest runs to date. I know he's played some 90-minute games and all. Giacomo is getting better. He's getting better at holding the ball up. Gustavo [Bou] just needs more time, because he's been out for a fair amount of time. I think as we enter the second half of the season, I'm hopeful that we have Gustavo [Bou and Giacomo [Vrioni and Bobby Wood and Jozy [Altidore] healthy, and that will help our team. Tonight, we lost [Noel] Buck, he had a little bit of a muscle strain and we decided not to dress him and give him a chance to be back next week. Some other guys have been hurt and we're getting a more complete team together, so that's a positive. Hopefully, as we enter the second half of the season, we're going to be a better team."
On heading home for three matches at Gillette Stadium:
Arena: "Well, hopefully that's a positive. We get a little rest, a couple days off. Hopefully, we'll get some good support in the stands and help be the 12th man as they say and make a difference and try to win these games. If we can win our next three home games, we'd certainly be in great shape. It's certainly not going to be easy. Difficult teams -- [Inter] Miami next week with a new coach. I think Orlando and [New York] Red Bull], I don't know the exact order, but always difficult games. Welcome again to MLS. Every week a challenge and nothing's predictable, so we've got to get our team ready to go."
Revolution Defender Andrew Farrell
On keeping a clean sheet on the road: Farrell: "Yeah, obviously it's a team defensive effort. But again, Djordje [Petrović] is Djordje. I think he's the best in the league and he had a big save in the first half, I think another big couple in the second half, and that kept us in the game. I think there were plays that each of us in the backline made that we had to, but Djordje was standing on his head, and we have confidence in the guy. When you have a guy back there like that, you get really comfortable and it's easier to play. So, it's a good effort from everyone. Ema [Boateng] had some really good plays defensively, DeJuan [Jones], our sixes, and even the forwards. It was a team effort to get that that clean sheet and it's been three or four games where we've given up so many goals, so yeah, it's good to get that clean sheet."
On the substitutes providing options off the bench: Farrell: "Yeah, I think they [New York City FC] made the subs, I think we brought in Gustavo [Bou] and Giacomo [Vrioni]. We got some fresh legs in there with Jack [Panayotou] as well. I think the guys that came in helped us and gave us a little bit of lift. I mean, we knew it was going to be a one-goal game, I think we said it when we came in at halftime. Both defenses were playing pretty well, we were getting behind the ball, and they had a lot of the ball, but we knew it was going to be a winnable game. So, if we could stay in it until the end, we might get a chance to snag one, and at the end, we almost had one I think. So, yeah, I'm happy that obviously we got the clean sheet, that was important after the last three or four games, but I think we probably could have gotten one at the end there and that would have felt real good in this week. Then obviously, playing the next three at home and ending this long, long road trip that we've had, we'll take the point, but we've got to make sure we get three at home next week."
On the difficulty of playing so many games on the road: Farrell: "Yeah, we've been on the road for a while, so it's hard. We like playing at home. It's nice to be home. You get to sleep in your own bed and play in front of our great fans. Being on the road is tough. Every team is pretty good at home, so having so many games, playing in Atlanta, tough environment, then in New York, Yankee Stadium's field is so different, it's another tough environment at Philadelphia. So, we've played some games where it's been tough, and we've gotten some good results. But now, when you get decent results on the road, you've got to add on at home and win your home games."
On playing with three center backs at Yankee Stadium: Farrell: "Yeah, the field, the angles, I'm sure Bruce [Arena] has talked about. It's very difficult. For an attacker, it's a little bit easier and you've just got to play down sides. But for a backline, it's hard to know where you've got to get a reference line, because you're kind of looking down at one of the goals and you're kind of skewed a little bit. So, it just kind of plays mind games with you the whole time. You're flirting with the offsides a little bit and also it's narrower and shorter, so a team gets a couple passes together, they're in your attacking half, and they could probably shoot from anywhere. So, it's a very tough field to play on. They're a good team, a very good possessive team, so they can get a couple passes together and they're already at the top of your 18-yard-box looking to get shots. Again, it's a tough place to play and they have a great team and I think we did well to get a good result here. Obviously, we almost got three points at the end, but yeah, the dimensions are difficult at times to play with."
On playing three games in eight days and getting results on each occasion: Farrell: "Yeah, now it's nice. We've got a couple of days off here to rest of the body, but that's great effort from the guys. I mean, we're getting guys back healthy soon, and obviously injuries are something that happens with all teams, and we've had our fair share of those this year. But yeah, it's a lot of obviously physical taxing, but I think mentally that's where we have to stay tuned in. We had a little bit of a [flight] delay yesterday, and getting in this morning, you've just got to kind of roll with the punches and just figure it out. And I think we did a good job this week just figuring it out and obviously, getting two points on the road [this week]. Before this trip, if you would have said that, we would have probably taken it. Obviously, with how the game started in Atlanta, probably would've wanted three, and then this game maybe sneak one at the end, six would have been great. But again, we have three games at home coming up that we need to take maximum points to add on to what we did on this road trip."
• Discuss this story on the Major League Soccer message board...


Major League Soccer Stories from June 3, 2023
The opinions expressed in this release are those of the organization issuing it, and do not necessarily reflect the thoughts or opinions of OurSports Central or its staff.
Other Recent New England Revolution Stories