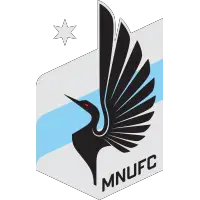 Minnesota United Score Late Equalizer Against Toronto FC, Earn 1-1 Draw
June 3, 2023 - Major League Soccer (MLS) - Minnesota United FC News Release



SAINT PAUL, Minn. -- Minnesota United and Toronto FC played to a thrilling 1-1 draw at Allianz Field in Saint Paul, where the visiting side scored first, but the Loons found a late equalizer to share the points.
TFC's Lorenzo Insigne opened the scoring in the 58th minute in front of a packed house, his first goal since the end of April. But, the Minnesota side fought back and in total took 20 shots compared to Toronto's 10. Midfielder Emanuel Reynoso made his first game appearance of 2023, entering the match as a substitute in the 65th minute for Joseph Rosales. After pressing for an equalizer, the Loons found their break in the 89th minute when midfielder Kervin Arriaga was in the right place at the right time, receiving a rebound inside the 18-yard box and finishing his shot. The match ended in a 1-1 draw. With the draw, Minnesota United moves to a 5-6-5 (W-L-D) record and 20 points.
KEY MOMENTS OF THE MATCH
10' - Federico Bernadeschi shot a bending ball from outside the 18-yard-box towards Dayne St. Clair, who made a diving, one-handed save in the bottom left corner of the goal.
37' - MNUFC was quick on the counterattack after a loose turnover in the midfield. The ball was won by forward Bongokuhle Hlongwane, who found Sang Bin Jeong on the run who launched a shot just over the crossbar.
58' - Toronto FC scored the opening goal when Richie Laryea sent a pass across the MNUFC six-yard-box, which was picked up by Lorenzo Insigne at the back post, who buried the ball into the back of the net.
61' - Zarek Valentin played a through ball for Sang Bin Jeong to chase down, entering into a 1v1 situation with Sean Johnson, letting off a shot that barely missed the target.
70' - MNUFC nearly scored the equalizer with a delayed run into Toronto's goal area, where Jeong gave service to Bongokuhle Hlongwane in the Toronto goal area, but Hlongwane was unable to finish.
73' - In his 2023 MNUFC debut, Emanuel Reynoso had a go at goal, forcing Johnson to make a diving save, preventing the Loons from closing the margin.
89' - Kervin Arriaga received a rebound at the top-right corner of the 18-yard box from a Sean Johnson save and made a quick move to find space. His shot that followed bounced into the near post of the net past Johnson, equalizing the match at 1-1. The goal was his second of the 2023 regular-season.
DISCIPLINARY SUMMARY
Caution, MIN - Wil Trapp (31')
Caution, TOR - Brandon Servania (90')
GOAL SUMMARY
0-1 TOR - Lorenzo Insigne, assisted by Richie Laryea (58')
1-1 MIN - Kervin Arriaga, unassisted (89')
GAME BY THE NUMBERS
1 - Defender Devin Padelford made his debut Major League Soccer appearance for MNUFC when he entered the match as a substitute in the 69th minute.
2 - Honduras international Kervin Arriaga scored his second goal of the 2023 regular season, the eventual game-tying goal.
20 - Minnesota outshot Toronto 20-10, but trailed in shots on target 4-5 on Saturday night.
5,12 - In the effort to equalize the match and find the game-winner, MNUFC sent in 12 total crosses and won 5 total corner kicks on the night. Toronto had only six sent-in crosses and one recorded corner kick.
ATTENDANCE: 19,743
BELL BANK MAN OF THE MATCH: Dayne St. Clair
LINEUPS:
Minnesota United XI: GK Dayne St. Clair; D DJ Taylor, Miguel Tapias, Michael Boxall, Zarek Valentin; Hassani Dotson, Wil Trapp (c), Joseph Rosales, Franco Fragapane, Bongokuhle Hlongwane; F Sang Bin Jeong
Bench: GK Clint Irwin, Eric Dick; D Brent Kallman, Devin Padelford; M Kervin Arriaga, Emanuel Reynoso; F Cameron Dunbar, Mender Garcia
Toronto FC XI: GK Sean Johnson; Matt Hedges, Aime Mabika, Kobe Franklin, Richie Laryea; M Jahkeele Marshall-Rutty, Mark-Anthony Kaye, Kosi Thompson; F CJ Sapong, Federico Bernardeschi, Lorenzo Insigne (c)
Bench: GK Tomas Romero; D Themi Antonoglou, Raoul Petretta, Sigurd Rosted; M Deandre Kerr, Brandon Servania; F Ayo Akinola, Hugo Mbongue, Jordan Perruzza
UP NEXT:
MINNESOTA UNITED FC @ CF MONTREAL
Stade Saputo | Montreal, Quebec, Canada
06.10.2023 | MLS 2023 Regular Season | Matchday 18
6:30 pm CT (MLS Season Pass/1500 ESPN)
MINNESOTA UNITED POST GAME QUOTE SHEET
HEAD COACH ADRIAN HEATH
On the match...
"Well I thought it'd be a travesty if we didn't take anything out of it. When you look at the quality of some of the chances we had. Fraga [Franco Fragapane] had a great one early on. Mender [Mender Garcia] had a good one. Couple of other really good opportunities. Sang Bin's [Sang Bin Jeong] through in one on one. I thought the first half they probably shaded it a little bit. And the second half I thought we did everything we could to get something from the game, which is what we deserve because the effort the players have put in the last two games. As I said it would've been a nightmare for them mentally if they hadn't taken anything away from the games."
On what contributed to the slow start...
"No. Maybe tightness. I think they set up well. They use the ball out the back really well they had the extra body in there as well in midfield and we at times had a decent defensive shape. Dayne [Dayne St. Clair] had to make a big save on Bernardeschi [Federico Bernardeschi] in the first half. But we always looked dangerous on the counter, which we do at times, but we had a couple of really good breakaways this evening and maybe the final ball wasn't what it should've been. But I can't have a go at the players for their effort they put in it. Just had a look there, I think it's nine games in 31 days. With the travel that we've had. Open Cup on the road. So they've given us everything they've got."
On Emanuel Reynoso's return...
"Well he gave us a lift didn't he with his quality. You know I've said this all along, at times I have to sort of hold my tongue a little bit, because I listen to people talking about other teams that got an injury or something. We've done without Robin [Robin Lod]. We've done without Dibassy [Bakaye Dibassy]. You know we can't afford to be without our better players. We can't. That's the harsh reality of it all. And Rey [Emanuel Reynoso] is one of our best players and he showed that tonight. He gave everybody a lift. He gave the crowd a lift. His quality was great in the box. He's still got that little drop of the shoulder and create space. You know the goal came from him doing that at the edge of the box and I know that everybody talks about, well show him on his left foot. On his right foot. You can't stop him, Because that's why he's so good. He's still got a long way to go, but I think we saw glimpses of his quality tonight."
On the change in energy and emotion when Emanuel Reynoso came on...
"It does, because at the end of the day when you get one of your better players on the field. It's not just football, it's anything. You think the Lakers are better with Lebron [Lebron James] on the field? I think so."
On if he thought Emanuel Reynoso would be ready to play at this point...
"After the first week I thought that we might have a chance. You know we got a good opportunity this week to put more work into him and I would expect maybe a similar sort of scenario next week. Then we have two weeks to get really some proper work into him, when we haven't got anything to look forward to at the end of the week. I'm hoping that by the time we've had that two weeks he'll be ready to go."
On outshooting Toronto, but struggling to get shots on target...
"Is that 41 efforts in the last two games? If we keep doing that at that same ratio, chances are goals will come."
On needing Emanuel Reynoso...
"Well it does. Especially when you have those moments like tonight when the last 15-20 minutes it's all our pressure. You need a special player to come up with something and pick a pass and beat somebody and that's what he did. The game turned on its head really when he came on because before that we were doing a lot of huffing and puffing and didn't really think that we were going to find that pass. And the minute he comes on he immediately starts to create things. Puts better quality in the box. And I think also his teammates think that when he gets it they put things on. You know they make runs thinking that we've got a player here that can actually pick me out if I make the right run at the right time."
On if another tie at home is disappointing...
"Well I would love to win every game at home, but last time I looked the opposition wants to win as well. When we've been away and gotten four wins on the road, the home team there wanted to win as well. It's a little bit more difficult than people think. We played against the team here, regardless of what people think is the most heavily assembled team probably in Major League Soccer history. The two wingers they got have played for Juventus and Napoli and won the league. They played like 50 times for Italy. We have to respect that at times. I don't understand sometimes why it's all about us. Sometimes you have to take your hand off to the opposition and go; their good players. "
On switching DJ Taylor...
"DJ [DJ Taylor], we thought we could get out more of him down that right hand side, our right hand side. We felt DJ, obviously in with Bongi [Bongokuhle Hlongwane] have done really well down that side and we all know that Insigne [Lorenzo Insigne] is a top-top player, but he doesn't want to be played in his own half. He wants to be played in the attacking half and I felt we'd get more out of DJ being on his natural side. I think that proved that and then DJ was just running on fumes in the end. Dev [Devin Padelford] came in and gave us a bit of energy down the left, put a couple of crosses in and so he'll have enjoyed that."
On Toronto's goal...
"Well, we were stretched on that goal. I think I saw he kind of turned it over on the edge of that box and as I said to you; they've got a lot of pace. CJ's [CJ Sapong] quick, Bernardeschi's [Federico Bernardeschi] quick, Insigne's [Lorenzo Insigne] quick. We got caught out and as I say we turned it over. We had both fullbacks high and in their half of the field and when you do that you leave yourself vulnerable and that's what happened."
On how big Kervin Arriaga's goal is for his confidence...
"Well it'd be good for his confidence. It's good for everybody. He'll be the first one to admit that was for everybody. He's going to have to wait and get his opportunity and he'll come around again. He should score more goals. He has an unbelievable strike on both feet, he's six foot four, and at times he doesn't get in the box enough and that's something we've been talking to him about."
On Devin Padelford coming in while Federico Bernadeschi is on his side...
"Well, welcome to the real world Dev [Devin Padelford]. No, it's a little baptism of fire for him. He's playing against two of the best players in the league. I thought Bernardeschi [Federico Bernadeschi] went out there and had a run at him and then he's got Richie Laryea coming as well. Richie's got unbelievable energy. I said to you guys before that I thought playing down that side was going to be an issue and I thought we coped with it reasonably well. Bernadeschi had a really good opportunity in the first half, created for himself, but we kept Richie pretty quiet which is unusual because he normally puts a lot more crosses in the box than he's done this evening."
On if Emanuel Reynoso will take most of the quarters and set pieces moving forward...
"If Rey's [Emanuel Reynoso] on the field, yeah."
On if it means anything when Emanuel Reynoso was the first to celebrate with Kervin Arriaga...
"Yeah, we have never had a problem while he's been here. When he's here he is not a problem. Obviously we were incredibly disappointed, but I'm sure if you ask any of his teammates or any of his coaches he has never been a moment's trouble when he's here. He's engaged. He wants to play and he showed us what we have been missing tonight a little bit."
On Kemar Lawrence not being on the team sheet tonight...
"Hamstring. Hamstring. Touch and go for next weekend, but we won't rush it with having the two weeks after that.
On the rumors regarding Luis Amarilla...
"Still our player."
MIDFIELDER KERVIN ARRIAGA
On the significance of the moment after scoring...
[SPA]: "Puedes ahogar tantas cosas que estaban pasando en mi vida personal como futbolística. Me marcó mucho, como te digo, he pasado cosas que solo uno como jugador sabe. Gracias a Dios tuve la oportunidad de marcar y puede desahogarme en ese vuela."
[ENG]: "You can save many things that were happening in my personal life like football. It means a lot to me, like I said, things have happened in my life that only a player knows. Thanks to God I had the chance to score and I could relieve myself in my return.
On the things he has tried to overcome on the field...
[SPA]: "Creo que uno como futbolista tiene siempre cosas que mejorar, que aprender cada día, ¿no? Tratando de mejorar para subir de nivel, de seguir escalando. Siento que he mejorado mucho. Lo que tengo que cambiar es un poco mi temperamento a la hora de declamar o pedirle un foul a un árbitro. Creo que es lo único que me está marcando. Estamos trabajando en esto, estamos somos conscientes que eso tenemos que mejorarlo y lo estamos trabajando."
[ENG]: "I think one as a football player always has things to improve, to learn each day, right? Trying to improve to improve your level, to continue climbing. I think I've gotten a lot better. The thing that I need to change a bit is my temperament when I'm speaking or asking for a foul with a referee. I think that's the only thing that is affecting me. We're working on it, we're being conscious that this is something we have to improve, and we're working on it."
On what the team needs to do to start getting wins...
"El profe nos enseña videos de los detalles que tenemos que mejorar, de las cosas que tenemos que hacer, igual de los rivales. Tenemos que prestar un poco más de atención, entrenar más fuerte, y evocar en los resultados para ir escalando en la tabla. Tenemos un gran equipo y se vio reflejado que el equipo cuando quiere jugar y pelear siempre en los partidos. Esperamos seguir ganando los partidos para que vengan los más puntos."
[ENG]: "The coach [Adrian Heath] shows us videos of the details that we need to improve, the things that we have to do, same with the opponents. We have to pay a little bit more attention, train harder, and invoke the results to continue climbing in the table. We have a good team and it has shown when the team wants to play and fight always in the games. We hope to continue winning games so that more points come."
On how Emanuel Reynoso influenced the game when he came on...
[SPA]: "Si, un partido que al principio, no se nos daba el gol. Una defensa de ellos, estuvo su noche hoy, hasta que el arco quiso que el balón entrara. Creo que el equipo luchó, luchó hasta al final por ahí después del gol. Creo que aún seguimos buscando no el empate sino el resultado de que era ganarlo. Vamos a seguir así, vamos a seguir peleando partidos, buscando hacer las cosas bellezas."
[ENG]: "Yeah, a game that at the beginning, we didn't get a goal. Their defense, it was their night tonight, until the goal wanted the ball to go in. I think the team fought, fought until the the end after the goal. I think we weren't looking for the draw but to win it. We're going to continue like this, we're going to keep fighting in games, looking to do the right things."
On entering the game as a substitute and if there are more attacking responsibilities...
[SPA]: "Entrar de cambio creo que es difícil porque tienes que entrar rápido y adaptarse como está el juego. Es feo, la verdad que es feo. Vamos a trabajar por eso. Estamos trabajando difícil, pero creo que no es imposible de hacerlo."
[ENG]: "To enter as a substitute is difficult because you have to enter quickly and adapt yourself to how the game is. It's awful, truthfully it's awful. We're going to keep working for that. We're working hard but I believe it isn't impossible to do."
On becoming more of an attacking-minded player...
[SPA]: "Manejamos el balón. El profe, cuando me llama para hacer el cambio, me pide que juegue para enfrente de cuando recuperar el balón o jugar para enfrente y darlo a los compañeros que estén más cercados, y tratar de siempre ir al área. Eso fue lo que el profe me pidió."
[ENG]: "Managing the ball. The coach, when he calls me to make the switch, he asks me to play in front when recovering the ball or to play in front and give it to my teammates who are closer, and try to always go towards the goal. That's what he asked me."
• Discuss this story on the Major League Soccer message board...


Major League Soccer Stories from June 3, 2023
The opinions expressed in this release are those of the organization issuing it, and do not necessarily reflect the thoughts or opinions of OurSports Central or its staff.