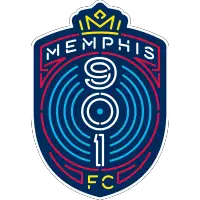 Memphis 901 FC Concludes Inaugural Season
October 19, 2019 - United Soccer League Championship (USL) - Memphis 901 FC News Release



MEMPHIS, Tennessee - Memphis 901 FC wrapped up its inaugural season with a 2-1 defeat to two-time defending USL Cup champion Louisville City FC Saturday night at AutoZone Park.
901 FC was in the hunt for a playoff berth in its first season up until the final week of the regular season. The club finishes the year with a 9-18-7 record and 34 points in the USL Championship Eastern Conference.
Marcus Epps scored in the 9th minute to open the game, as 901 FC came out firing and had four shots on-target in the opening half. But Louisville City (17-8-9, 60 pts) scored in the 37th minute and then again in the 78th minute to pick up the victory and move into a top-four spot in the upcoming playoffs.
"I am really proud of the effort tonight," 901 FC head coach Tim Mulqueen said. "I think the guys competed very well. They (Louisville City FC) are the two-time defending champion, and we gave them all they could handle. Their coach (John Hackworth) is a dear friend of mine, he said after the game 'you guys played great, you deserved more from it,' and I respect that.
"I think (tonight's effort) says a lot about the character of the group. I think we played well. Overall I think the effort tonight was tremendous, and I'm really proud of them."
"We have put a lot into this season," Epps said. "From the front office, to the coaching staff, to the equipment staff and all the players, we try and show that every time we go out. This game was no different from the past three. Every one has the same mentality. We want to show that we are a good team and put on a good show for the fans. That's what the guys did today, and it shows when that's the case. We didn't get the result we wanted, but it felt good to put on that performance for everyone."
901 FC forward Jochen Graf announced his retirement prior to the match and had a couple of scoring opportunities entering as a substitute in the 83rd minute.
"I still have some gas in the tank, but you get to the point where this is our whole life," Graf said. "From three or four years old, from the time I could walk I've been playing and kicking a ball. I'm so lucky to have played this long. I turn 30 this year, and I've done what I set out to do and I can be proud of what I have done."
"He's been one of the top professionals I've dealt with. He's a great man," Mulqueen said about Graf. "He's going to do great in whatever he decides to do after this, but I'd like to take this moment to thank him for what he did for us this year."
On the season, Brandon Allen led 901 FC with nine goals, and Cam Lindley led the club with seven assists. Constant improvement was the name of the season for the expansion side, as it added multiple pieces and key contributors as the year went along. 901 FC finished the year averaging over 6,600 fans per match, good for 10th in the league and third among expansion clubs.
"Our fans have been great all year," Mulqueen said. "They have been there, they have stuck with us, led us to victories, and they have been super. It's noticed around the league. Opposing players, opposing coaches all look forward to coming here because they love the environment, and we always get compliments afterwards. I think it says a lot about what we are doing as an organization and about the fans and how committed they are. We are going to be determined next year to go further for them."
With the season concluded, 901 FC now turns its attention to the upcoming 2020 season. News and information about the 2020 roster, schedule, tickets, and more will be available in the coming weeks and months. Season ticket information for 2020 is available at www.memphis901fc.com/seasontickets.
For the latest information on the team, visit www.memphis901fc.com and follow the club on social media on Twitter, Facebook, and Instagram.
Memphis 901 FC Starting XI
24 (GK) Scott Levene, 8 (D) Marc Burch (c), 15 (D) Jacob Hauser-Ramsey, 17 (D) Ewan Grandison, 31 (M) Pierre Da Silva, 22 (M) Wes Charpie, 27 (M) Cam Lindley, 6 (M) Dan Metzger, 10 (M) Adam Najem, 30 (F) Marcus Epps, 29 (F) Brandon Allen
Subs: 1 (GK) Jeff Caldwell, 2 (M) Morgan Hackworth, 23 (M) Leston Paul, 21 (M) Duane Muckette, 11 (M) Lagos Kunga, 18 (F) Elliot Collier, 28 (F) Jochen Graf
Substitutions: 59' Elliot Collier on, Adam Najem off... 75' Leston Paul on, Cam Lindley off... 83' Jochen Graf on, Dan Metzger off
Louisville City FC Starting XI
13 (GK) Chris Hubbard, 15 (D) Pat McMahon, 4 (D) Sean Totsch, 3 (D) Alexis Souahy, 19 (D) Oscar Jimenez, 80 (M) Devon Williams (c), 27 (M) Napo Matsoso, 7 (M) Magnus Rasmussen, 11 (F) Niall McCabe, 10 (F) Brian Ownby, 29 (F) Antoine Hoppenot
Subs: 1 (GK) Tim Dobrowolski, 8 (D) Akil Watts, 21 (D) Shaun Francis, 36 (M) Paolo DelPiccolo, 22 (F) George Davis IV, 9 (F) Luke Spencer, 14 (F) Abdou Thiam
Substitutions: 61' Luke Spencer on, Alexis Souahy off... 72' Paolo DelPiccio on, Napo Matsoso off... 77' Abdou Thiam on, Niall McCabe off
Images from this story
• Discuss this story on the United Soccer League Championship message board...


United Soccer League Championship Stories from October 19, 2019
The opinions expressed in this release are those of the organization issuing it, and do not necessarily reflect the thoughts or opinions of OurSports Central or its staff.