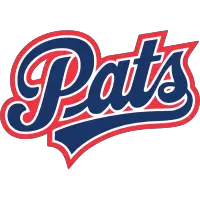 Late Power Play Goal Sinks Pats
December 5, 2021 - Western Hockey League (WHL) - Regina Pats News Release



Regina, Sask. - Matthew Ward's power play goal with 3:07 left in the third period was the difference in a 5-4 setback for the Regina Pats on Saturday night at the Brandt Centre.
The Broncos forward scored his second of the evening on his team's fourth power play of the period, and it turned out to be the game-winning-goal, improving Swift Current's record to 9-12-3.
Regina had erased a 2-0 deficit earlier in the game and fought to take a 4-3 advantage in the third period, but were whistled for multiple infractions and killed off two consecutive 5-on-3's just prior to Ward's goal.
Scoring for the Pats were Easton Armstrong, Borya Valis, Connor Bedard and Jakob Brook, who gave the Pats their third-period lead by speeding down the right wing and snapping his first of the season blocker side past Isaac Poulter. Bedard was named the game's second star with a three-point performance.
Regina was shorthanded seven times in the game, allowing two power play goals, and went 1-for-5 on the man advantage.
The Pats next contest is on Wednesday, December 8 against the Medicine Hat Tigers at the Brandt Centre at 7 p.m.
Click for Boxscore
THE GOALS
1st Period
SC 1-0 at 2:11 - Brady Birnie (4), assisted by Rayan Bettahar// Both Pats defenceman got tied up with Broncos forward Connor Hvidston will battling for the puck in the d-zone, which allowed Brady Birnie to walk right in front and finish on the backhand to open the scoring.
SC 2-0 at 14:11 - Mathew Ward (10), assisted by Owen Pickering and Kayden Sadhra-Kang // Pickering through a puck to the net from the left boards that deflected off Ward and just snuck past Sim.
REG 1-2 at 15:46 - Easton Armstrong (2), assisted by Connor Bedard (8) // Bedard entered the zone with speed on a 3-on-2 and worked his way around Rayan Bettahar before chipping the puck to Armstrong, who quickly fired a shot past Isaac Poulter to get the Pats on the board.
REG 2-2 at 17:40 - Borya Valis (4), assisted by Connor Bedard (9) and Tanner Howe (6) (PPG) // Howe fed the puck to Bedard in the neutral zone, who entered with speed and faked to the middle before quickly cutting back to the outside. This gave him time to whip a cross-ice pass to Valis, who one-timed it home to tie the game 2-2.
2nd Period
SC 3-2 at 2:09 - Caleb Wyrostok (5), assisted by Rayan Bettahar and Raphael Pelletier (PPG) // Wyrostok had a tap-in on the power play after a point shot from Bettahar led to a rebound.
REG 3-3 at 10:54 - Connor Bedard (12), assisted by Luke Bateman (4) // Bedard waited just long enough for the Pats to tag up on the delayed offside and then dangled around Ward before ripping one past Poulter.
3rd Period
REG 4-3 at 8:39 - Jakob Brook (1), unassisted // Brook helped force a turnover in the defensive zone and then raced all the way down the ice to get to the loose puck and lead a 2-on-1, where he pounded a shot blocker side to give the Pats their first lead of the game.
SC 4-4 at - Caleb Wyrostok (6), assisted by Connor Hvidston and Owen Pickering // Wyrostok was wide open in front during some 4-on-4 action and tied the game blocker side after a pass from Hvidston.
SC 5-4 at - Mathew Ward (11), assisted by Owen Pickering and Raphael Pelletier (PPG) // Seconds after killing off their second consecutive 5-on-3, Ward hammered a one-timer from the top of the right circle past the glove side of Sim.
FINAL: Pats 4 | Broncos 5
STATISTICS
SOG: REG - 26 | SC - 29
PP: REG - 1/5 | SC - 2/7
Faceoffs: REG - 35 | SC - 43
GOALTENDING BATTLE
Regina: Drew Sim stopped 24 of 29 on the night.
Swift Current: Isaac Poulter allowed four goals on 26 shots.
THEY SAID IT
Assistant Coach Brad Herauf : "With injuries we had tonight, we had a lot of guys step up and kind of advance their game, but in the end too many fixable mistakes that happened [where] we were giving up too many grade-A chances against. Drew [Sim] played really well tonight, but too many brain farts that happened and ended up in the back of our net...It's definitely a learning example for everyone to get better on, but right now it's just unacceptable for us. As a team, we need to be able to stop those guys from scoring in those situations. The biggest thing is they shouldn't be in those positions to have those chances to score."
3 STARS
Matthew Ward - SC -2G, including the game-winner
Connor Bedard - REG - 1G, 2A
Caleb Wyrostok - SC- 2G
UP NEXT
The Pats next game is Wednesday, December 8 against the Medicine Hat Tigers, followed by the annual Teddy Bear Toss game Friday, December 10 against the Prince Albert Raiders.
• Discuss this story on the Western Hockey League message board...


Western Hockey League Stories from December 5, 2021
The opinions expressed in this release are those of the organization issuing it, and do not necessarily reflect the thoughts or opinions of OurSports Central or its staff.