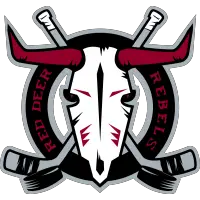 King Excelling on Power Play as his Overall Game Grows
November 30, 2021 - Western Hockey League (WHL) - Red Deer Rebels News Release



Red Deer Rebels veteran centre Ben King has taken the advice of Calgary Flames coaches to heart.
Although he slipped through the NHL entry draft each of the last two years, King attended the Flames rookie camp and then the main camp for a short stint before returning to the Rebels in late September.
"They just told me to play hard every night when I came back, don't take any nights off and try and improve in every area," King said Tuesday. "You can't stop getting better."
The 19-year-old Vernon, B.C. native has excelled at both ends of the ice this season, and particularly on the power play with his 10 man advantage markers leading all WHL players.
He's also on pace for a 40-plus goal season with 16 tallies through 24 games.
"I think I'm just trying to play my game and I've just been getting lucky," he said with more than a hint of modesty. "I'm getting chances and putting the puck in the back of the net.
"I have to give some credit to my linemates, (Arshdeep) Bains and (Jhett) Larson. They're helping me out, getting me the puck and getting me chances to score.
"The power play, we work on that in practice and in games it's just been clicking good with the guys. I'm happy with the start of the year and I just want to keep it going."
Rebels head coach Steve Konowalchuk said back in September that King's talent level and potential were unquestioned, but that he needed to work on his 200-foot game in order to become a pro.
"The talent is there, but again, it's just about being a complete player at both ends of the ice, like a pro," he said at the time. "Finishing checks, going to the net . . . those are the kind of things that he's gong to have to do at the next level."
Flash forward to the present . . .
"I believe he's ahead of where he was at the start of the season as far as his compete level," said the Rebels bench boss.
"We've seen him finishing checks and having a little more tenacity in battles. I like the way he's supporting the puck better in our own end, playing defensively and then carrying the puck out, which he'll have to do to be a pro player.
"The points that he's getting, and some are on the power play, but five-on-five are from grinding and playing the right way, and that's what you have to do at the pro level."
King is more than familiar with Bains, having played alongside the overager winger since being acquired from the Swift Current Broncos two years ago.
Bains notched a goal and added a pair of assists in a 4-2 win over Regina Saturday and is the Rebels' top points producer with 26. His 17 assists are tops on the team and he's collected six helpers on the power play, primarily on goals by King.
"We've been together for a while now so we kind of have that chemistry. And Larson, he's come in and he's been a huge part of our line and our team," said King. "He gets in the corners and he's been a great player this year. Us three have just found chemistry as a line and we're kind of going good lately."
The Rebels' power play is clicking at a 25 per cent success rate, fourth-best in the league. Bains and King have clearly played major roles in that regard, as have Blake Stevenson, who has two goals and 10 helpers with a man advantage, and Christoffer Sedoff, who has contributed 12 assists.
"Bains is a good passer and Kinger can pass or shoot. We want King to be a shooter on that power play first and foremost and from there it will open up other options," said Konowalchuk.
"But he's got a good shot and he's a good finisher, so we want him to continue that."
Attending an NHL camp this fall helped give the six-foot-three, 200-pound centre a jump start on his fourth WHL season.
"For sure, just getting confidence and seeing what it takes, how those guys act, how they prepare for games," he said. "Going there definitely influenced my game coming back, so I'm happy that I could have that opportunity and bring it back here."
King has been a difference-maker this season while continuing to work on his overall game.
"Just being competitive every night and consistent, those are the things I've always wanted to work on and I think this year I've been better at that and I just want to keep it going moving forward," he said.
Of course, the Rebels as a team have taken a big step forward this season after a difficult 2000-21 pandemic-shortened campaign. The club will look for its 16th win Friday when the Moose Jaw Warriors visit the Peavey Mart Centrium.
"Winning definitely makes you happier," said King. "We've put last year in the past and this year we're just focusing on every game ahead of us.
"There's just a way better vibe in the room. Everybody's excited and we just have to keep pushing and we'll continue to have a happy locker room."
Notable: The Rebels host the Moose Jaw Warriors this Friday, Dec. 3 in the Toque and Teddy Bear Toss game in support of the Red Deer Christmas Bureau . . . Rebels forward Kalan Lind scored both goals for Team White in a 6-2 Capital City Challenge semifinal loss to Team Red Tuesday in Ottawa. Lind has four points (2g,2a) in four games in the four-team tournament featuring three under-17 squads from across the country and the Canadian National Women's Team. Team White will play in the bronze medal game.
• Discuss this story on the Western Hockey League message board...


Western Hockey League Stories from November 30, 2021
The opinions expressed in this release are those of the organization issuing it, and do not necessarily reflect the thoughts or opinions of OurSports Central or its staff.
Other Recent Red Deer Rebels Stories