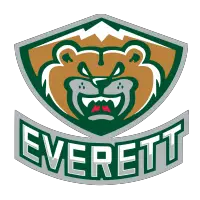 Kindopp Pair Lifts 'Tips
February 16, 2019 - Western Hockey League (WHL) - Everett Silvertips News Release



KELOWNA, British Columbia - Bryce Kindopp scored twice and goaltender Max Palaga, making his first appearance since Jan. 20, earned first star honors with 31 saves to lift the Everett Silvertips to a 3-1 victory over the Kelowna Rockets before 4,562 fans at Prospera Place on Friday in WHL action.
The Silvertips, winning for the sixth time in eight games, finished their season series at 3-1-0-0 over Kelowna and rallied from an early 1-0 deficit in their first game of a four-game road trip, covering only five days. Gianni Fairbrother tied the game on an early first period power play goal.
UP NEXT: The Tips continue their road trip tomorrow in Kent, Wash. against the Seattle Thunderbirds at 7:05 p.m., followed by back-to-back games in Price George on Feb. 18 and 19. (1380 AM / 95.3 FM / TuneIn App / WHL Live). The Tips return home Friday, Feb. 22, at 7:35 for a battle against Seattle. Tickets are available at www.everettsilvertips.com/tickets.
The Tips, struggling in the first few minutes with an 11-2 shot disadvantage, trailed 1-0 on Kyle Topping's one-timer between the circles at 7:26 but found an answer after a Dalton Gally interference penalty. Gianni Fairbrother took a point-to-point pass from Sahvan Khaira and drilled his 9th goal of the season through traffic, 12:18 into the period to tie the game.
Bryce Kindopp cleaned up a rebound left off the pads of Roman Basran to lift the Tips ahead, 2-1 at 8:19 of the second period, set up by Robbie Holmes' snap shot at the left circle. Palaga preserved the lead on arguably his toughest save of the game, 5:51 left in the period, on Kyle Topping's bid from the low slot.
Kindopp sealed the game on an empty netter with 17 seconds left in regulation.
Basran was named second star of the game with 27 saves.
THREE STARS
1. Max Palaga
2. Roman Basran
3. Kyle Topping
SILVERTIPS LINE COMBOS
20 / ANDRUSIAK 43 / DEWAR 19 / KINDOPP
90 / HOLMES 12 / PATTERSON 7 / FASKO-RUDAS
39 / GONCALVES 26 / VITELLI 17 / BEREZOWSKI
22 / GURNEY 28 / MITCHELL
DEFENSIVE PAIRINGS
24 / FAIRBROTHER 29 / WYLIE
23 / CHRISTIANSEN 5 / MINULIN
86 / KHAIRA 4 / WALKER
8 / SEELEY
GOALTENDERS
31 / PALAGA
32 / WOLF
NOTES: Silvertips scratches included Dawson Butt, Riley Sutter and Jalen Price ... the Tips exended their win streak in Kelowna to four consecutive games ... Kindopp's two-goal night was the 30th multi point game of his career ... the Tips won the battle at the face-off circle, 32-23 ... Connor Dewar went 14-of-20 on draws to lead the Tips.
• Discuss this story on the Western Hockey League message board...


Western Hockey League Stories from February 16, 2019
The opinions expressed in this release are those of the organization issuing it, and do not necessarily reflect the thoughts or opinions of OurSports Central or its staff.